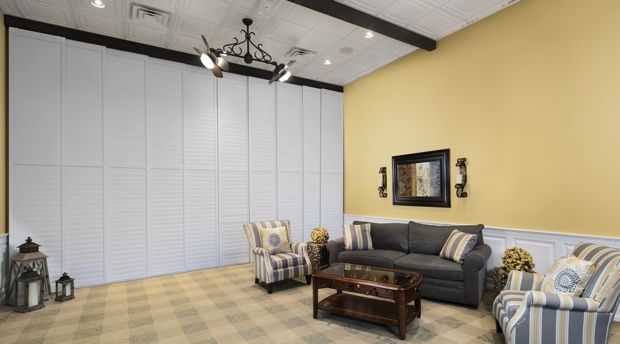 3 Innovative Uses For Shutters That Can Transform Your Space
Plantation shutters are some of the most stylish and classy window treatments you can choose to install in your windows. But your windows aren't the only place in which shutters can really shine. Here's how some of our customers and designers have recently used plantation shutters in creative ways.
Shutters as a Partition or Divider
Solid, high-quality shutters like Polywood® plantation shutters are great at blocking light and sound. That makes them perfect to work as room dividers or partitions in large or open-concept spaces.
One of our favorite designers, Jane Cunningham of Room Resolutions, did just that in her design for a commercial living space with plantation shutter partitions. The design was so innovative and well-executed that it earned her an ANDYZ Award from the American Society of Interior Designers.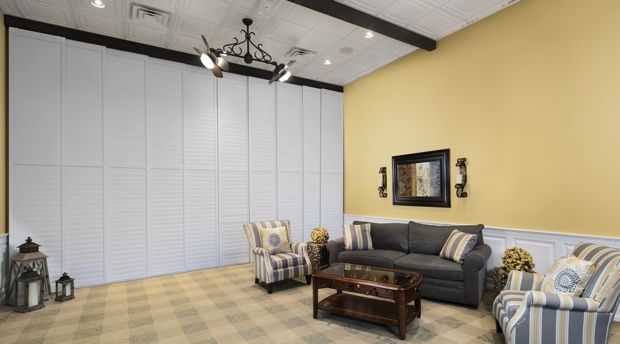 The floor-to-ceiling Polywood shutters fold into themselves to open up the space or stretch wall to wall to close it off into two separate sections, blocking out noise from the other side. This makes the space a lot more versatile, which is perfect for a multifamily community like this space.
But shutters don't have to stretch from the ceiling to the floor to divide a space and add style. These Ovation wood shutters can turn this in-home bar into a stylish wall accent when closed, letting you completely transform the mood in the room if the need arises.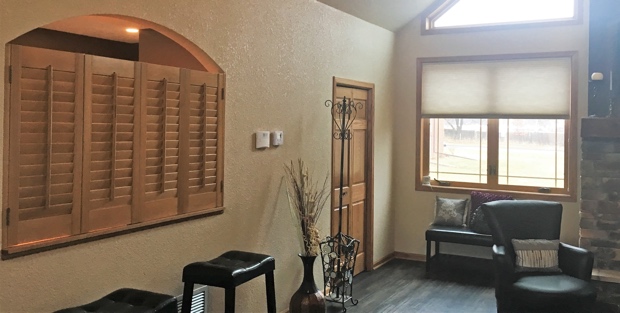 No matter where they are in your home, shutters offer versatility that few other pieces of home décor can offer.
Shutters as a Wall Cover
We can't take all the credit for this fantastic idea. A homeowner had a stereo sound system built into her wall, specifically the mantle around her fireplace and television. To cover up her stereo equipment and match her decor, she chose to install reclaimed wood shutters as cabinet doors.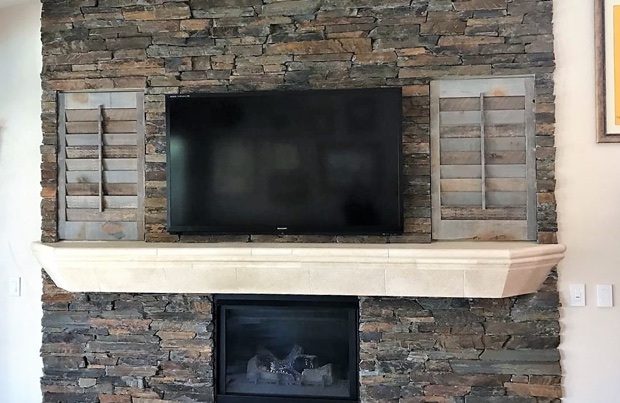 The natural look of the reclaimed wood is a perfect accent to the natural stone siding on her wall and makes the space around the mantle look less empty. In natural light or with the fireplace roaring and the lights dimmed, the natural reclaimed wood looks absolutely stunning.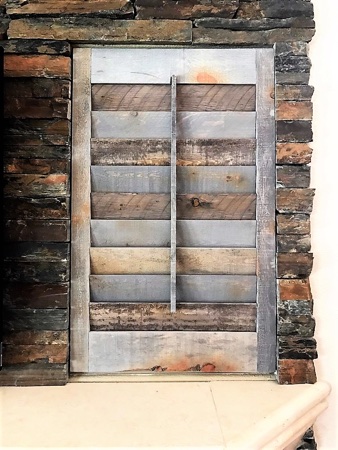 Upgrading Shutters & Repurposing Old Ones
Some of the most creative things you can do with shutters are with the ones you don't want anymore. Oftentimes we'll help homeowners upgrade to Polywood shutters for the lifetime guarantee and improved energy efficiency and modern looks, but they'll keep their old shutters to incorporate them into a craft project.

There's no limit to what your old shutters can do in a new setting. Take to Etsy or Pinterest for inspiration and ideas: turn your old shutters into a rack for hanging mugs in a breakfast nook, a multidimensional frame for a photo collage, or a rustically stylish headboard.
Let's Get Your Home Inspired
Want some inspiration on how to incorporate shutters more creatively into your space? We work with some of the best designers in the business, and our window experts will be happy to lend you our expertise. Give us a call today at 877-786-2877 to get in touch with your local Sunburst location.