What's the Difference Between Blinds, Shades, and Shutters?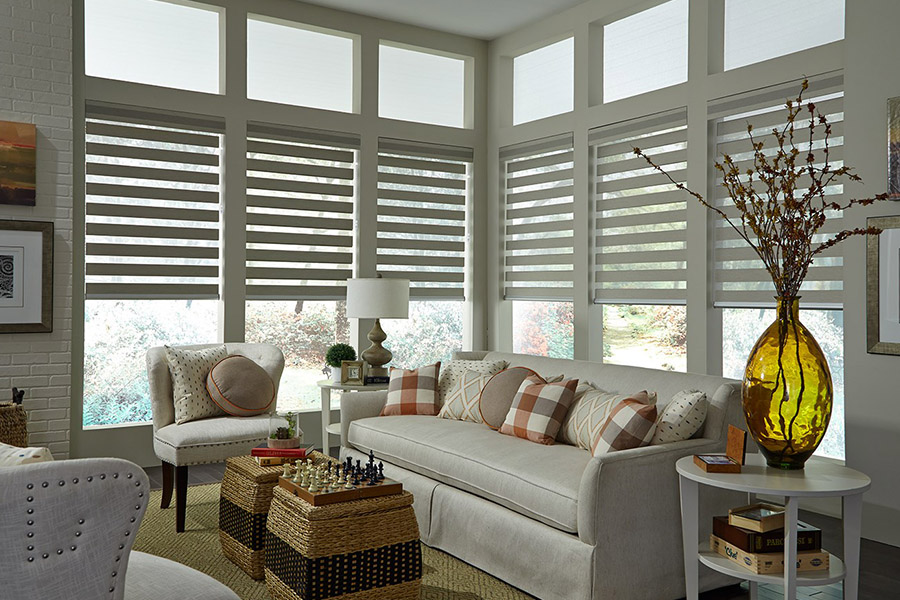 Adding or replacing old window treatments is a project that often comes with its own challenges and questions. Depending on the size, placement, and type of window, as well as other factors like climate or the amount of light a window receives, there are many routes homeowners can take to find the perfect window treatment. For example, should homeowners choose blinds or shades, or would plantation shutters be the better solution?
For some, there can also be confusion on what the difference is between blinds, shades, and shutters. It's common to hear the word "blinds" used interchangeably for every type of window treatment. Though there are many different types of blinds, there are very specific factors that differentiate blinds from shades and plantation shutters. Knowing the difference can help you discern which is the best option for your home, and it can provide a better understanding of what benefits each type of treatment offers.
Blinds vs. Shades vs. Shutters: Know the Difference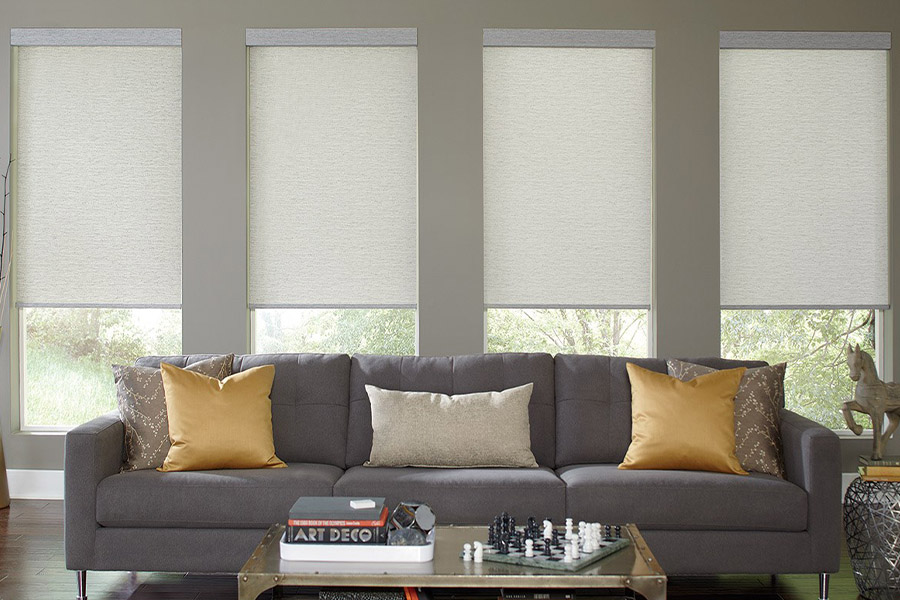 At Sunburst Shutters & Window Fashions, we're experts at all
custom window treatments
both big and small. Whether you need new treatments for a handful of windows or are searching for a whole home or office upgrade, our design experts provide custom solutions tailored to your window specifications, personal preferences, and decor.
One of our goals is to empower homeowners and clients with the knowledge to help them discern exactly what they need and how it can benefit their space. In this article, we will break down window treatments by type, so you can easily identify the difference between blinds, shades, and shutters.
Blinds vs. Shades vs. Shutters Comparison Chart
| | BLINDS | SHADES | SHUTTERS |
| --- | --- | --- | --- |
| PRICE | Most affordable | Huge range--from affordable to most expensive. | More expensive |
| MATERIALS | Wood and faux wood | Fabrics, vinyl, woven woods, natural materials. | Wood and faux wood |
| ENERGY EFFICIENCY | Medium | Fair to medium | High |
| PRIVACY | Good | Ranges from sheer (no privacy) to solid with room darkening (best privacy). | Best |
| LIGHT CONTROL | Fair. Multiple light gaps. | Fair to good. Most shades don't have the ability to direct light. | Best light control. |
| CLEANING | Difficult | Depending on the type, shades range from moderate to difficult. | Easy. |
| OPTIONS | Tilt options (wand, cord or cordless), colors, headrail and valance. | Control options (cord, cordless or motorized), colors, fabrics, textures, headrail, and valance. | Control options (traditional tilt rod or hidden tilt), colors, materials, frames, and divider rail or split tilt. |
| DURABILITY | Blinds have cords which can fray over time. Blinds are notoriously the least durable window treatment. | Shades are a more durable window treatment. However, constant use over many years can wear out hardware and fabric. | Shutters are the most durable treatment given the thickness of their material and that they are mounted into a frame around the window. |
| LIFE EXPECTANCY | 5 - 6 years | 7 - 10 years | Lifetime |
| BIGGEST BENEFITS | Low cost, privacy, color options. | Best variety of styles and colors, range of opacities, motorization. | Most durable, best control of light, most energy efficient, best warranties. |
| BIGGEST DRAWBACKS | Harder to clean, cords are easier to break, replacement is easier than repair. | All or nothing light control--no directing light, can be very expensive. | More expensive, limited color options beyond wood stains. |
What Are Blinds?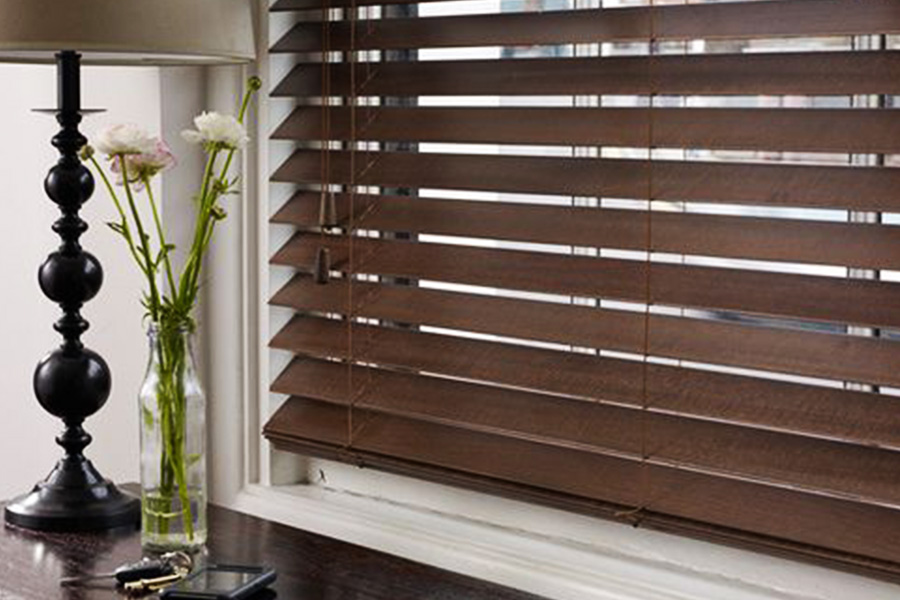 The easiest way to identify blinds is with their slats, which are the separate pieces running down a window horizontally from the headrail system or along a sliding glass door vertically. Slats can be tilted open or closed with a wand or a cord—and sometimes offer cordless lift systems. The slats can also be raised all the way up for an unobstructed view.
Blinds can be attached inside the window opening, or they can be mounted on the wall above the window. Homeowners can also select the thickness of the slats, as well as the materials and colors of the paint or stain. Typically, customers choose between a variety of wood or faux-wood custom blinds, and there are pros and cons to each.
Wood Blinds
Wood blinds are high-quality and durable. With the right grain texture and choice of stain, custom wood blinds can add an impressive look to your home, striking that perfect, natural ambiance. They also offer great control of light and privacy.
Faux-Wood Blinds
Faux-wood blinds are the most budget-friendly window treatment available. One of the biggest benefits to faux-wood blinds, as opposed to real wood, is that these are a better choice for rooms where you anticipate moisture or high humidity. Rooms like bathrooms and kitchens work well with moisture-resistant faux-wood blinds.
At Sunburst Shutters, we offer custom wood and faux-wood blinds with a great selection of paint and stain finishes. For either wood or faux-wood blinds, homeowners can anticipate a life expectancy of about 5 to 6 years.
What Are Shades?
Shades can be easily spotted by the type of material used and the style. Unlike blinds, shades are often made of fabric or other softer materials and are often in single pieces, as opposed to slats or louvers found in blinds or plantation shutters. Though varieties, fabrics, and styles vary greatly for shades, most generally offer an "all or nothing" approach to light and privacy. Shades can be raised or lowered, but since there are no slats or louvers, they can't filter or angle the light like blinds or interior shutters. Cords, cordless, or motorization are the options for raising shades, so light can enter a room. Depending on the material, shades can also offer varying levels of opacity, or they can offer room darkening, which is a great feature for bedrooms. Like blinds, our shades can be attached inside the window opening or on the wall above.
Types of Shades
At Sunburst Shutters, we offer 7 unique types of
custom shades
. Each type of shade also has its own style and appeal that can transform your home—some fold like an accordion, others have a flat piece of fabric, and still others alternate solid fabric with sheer fabric. On average, homeowners can anticipate shades lasting anywhere from 7 to 10 years.
Our shades include:
What Are Plantation Shutters?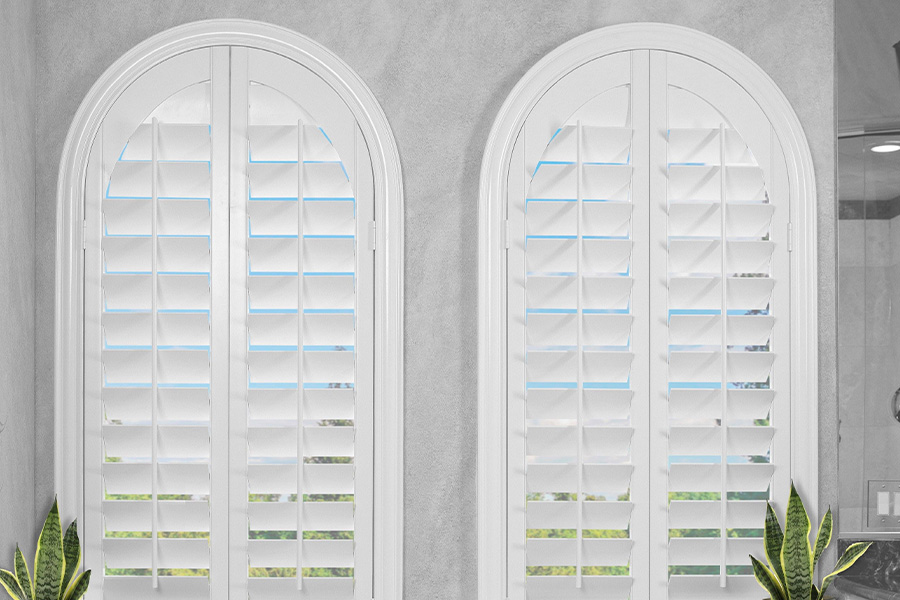 Plantation shutters are panels that have adjustable louvers, which are hinged inside of a frame that's mounted inside or on the wall around a window. Plantation shutters are the most energy-efficient and durable window treatment homeowners can purchase because they cover the entire window, are permanently attached, and have more density than other treatments. While louvers can be opened or closed with a tilt rod, the shutter panel itself can also be opened, allowing for total visibility out the window. Because our
custom plantation shutters
are solid, and they fit windows perfectly, they are the most effective at controlling light, noise, and privacy. For the best energy efficiency, our Polywood® plantation shutters include weatherstripping, which helps create a more effective seal. This weatherstripping plus our solid plantation shutter materials and UV-inhibiting paint means a greater reduction in heat transfer that can help homeowners save on energy bills.
Polywood® Plantation Shutters
Sunburst's Polywood® Shutters are the leading custom plantation shutters nationwide. Polywood® Shutters are specifically engineered with a durable and recyclable solid wood substitute that will last a lifetime. As a result, these plantation shutters won't chip, crack, warp, or split. They're also moisture-resistant, fire-resistant, and impervious to termites. Polywood® Shutters can also earn homeowners an energy credit on taxes. Because of their construction and energy-saving features, Polywood's ability to block up to 30 degrees of airflow that passes through a window and their 45.96% reduction in heat transference, qualify them as an eligible home upgrade for the federal energy tax credit. This means that any Polywood® Shutters installed this year can receive a tax credit worth up to $1,200 toward taxes owed next year.
Ovation® Interior Wood Shutters
Ovation® Shutters
are handmade from solid hardwoods and offer an unbeatable charm and elegance. Available in a variety of paint and stain options, these interior wood shutters are known for long-lasting durability and a luxurious appeal that suits your home or office. Ovation® Shutters are also the only 5-star wood shutters in the world.
Other Types of Plantation Shutters
At Sunburst Shutters, we're proud to offer several options for plantation shutters. Whether you're looking for interior wood shutters or faux wood, we have solutions that can protect your home and give you the aesthetic you've been looking for. Beyond our leading brands of interior shutters listed above, we also offer budget-friendly
Studio™ Shutters
and exclusive, custom-handcrafted
Reclaimed Wood Shutters.
Blinds vs. Shades vs. Shutters: What Does Each Offer?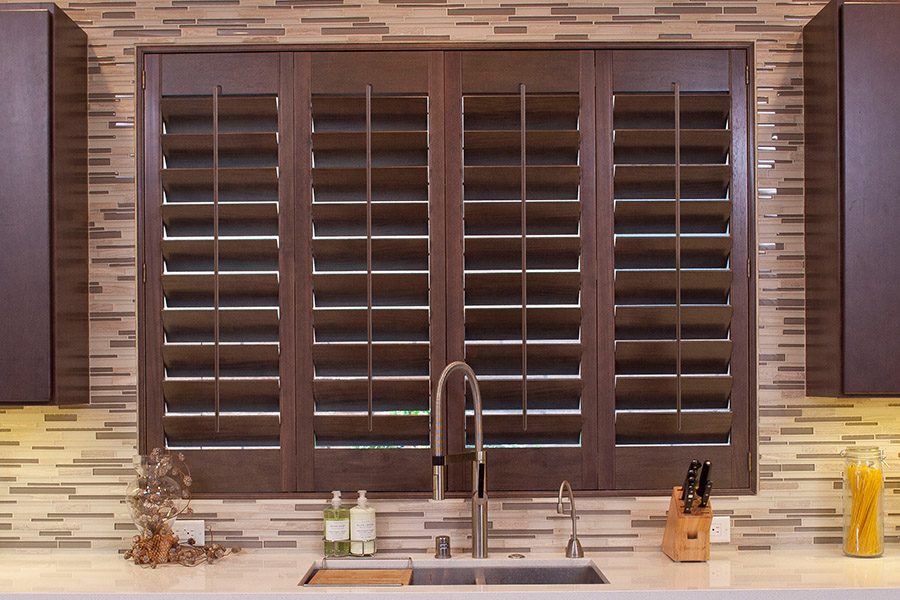 In the debate between blinds vs. shades vs. shutters, we've broken down the features that each type of window treatment offers. However, when choosing the solution that works best for your space, there are some important factors to consider.
Appearance & Style
Blinds are considered to be the most basic window covering. When it comes to blinds, the most obvious difference in appearance and style is in the choice between wood and faux wood. Each choice comes with options for paint and stain colors, and the thickness of the slats can also alter the look and feel of blinds. Some homeowners prefer to go cordless, as it provides a cleaner look.
Because there are so many different types of fabrics and softer materials for shades, this window treatment can easily mesh with a home's decor and style. Shades offer a variety of looks, from simple to elegant. Options like transitional zebra shades pair softer fabric with solid pieces to create an appearance and a style that looks stunning and truly highlights the space these shades are installed in.
Plantation shutters are custom-manufactured to fit any size or type of window in your home. Your choice between Ovation®, Polywood® Shutters, or our other brands is just the beginning. Choose between a selection of color options, three different louver sizes, traditional or hidden tilt, split tilt or divider rail, and a variety of frame styles. Our customization options allow for a truly personal feel that lets homeowners make plantation shutters their own.
Functionality & Light Control
When it comes to functionality and light control, shades are ideal for rooms where limited light is preferable. While shades can open and let the light in, they don't offer the more precise light control offered in blinds and plantation shutters.
When it comes to functionality, both blinds and plantation shutters allow users to adjust slats and louvers. Whereas blinds can be raised to allow a full view of a window, the design of plantation shutters allows for it to be opened, giving homeowners the best visibility. Plantation shutters also offer the best light control, as they are custom-fitted to your windows, providing the ability to block the most light from entering through the louvers and also around the sides of the treatment. The long-lasting durability of plantation shutters also means that, over time, these window treatments won't lose their effectiveness. Many types of shutters have lifetime warranties on the craftsmanship. For that reason, plantation shutters work best in permanent residences.
Alternatively, the life expectancy of blinds is 5-6 years and shades is 7-10 years. Blinds are an ideal window treatment for apartments and rental properties. Shades and interior window shutters are great for permanent residences.
Energy Efficiency & Insulation
While all window treatments block out sunlight and varying degrees of heat, no shade or blind offers the incredible energy efficiency of Polywood® Shutters. Because of the way they are mounted, plantation shutters like Polywood® are incredibly effective at reducing heat transfer. Third-party testing confirms what we already knew — Polywood® Shutters are 70% more energy-efficient than traditional wood shutters and 1600% more energy-efficient than aluminum blinds.
Though plantation shutters are more expensive treatments than blinds and most shades, some of that expense is earned back in money saved on lower heating and cooling costs. To that end, the investment in a more permanent fixture like plantation shutters is offset by savings on a long-term basis coupled with the fact that shutters won't need to be replaced.
Maintenance & Durability
Because they're fabric, shades can be difficult to clean. More often than not, you'll find it's more effective to spot-clean shades to remove any dirt, dust, or debris. Some shades, however, can be removed for deeper cleaning.
Depending on how small your slats are, cleaning and maintaining blinds can be time-intensive. The smaller the slats, the more cleaning homeowners find themselves doing. Plus, with the cords in most blinds, cleaning between each slat requires patience and a steady hand.
Our plantation shutters offer easy cleaning. Plantation shutters have no cords to fit dusting cloths around, and the space between each louver is wider. This makes the process of cleaning your interior shutters a breeze! Simply wipe with a cloth and move on. With regular maintenance and care, they'll also look as new as the day they were first installed.
How Do I Select The Right Window Treatment?
We get it; depending on which window treatment you choose, it can be an investment. There are so many factors to consider when installing a window treatment–budget included–and it's difficult to decide which one will offer the best look, feel, and longevity for your space. When it comes to budget concerns, there's also the matter of immediate costs versus prolonged costs.
Budget vs. Need
It's easy to get caught up in the lower cost of blinds. Many blinds are easy to install and can be purchased for cheap. However, improper installation, lower-quality materials, and poor functionality can result in long-term costs many don't consider when weighing the cost-effectiveness of store-bought vs. custom window treatments. At Sunburst Shutters, our wood and faux-wood custom blinds are made of high-quality materials, and our expert installation ensures the longevity of your treatment.
Generally speaking, custom shades, while more expensive than blinds, tend to last longer. Because of their variety, shades also offer more stylish appeal and some types, like cellular shades, can offer more energy efficiency to your window treatments.
The best long-term window coverings are Sunburst's plantation shutters. Our commitment to the best materials, manufacturing, and precise custom-fitting to your windows, as well as our incredible lifetime warranties, ensures the longevity of your window treatment. The higher cost of plantation shutters may seem like an investment, but it's a permanent solution that can provide your home with style, increased resale value, and energy-efficient gains for life. Our satisfied Sunburst Shutters customers agree.
Schedule Your Free Design Consultation Today!
Upgrade your windows with a custom window treatment that enhances your home's decor and lowers your energy costs. Schedule a free in-home design consultation today, and our local Sunburst Shutters representative will bring our showroom to you!