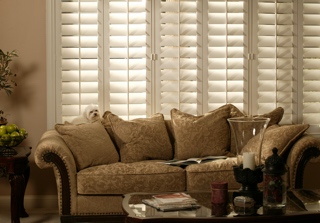 5 Reasons To Upgrade To Shutters
Are your window treatments worn, broken, or out of style? Have you had the same window treatments since you've lived in your house, even if it's been a decade? Do you want a new look for your windows? Then it might be time to swap out your standard window treatments for luxury window treatments like plantation shutters.
Here are five reasons to consider upgrading to shutters.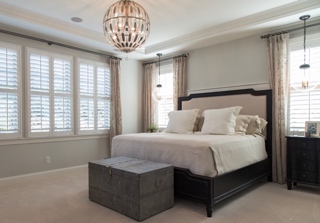 1.) YOU'RE REMODELING YOUR HOME AND WANT A NEW LOOK
An upgraded bedroom isn't complete without new plantation shutters.
Home remodels are the perfect time to switch to shutters. Whether you're updating your kitchen, living room, bathroom, or the whole house, you'll want to have the right window treatment that complements your new home design. The choice of window covering becomes even more important if you need to blend a newly renovated room with the rest of your house.
Plantation shutters are a timeless window treatment that coordinates with any style ranging from rustic to sleek and modern. The classic design with thick louvers and a centered tilt-rod help accentuate your chosen decor by directing the natural light exactly where it should go. And even when you repaint or swap out your furniture a few years down the line, your plantation shutters will still fit right in.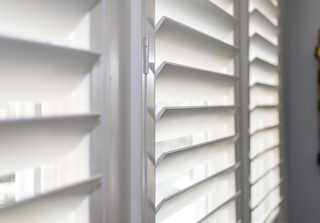 2.) YOU'RE REPLACING YOUR WINDOW TREATMENTS TOO OFTEN
Plantation Shutters are built to last -- especially if they use faux wood like Polywood.
Low-priced blinds and curtains aren't made to last. They start to show wear and tear within a few years, including broken slats, fading colors, or stains that are hard to get out. Then a few years later you just have to replace them again.
Polywood® plantation shutters are durable enough to last for decades. They're made of solid material that doesn't fade, chip, warp or crack. They are also water and pest resistant, which makes them perfect for the bathroom or basement. They even come with a limited lifetime warranty. When you get Polywood shutters, you won't need to replace them ever.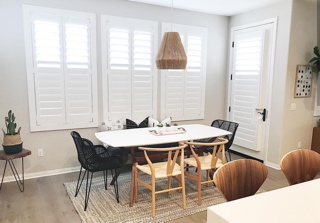 3.) YOU WANT BETTER ENERGY EFFICIENCY
Polywood shutters help your rooms stay cool in the summer and warm in the winter.
Photo credit: Audrey at Audrey Crisp Interiors
Heating and cooling can get expensive, and windows are one of the main culprits for heat transfer in your home. By switching to Polywood shutters, you'll improve your home's energy efficiency and reduce your heating and cooling bills. In fact, Polywood shutters are one of the most energy-efficient window treatments out there and are approximately 1600% more efficient than aluminum blinds.
Learn more about Polywood unique energy efficiency in the video below.
4.) YOU NEED SOMETHING SAFER FOR KIDS AND PETS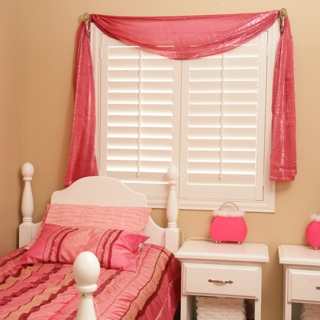 Shutters are the safest window treatment for kids and pets.
Your life today might look a lot different than it did ten years ago. Maybe you now have young kids, or you've brought home a puppy. Those corded blinds or shades suddenly become a hidden hazard that can lead to injury or strangulation. Now you want window treatments that are much safer and more durable.
Shutters are a good choice because they don't have any dangling cords that can entangle your child or pet. They are easy to clean and stand up to wear and tear, especially if they are Polywood shutters. They even provide a great deal of privacy and noise reduction when shut, so they are a great addition to a kid's room or nursery to help your babies sleep.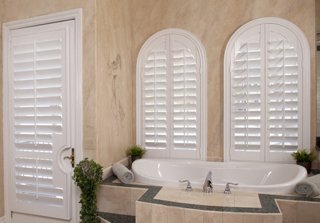 5.) YOU HAVE ODD SHAPED WINDOWS
It seems impossible to put up window treatments on arched windows --
unless you use shutters.
Uniquely shaped windows like circular, arched, or triangular windows add interest to your home, but they can be a challenge to cover with standard shades or blinds. You need a custom window treatment that can match the shape of your window. Polywood plantation shutters can fit any window perfectly, no matter the size or shape, so you're no longer trying to fit a square window treatment over a round window.
SEE HOW EASY IT IS TO UPGRADE TO SHUTTERS
If you want to learn more about an upgrade to shutters, give us a call. We'll schedule a free in-home consultation where a Sunburst professional will walk you through all of your window treatment choices to find the best fit for your home, style, and budget.