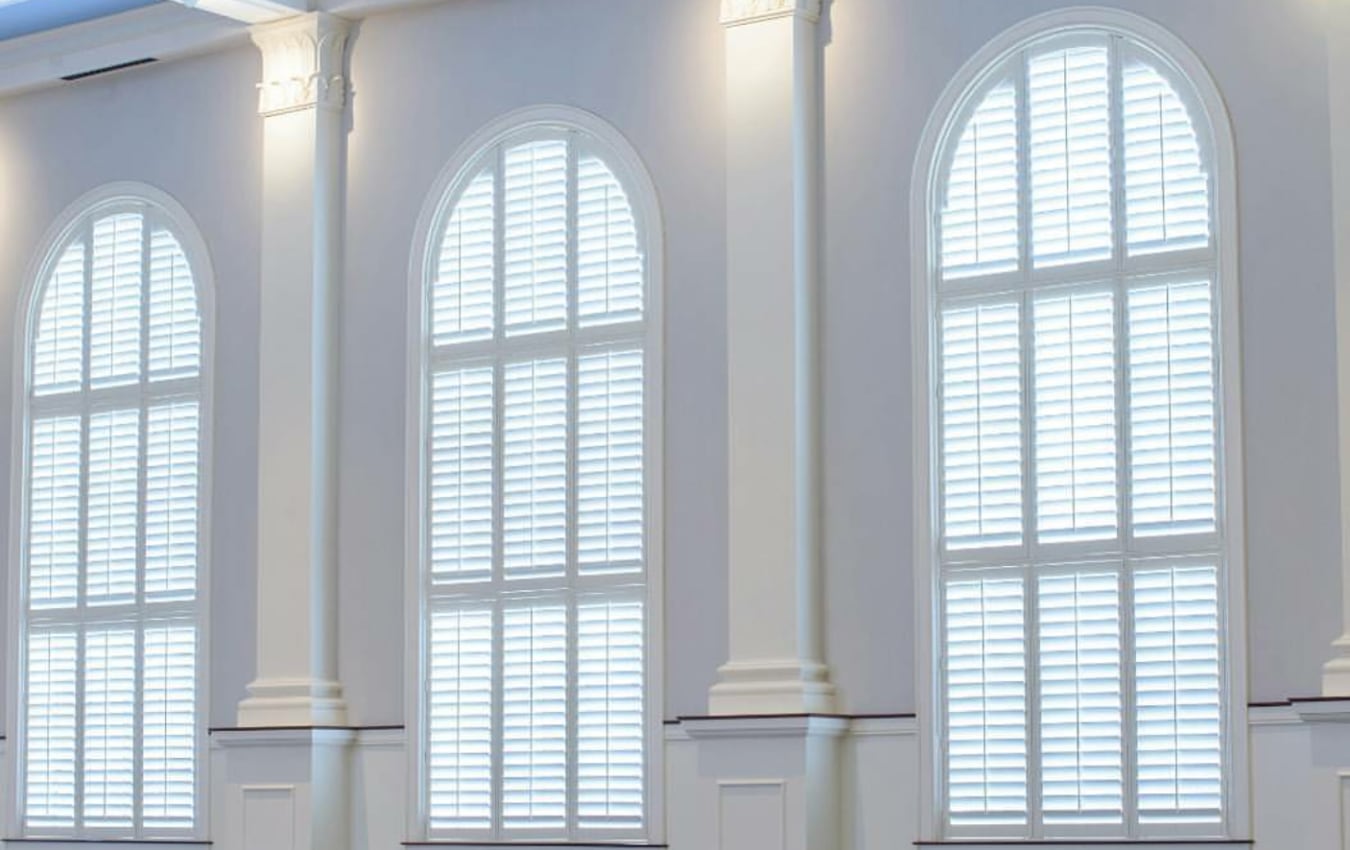 Arch Window Shutters For Commercial Buildings
Arch windows are a beautiful window shape to adorn a building. Its curves draw the eye of both passersby and those looking out.
You no longer have to leave your beautiful commercial building's window undressed. It may seem hard to find a window treatment that would do the arch window justice without sacrificing privacy, energy efficiency, and beauty. But that's where arch shutters for commercial buildings come in.
The Arch Window Treatment Challenges & Solutions
Whether you're the interior designer, the building manager, or the business owner, we want to help you overcome the following window treatment challenges for arch windows.
Conserving Beauty
Blinds, shades, and curtains may give you privacy in whatever office room the arch window is in. But the way these window treatments cover the arch window, they completely hide its distinct curves. That defeats the point of having a beautiful arched window.
Plantation shutters can be custom-designed to fit the arch window perfectly. Our experts measure the angle and radius at which your window curves. We order your arch shutters so that it fits the window's frame seamlessly. This way, arch shutters for commercial buildings leave the beautiful architecture of your window intact.
Energy Efficiency
An arch window can range in height from a couple of feet to floor-to-ceiling. And that ceiling can be as high as two stories as was the case with the Indiana church windows pictured below. With all the glass surface area exposed to the weather elements, such large arch windows would put a strain on your power bills.
Arch Window Shutters For Commercial Buildings
When arch shutters for commercial buildings are made from Polywood® plantation shutters, you'll see the energy savings immediately. That's because Polywood insulates 70% better than the equivalent wood shutter and 1600% better than aluminum blinds.
Easy Tilting
Most commercial buildings with arched windows I've seen don't have any window treatments. That's usually because it's a daunting thought for a business owner or employee to cumbersomely move the window covering every time they want more or less light.
Arch Window Shutters For Commercial Buildings
This is not the case with arch shutters for commercial buildings. Multiple panels covering the entire window give you ultimate control over how much of the window you want to expose. And each louver in the shutter panel can be moved with a tilt rod. Now you can adjust how much light you let in and how much of the view you see with a simple tilt.
For larger arched windows, the top shutter panels may require a ladder to adjust the tilt rod. I've seen them set to an optimal angle for light and unchanged for a while when access to a ladder wasn't easy. It would be beneficial to adjust these top louvers with the change of the seasons for energy savings.
How We Work With Designers & Builders To Install Arch Shutters For Commercial Buildings
We've worked with hundreds of builders and interior designers across the nation to bring arch shutters to commercial buildings. Our experts are ready to supply you with custom plantation shutters as well as provide you with a full turnkey service. Learn more about how we work with designers and builders.