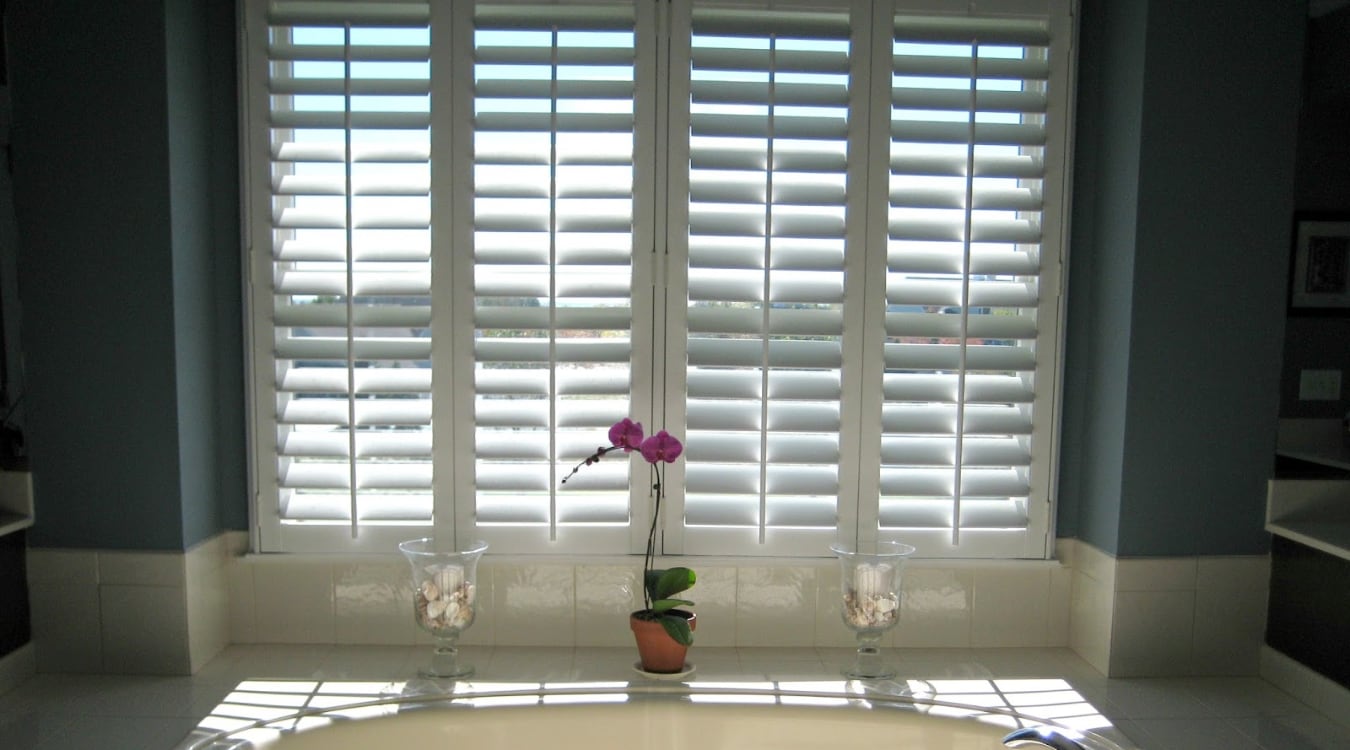 Bathroom Window Treatments Have You Covered
Whether you're taking a shower at night or washing your face in the morning, bathroom privacy is important – especially when there's a window in the room. For those of us living close to neighbors, there are a couple of options in bathroom window treatments to keep peeping eyes away.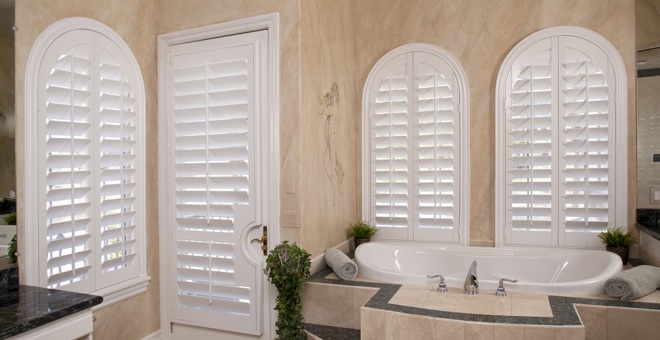 Shutters
Plantation shutters are permanently mounted on the bathroom window, providing you with the security that every inch of the window is covered. The louvers of the shutters can be tilted to bring in more light as needed. But the best part about them isn't that you can easily open and close them with a tilt rod. It's that Polywood plantation shutters can endure the humidity and temperature conditions that a hot shower creates.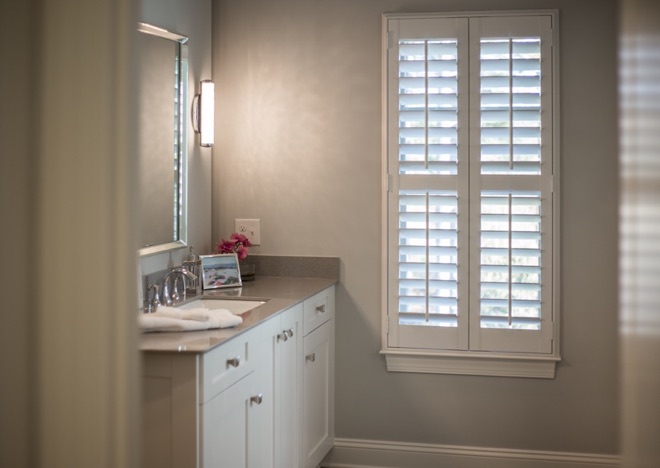 In fact, Polywood shutters are made from a composite material that guarantees they never warp or crack. When properly maintained, they can last more than 50 years and still look as beautiful as the day you bought them.
When closed, the shutters insulate against the weather outside. Polywood shutters insulate up to 70% better than the equivalent wood shutter. This makes getting ready a pleasant experience every morning: never too hot, never too cold when you walk in.
Whether you have a small window above the toilet or a large one above the bathtub, plantation shutters can be custom designed to fit any window size and shape. And considering the variety of frame styles, shapes, and custom colors, Polywood shutters make for perfect bathroom shutters in any home.
Blinds & Shades
When homeowners ask us if they should keep their blinds and shades in their bathrooms or replace them, we ask them what their priorities in this room are. Do they want a bathroom window treatment that blocks outsiders from looking in? Not all blinds and shades can do that for them. Are they looking for a cheap window treatment solution for the short term? Most blinds and shades would be within their budget. They're even available in a variety of styles and options.
But most homeowners we've met are interested in a bathroom window treatment that gives them maximum privacy. They're looking for a window treatment that can endure the moisture in the bathroom, is easy to clean, doesn't need to be replaced regularly, and doesn't hide a special shaped circle window. Blinds and shades aren't the best solutions for that. That's why we offer bathroom shutters.
We can custom design plantation shutters to fit your bathroom window perfectly. This means that for bathroom windows shaped like a circle, an arch, an octagon, or a triangle, our experts can design window treatments that accentuate every corner and curve while keeping the architecture intact.
And your investment in these shutters today means reduced energy bills tomorrow. Those savings are another reason why homeowners can't resist installing bathroom shutters that look beautiful day after day.
Are Your Bathroom Windows Covered?
If they are already covered, you might want to consider replacing them with a more enduring window treatment like our Polywood shutters. If you don't have any bathroom window treatments, our professionals are ready to help you choose the one that fits your privacy needs. For more information about bathroom window treatments available to you and to schedule a free in-home consultation, call 877-786-2877 ­or fill out the form below today!