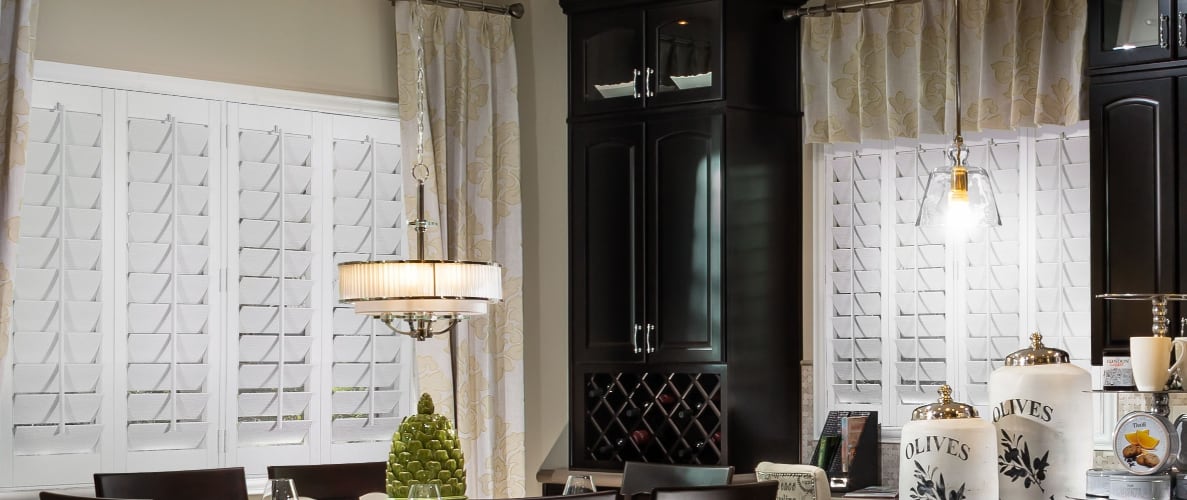 Can I Pair Plantation Shutters with Curtains?
There seem to be two camps when it comes to layering window treatments: those who think layers give interest and texture, and those that think layering is more of a distraction. However, pairing plantation shutters with curtains can dramatically change the look of any room -- and sometimes for the better.
There are many factors to consider when wondering whether or not the two window treatments can work together. Here's a quick list of pros and cons that come with combining plantation shutters and curtains.
The Pros of Layering Curtains And Plantation Shutters
You may have seen this layered style featured on social media sites like Pinterest. Some design mavens pull off the style beautifully, letting the shutter and curtain peacefully coexist. Here are some tips when pairing plantation shutters with curtains:
Plantation shutters usually come in natural colors like shades of white and brown. So use colorful curtains to play off the more neutral shutter. Doing so can bring a pop of color into a room.

When changing room styles, your curtains may also need to change. Your plantation shutters usually can stay, as they are a timeless style.

This layered look can add texture or to a room, but only if you play off the plantation shutter. Sheer curtains, for instance, rarely look nice against a heavier faux-wood plantation shutter. However, a medium-weight cotton curtain will complement the shutter nicely, especially when the curtain has an understated pattern.

Keep in mind that the curtain should frame the shutter, not hide it!
The Cons of Combining Plantation Shutters and Curtains
Before you start picking out curtains, ask yourself if you really want to cover a plantation shutter. Sometimes less is more, depending on the room. Here are a few thoughts that you should consider before combining plantation shutters and curtains:
Will combining curtains with shutters distract from your room's overall style? For instance, layering probably doesn't fit in with modern minimalism. Sometimes it's best to hang just the plantation shutter.
Layering adds a dimension to your windows that simply add more treatments to clean. Curtains can attract and trap dust, but plantation shutters are easy to clean. Simply dust your shutters like furniture or wipe away stains with a damp cloth. Why go through the trouble of removing curtains to clean when plantation shutters are simple and easy to maintain?

Heavier curtains can interfere with the slat movement of the shutters. If you don't want to lose the option to direct light with your plantation shutters -- or open them completely -- do you really want the layered look?
Like layering your clothing, pairing plantation shutters and curtains can look sloppy, heavy, or mismatched if done wrong. Luckily, curtains can be easily removed, leaving you with the beauty of faux-wood or hardwood plantation shutters.
Generally speaking, reclaimed wood plantation shutters and shutters on specialty windows should not be paired with curtains.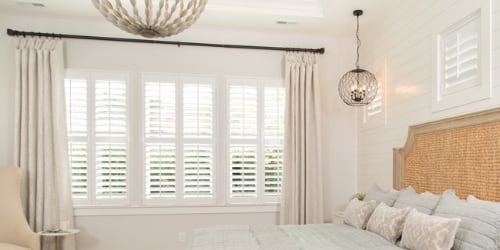 Pair Your Curtains With Quality Plantation Shutters From Sunburst
No matter if you decide to pair curtains with plantation shutters or leave the shutters alone, Sunburst can help. We'll show you how our shutters can enhance your home and give you benefits like energy-efficiency and privacy. Call us today at (877) 786-2877 for your free in-home or virtual consultation.