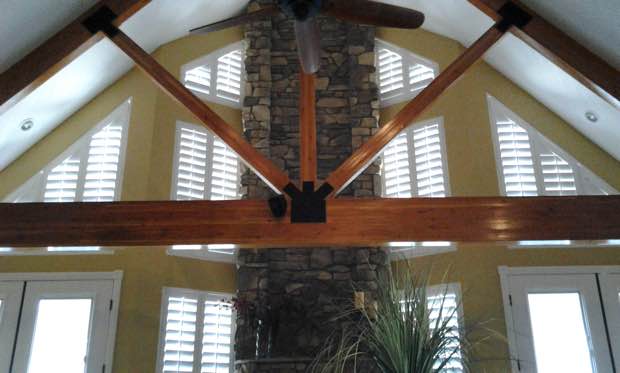 Cover Your Triangular Windows With Rake Window Shutters
Covering triangular (rake) windows can be a challenge because of their irregular shape. Most window treatments such as blinds, shades, or draperies come in a standard rectangular shape that don't match the shape of rake windows. So your window's unique angles remain hidden.
Some window treatments, such as draperies, can be tailored to your rake windows. But they limit your options for light control and can be expensive. Some homeowners choose to leave their rake windows bare, but then they can't control the light shining through or maintain their privacy.
You need a window treatment that will enhance – not hide – your triangular windows. It needs to be beautiful, preserve the window's shape, and let you control light and privacy. Let me introduce you to rake-shaped plantation shutters and why they're the perfect solution for your triangular windows.
Custom Fit For Your Windows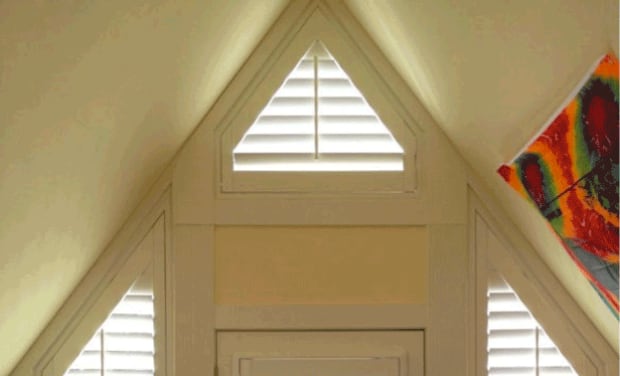 Rake plantation shutters are custom-built to perfectly fit your windows. Our rake shutters are built using horizontal louvers. The louvers cover the windows up to the tip of the triangle, no matter your windows' size or the steepness of an angle or curve. Their horizontal lines give a cohesive look to the window. And since the louvers are contained within the window frame, the window's original lines and curves are preserved.
Our team carefully measures each angle, curve, and length to ensure your shutters are the perfect fit for your window.
Control Light And Privacy Over The Entire Window
Shutters let you easily control the light and view that comes through your window. The louvers go all the way up the window, and can seal off light from the entire window. You can close them for privacy at night and to reduce glare during the day. Then open them up to let light in throughout the day. Adjusting the light level is as simple as tilting the louvers.
Insulate Against Temperature
Not only do shutters provide light control. They also insulate your triangular or rake windows against temperature extremes. Our Polywood® plantation shutters insulate 1600% better than aluminum blinds and reduce heat transfer by 45%. So you'll stay cozy in the winter and cool in the summer.
Bring Out Your Window's Character
When you have a unique window, you want to bring out its beauty and charm. Shutters add a touch of elegance, without detracting from your window's lines. You can choose from our Polywood and Ovation® Wood shutters to find the right one that complements your home's style and gives your window that extra pop. Both types of plantation shutters come in many colors to match your furnishings and decor.
Contact Your Local Store To Find The Perfect Rake Shutter
Want to learn more about rake shutters or other specialty shaped shutters like sunburst arch or octagon shutters? Give your local store a call to schedule an in-home consultation. They will walk you through the whole buying process and recommend the best window treatment products for your triangular windows – and other windows in your house. Now, with rake shutters, your triangular windows can look as beautiful as the rest of your home.