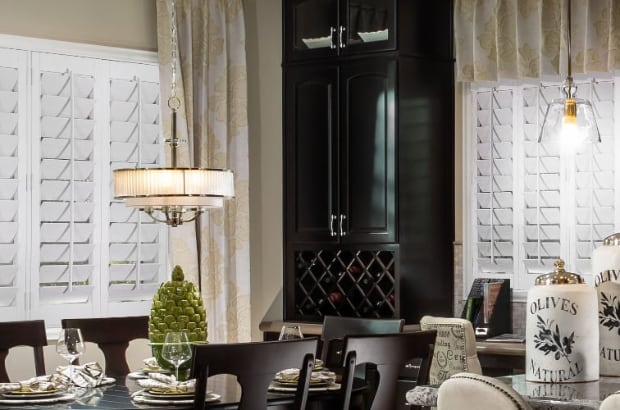 Craftsman Home Rooms to Inspire Your Design
Craftsman design and style is absolutely timeless. The style's been around for several decades, yet it's still one of 2018's hottest design trends. It stresses simplicity, comfort, and handicraft – all things that make a house a home.
So how can you bring that style into your space? Here are 8 Craftsman rooms to inspire your interior design.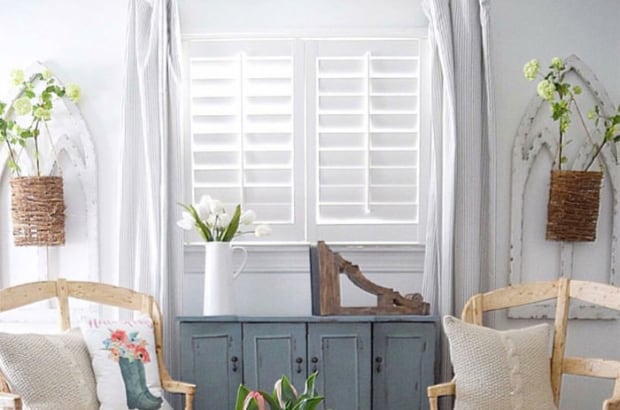 Wood-Inspired Sitting Room
Go ahead, count the number of different wood styles you can see in this room. From the hardwood floor to the pine chairs, the rattan chest to wicker plant holders, the repurposed serving table and cabinet to the white faux wood shutters. All of these various wood styles blend together to give a naturally comfortable and cool feeling to your space.
That slate blue repurposed credenza is also eye-catching, adding a splash of color to the earth tones of the rest of the surroundings.
Another look at this room from Finishing Touch Decor by Jenny shows you why that shutter-drape combo works so well. The natural light that shutters can let in plays perfectly with the naturally beautiful furniture. It's an incredibly inviting look made with just a few simple design choices.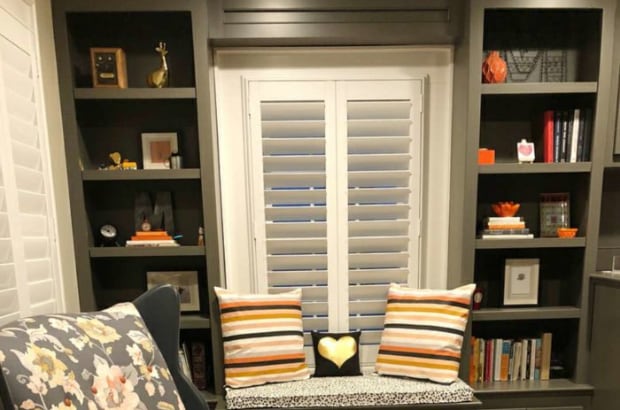 A Cozy & Vibrant Craftsman Den
You can see from the window seat bench area that this great room belongs to a modern victorian home, which highlights some of those Craftsman elements.
Along with natural elements immersed with pops of color; the built-in open shelving and cabinetry show the handiwork of this classic American home style.
Again, the full window shutters give the designer complete control of privacy for some family conversation or quiet reading time.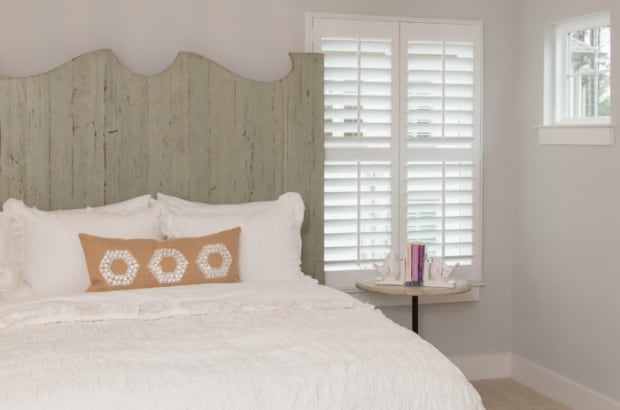 Simple Craftsman Guest Bedroom
This HGTV design inspired guest room, is styled in simple elegance showing the exact features you'd want to offer a guest in a Craftsman home:
Simple surroundings: The room isn't overly decorated or gaudy, and there's plenty of room for a guest to store their belongings.
Comfort first: Plush carpet, a neutral color scheme that's easy on the eyes, and plantation shutters in the windows so a guest can adjust to their preferred level of coverage.
Natural, intimate looks: In addition to the natural color scheme, rustic wooden bed frame, bedside table, and handcrafted shutters make the guest room feel more intimate and relaxing.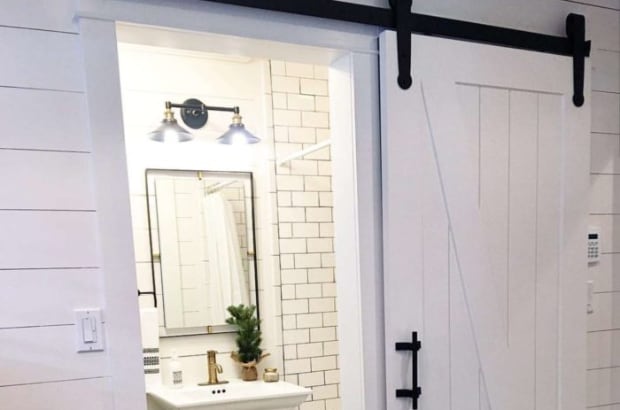 Modern Take on a Craftsman Bathroom
Modern technology meets Craftsman's simplicity in this bathroom. The sliding barn door saves room and brings an old-school natural element to the bathroom. From the modern geometric pattern tile flooring, an open-shower adorned in subway tiles and the classic chic light fixture is where eclectic meets rustic Americana.
This Craftsman bathroom is all about usability, and the white standing sink adds a touch of charm to it. Imagine how simple it would be to shave in this space, or how easy it would be to clean with the lack of complex surfaces.
This bathroom blends natural material with a mixture of modern minimalism and rustic chic design to create something truly unique and functional.
Breezy White Craftsman Bedroom
Another design by Finishing Touch Decor; is the bedroom we'd wake up in every morning if we had the choice. From the flowing sheets and comforter on the bed to the delicately placed flowers on the walls and floor, this room just invites you to an afternoon nap.
Moreso, this room is a study in how to use minimal color effectively. The throw pillow and flowers add a splash of yellow, and the gingham drapes and wall ornaments add green, while everything else is completely white or off-white. And speaking of white, look at how the white shutters complement the smooth wall when juxtaposed to the textured wall behind the bed.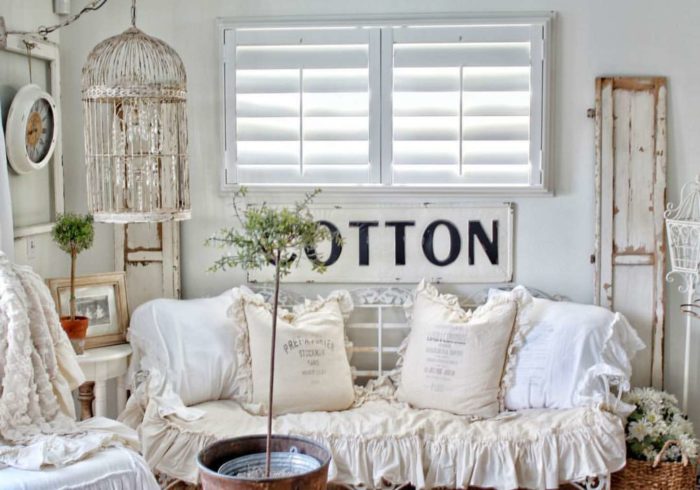 No Such Thing as Clutter in this Craftsman Home
There's so much going on in this Craftsman home from Simply French Market that you might not even notice the furry friend in the corner. However, with the smart use of color and space, even a home as busy as this can look absolutely gorgeous and inviting.
Our favorite pieces here are the refurbished standing cabinet over on the left, as well as the use of vintage hanging lighting both in the kitchen and the front room.
And there's no shortage of interesting textures and natural elements, from the wire-brushed hardwood floor and solid wood countertop to the stone wainscoting and exposed metal lighting.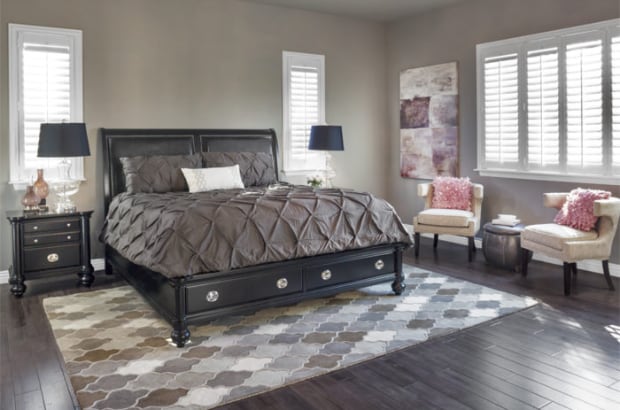 Elegant Craftsman Master Bedroom
This bedroom comes courtesy of Jane Cunningham at Room Resolutions. Quite possibly our favorite part of this design is how it cuts out the nonessentials. All a bedroom really needs is a bed, but a few nightstands and chairs aren't out of the question. The rest of the room is free space, highlighted by a stunningly finished hardwood floor.
Also note the placement of the shuttered windows on either side of the bed, giving an almost "his and hers" style of light control with the adjustable shutter louvers. The shutters on the far wall also let the homeowners wake up with as much light as they want, rather than going all or nothing with something like drapes or curtains.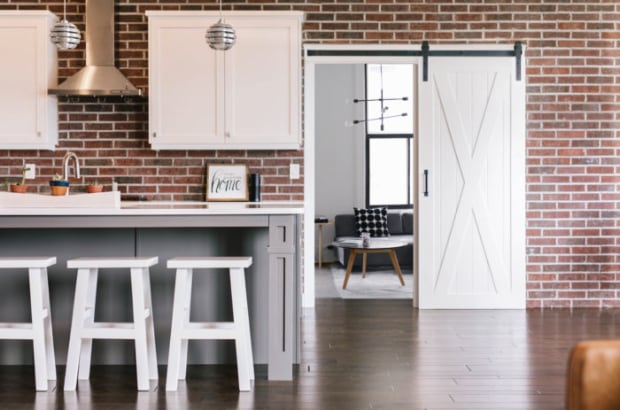 Craftsman Kitchen with Sliding Barn Doors
If you ever wanted to make a statement in your kitchen, a sliding barn door might do the trick. Here this door serves as a room divider, but sliding barn doors make a great pantry door alternative as well. Even though the rest of the kitchen has a distinctly modern look and finish to it, the solid, handcrafted, and installed barn doors take you right back to the Craftsman state of mind.
Not only that, but those barn doors make exceptional use of space, this door provides both optimal functionality sliding left to right, instead of swinging out to disrupt the entire kitchen, but privacy as well for those who wish to indulge in conversation in the kitchen or watch TV in the living space.
Get Help On Your Craftsman Window Treatments
If you want to add Craftsman style shutters, sliding barn doors, or any window treatment to elevate your Craftsman design, Sunburst Shutters can help. Call us at 877-786-2877 today or fill out the form below to start a free design consultation with one of our experts.