Luckily, choosing the right window treatments in your bedroom can help you catch up on that much-needed rest. Here's how to equip your windows for a better night's sleep.
Blocking Window Light For Better Sleep
Every window treatment from blinds to drapes can block out some light, but there are a few window coverings that definitely outshine others in this category.
Possibly the best window treatment for better light control is custom plantation shutters. Shutters are completely solid, and the louvers close into a perfect seal to block any and all light. Polywood® faux wood shutters also have built-in weatherstripping, filling the gaps around the window frame where light might otherwise seep in from.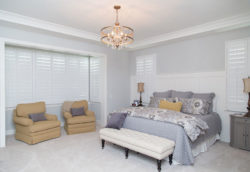 Depending on your preferred lighting levels, some other window treatments can help you get a better night's sleep as well. High-quality roller shades with light-blocking can dim your bedroom and block ambient light, as can the majority of draperies. However, neither will be able to block the same amount of light or give you the same amount of control as shutters will.
Blocking Window Noise For Better Sleep
Darkening or blackening out your windows is one thing, but helping to soundproof them is an entirely different task. While you could replace your windows and install triple-pane, acoustic blocking windows, your wallet probably won't like that idea. Fortunately, there are some other methods.
If a simple, quick, DIY solution is what you're looking for, you can find various ways to block window noise to get a better night's sleep. Sound-proofing plugs, sound-deadening vinyl window covers, and other products can easily be found at home improvement stores. Be aware though that these may sometimes be difficult to install, can look a little messy, and may not allow you to keep your existing window treatment in place.
You can also opt for an actual sound-blocking window treatment. Polywood plantation shutters are proven effective at blocking outside noise, for the same reasons they block light and heat: solid material, built-in weatherstripping, and a frame that locks in place to cover your entire window.
Blocking Window Temperature For Better Sleep
Some people are warm sleepers, while others are cool sleepers. The trick to getting a better night's sleep is maintaining a comfortable temperature in your home so you don't have to constantly shift blankets or run to the thermostat in the middle of the night.
Because most of your home's heat is either gained or lost through your windows, energy-efficient window treatment can be your best line of defense from sleepless nights.
Cellular shades are an easy solution for bedroom windows, and the room-darkening versions are good at blocking heat from the sun (which is great for daytime nappers, or people who work nights). These kinds of heavy-duty shades also boast a fairly high r-value, meaning they're effective at blocking heat flow.
To make your windows as energy-efficient as possible and ensure a comfortable temperature in your room, choose Polywood shutters. They are far and away from the most effective blockers of heat among all window treatments, so your bedroom can stay the exact temperature you want it to.
Rest Easy With the Right Window Treatments
You need to be able to relax completely to get a good night's sleep, and that means easing all of your senses. The right window treatments in your bedroom can do just that. To learn more about how your windows can make your house even cozier, get in touch with your local Sunburst Shutters store by calling 877-786-2877 or by filling out the form below to receive a free in-home consultation.