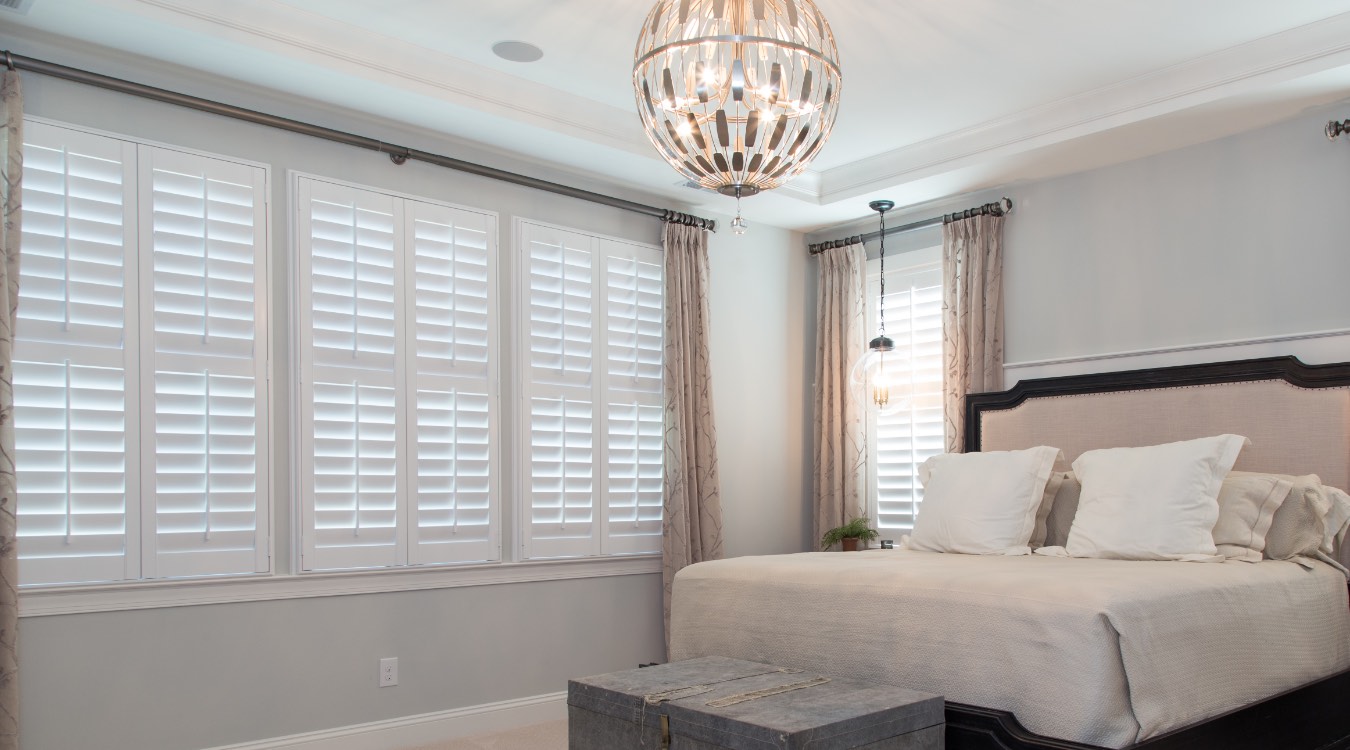 Estimating the Cost of Plantation Shutters
There are a lot of reasons why homeowners install interior plantation shutters. Their looks, unmatched energy efficiency, and light control are all among the perks of choosing shutters as a window treatment. But when you're planning a home improvement project, you want to keep final costs in mind. "How much do plantation shutters cost?" is one of the questions we usually hear during a consultation.
Since every home is unique and there are so many shutter options to choose from, there's never a concrete answer for that question before the project is fully assessed, and if a company gives an upfront price without knowing your specific needs, you may not be getting what you want.
If you know the variables that can affect the price of your shutter project, you can get a good ballpark estimate of your shutter cost. Let's take a look at them.
What Affects Plantation Shutter Prices?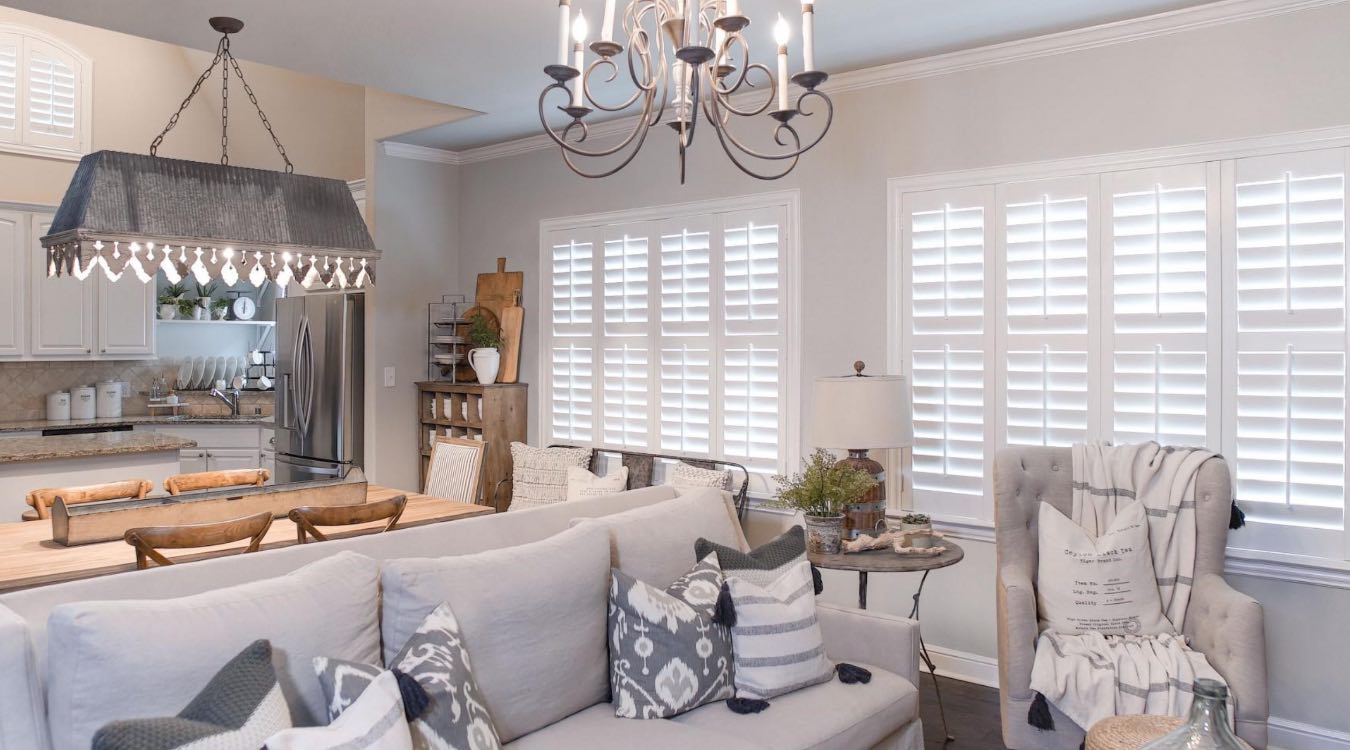 Since all Sunburst plantation shutters are custom-built for the windows in your home, the price will vary depending on your home's unique needs. Here are some of the factors that can influence the price of your shutters.
The Material Of Your Plantation Shutters
Our four types of plantation shutters are all composed of different material. Polywood® shutters and Studio™ shutters are constructed from a faux-wood compound, Ovation® wood shutters are made from natural hardwood, and Reclaimed Wood shutters are built from repurposed lumber.
Among these, Studio is the most budget-friendly, as it's uniquely designed to highlight value and convenience. Polywood also tends to be a cost-effective choice, as the material is 100% made in the USA, eliminating costs associated with harvesting and shipping natural hardwood materials. Our reclaimed wood shutters are also 100% made in the USA, but the harvesting process is a very delicate and lengthy process that adds cost.
The Size & Shape of Your Windows
In general, plantation shutters are priced on a square-footage basis, so naturally larger window shutters will have a higher price tag than shutters for smaller windows. Knowing the approximate dimensions of your windows can help you come up with an initial estimate, but don't worry too much about measuring–our team will get an exact measure for you during your free in-home consultation.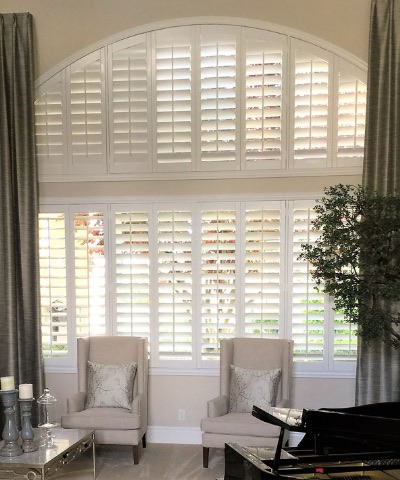 Uniquely-shaped windows, such as triangular or octagonal ones, can also add a little more to the cost compared to typical square or rectangular windows since they take more time and work to fit the exact specifications and unique geometry of your window. Specialty windows may also require extra installation work depending on your existing frame and wall.
There are also a few other variables that can affect your shutter price: frame style, the finish, or additional options like hidden tilt rods. The point is that there are so many factors that can influence the cost that asking "what do shutters cost" may be doing you an injustice by not giving you the full picture.
Plantation Shutters – Benefits Worth The Investment
Compared to some other window treatments available on the market, it's true that plantation shutters might require you to budget a little more. But when you consider the numerous benefits that only plantation shutters provide, the investment becomes remarkably reasonable.
Energy Efficiency – Only plantation shutters offer top-notch insulation and energy-efficiency. Polywood plantation shutters specifically can block up to nearly half of the heat transfer from your windows, whereas other window treatments can't even come near that level of insulation. That means money saved on your home heating and A/C bills throughout the year.
Longevity – What's the typical lifespan of a set of blinds or shades? A few years, perhaps more if you're very lucky. Each time you replace a cheap window treatment is more money out of your pocket and more time taken from your weekend. When you install plantation shutters on your windows, you know that you're putting in a window treatment that can last a lifetime. We even guarantee it.
Home Value – Homebuyers do their research, and they're aware of the benefits of plantation shutters. That's why just like sparkling new appliances or natural tile floors, plantation shutters are proven to increase home resale value.
Looks – Perhaps more than any other reason, plantation shutters are chosen because they just look better. No window treatment offers the same timeless aesthetic or the distinct look and simple elegance as shutters.
If you're looking to add these benefits to your home, Sunburst can help. Our trained professionals will come to your home, explain all your options, and give you an accurate estimate of the job. Be wary of flat quotes from other shutter companies—they typically give a lower than realistic price to entice you to invite them to your home, without taking your needs into account.
To get started, schedule a free design consultation by calling 877-786-2877. Let's find the right solution for both your home and your budget.