Exciting Home and Window Treatment Design Trends for 2019
Like many people, you spent a lot of holidays at home battling your outdated interior design. Who thought Hollywood mirror lights were a good idea? Was our Tuscan kitchen always this dark? And can we finally upgrade to shutters from those awful vertical blinds? It's time to update to the latest trends, and we can help.
For 2019, most designers suggest simple, layered rooms that reflect your personality. We're also trending towards peaceful environments with natural elements, while still indulging your tech-centered lifestyle. There may even be room for that crimson, curved, velvet couch from the 1960's you have stuck in the basement. (Or maybe not).
Here's what we see trending in 2019: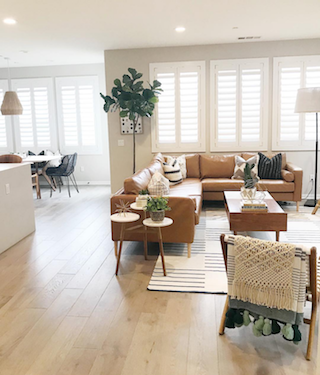 Simple, Layered Looks
(Photo: Audrey Crisp Interiors)
Gone are the days where your whole living room needs to look like it's right out of a Pottery Barn catalog. In 2019, we expect to see a more layered look to the design, one that allows for interesting pieces from seemingly different styles to peacefully coexist. This lets you infuse your personality into your rooms without worrying about over-coordinating fabrics, colors or themes.
This doesn't mean you should clutter up our rooms with unnecessary pieces or lifeless knick-knacks. Instead, you want a few practical pieces with clean lines that don't necessarily belong in a "set." In 2019, each piece of decor is going to tell your story, and while we're not quite at sparse minimalism, you probably don't need your story to be about an indiscriminate hoarder.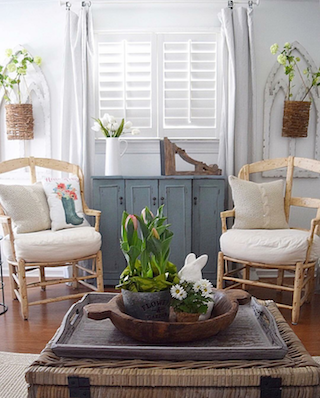 Natural Elements
(Photo: Calypso in the Country)
To help us find peace in 2019, we are turning to natural elements in interior design. Green plants will pop up in surprising ways, like on wall art or lining your kitchen window sill. Beyond greenery, we see a push for concrete tabletops and wood bathroom vanities. Of course, we also want durability and practicality, so artificial plants and faux wood window treatments are desirable. The idea is to protect yourself from a chaotic world by creating peaceful, comfortable spaces that surround the soul with nature.
Organic Technology
And while we may want our spaces to seem technology-free, the fact is that we are gravitating towards infusing technology into almost everything. Refrigerators will send a text when we need milk. Smoke alarms have omnidirectional music speakers. Even our countertops can wirelessly charge phones and laptops. Over 69 million users have access to a voice-activated digital assistant, and we want them to make our life easier.
However, in 2019 we won't want our tech-enabled lifestyle to infringe on our peaceful surroundings. Our smart appliances and furniture should still look like appliances and furniture and not like something from a Star Trek episode. So, while you may see some LED screens when it makes sense, most smart items will feature voice commands or a smart-phone enabled app.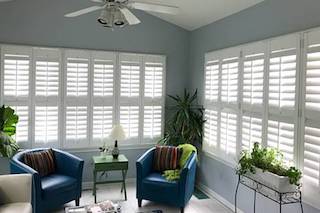 Cordless Window Treatments
New safety regulations from the U.S. Consumer Product Safety Commission now restrict the manufacturing of corded shades and blinds. Designers have taken these requirements as an opportunity to spruce up the entire idea of window treatments. Plantation shutters remain a solid window treatment choice since they give your windows that desired clean look.
White vs Bold Colors
It may be time to move away from Millennial pink and soft greys in our home decor to vivid, bold colors. Pantone's color of 2019 is a bright orange-pink called Living Coral. PPG is giving us Night Watch, a rich shade of green. Both took inspiration from nature and will inspire interiors to move away from uninspired neutrals that give a room a flat, monochromatic feel. But move away from the accent walls, as 2019 trends have entire rooms painted in these bold colors. Then, designers are tying rooms together with white trim and white window treatments like Polywood shutters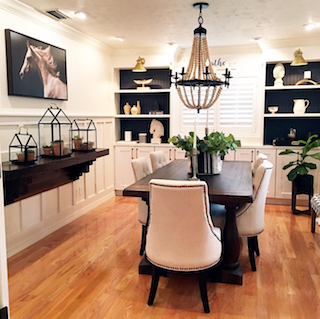 Matte Finishes and Curved Furniture
(Photo: The Daily Nest)
2019 is bringing some interesting statements through matte finishes and curved lines. Solid matte finishes give simple pieces, like consoles or cabinets, a luster that makes other furnishings feel comfortable and relaxed. Curved furniture and accents can also give your rooms a sophistication that hasn't been seen in a while. It's unknown if these bold finishes and curves will hit Art Deco levels, but don't be surprised to see arches extend to rugs, door frames, and windows.
Let us help find your trend in 2019
Whether you update your home to the latest trends or stick to the classics, window treatments are a great place to start. Fill out the form below or call 877-786-2877 and your local Sunburst representative will help you find the perfect shutter, blind or shade for your personal decor.