How To Bring HYGGE To Your Home And Window
You may have heard of hygge (pronounced "hue-gah") on HGTV or from various interior designers. And you're probably going to hear a lot more about it, since it's one of 2018's hottest design trends. It's a broad, all-encompassing concept that some people live their lives by, but one of the best and easiest ways to incorporate it is in your own home.
What is Hygge?
Hygge is a Danish concept without a direct translation, but the closest we can come to it is "coziness." Hygge is about living simply, being comfortable, and enjoying your surroundings – think "log cabin, hot cocoa, and a warm blanket." So you can see how easily it can make its way into interior design.
But how exactly do you bring hygge into your home? Here are some ideas.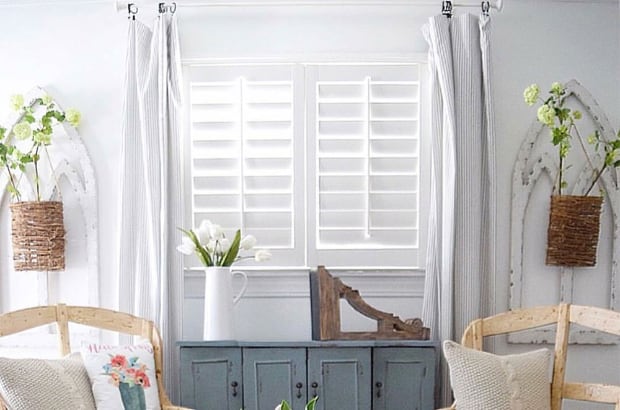 Embrace Handcrafted and Natural Design
Hygge design embraces nature, but it also incorporates simple man-made, handcrafted elements. So anything you can furnish your home with that blends both of those is a huge plus. Wicker furniture reclaimed wood furnishings and sliding barn doors all bring a certain coziness that is synonymous with hygge.
But remember that hygge is all about simplicity as well as comfort. So put a simple throw blanket on that wicker chair, put a candle and a few books on that reclaimed wood table, and choose the simple wood-patterned barn door with a minimal handle and hardware.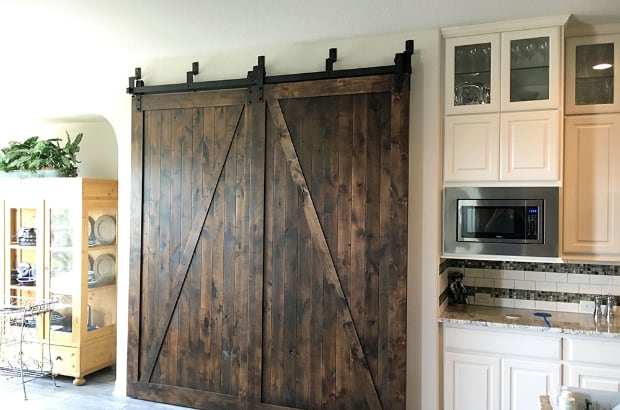 Keep Your Home Temperature Cozy
Nobody's cozy if they're shivering in a cold living room. But living simply and embracing hygge means you shouldn't be blasting the thermostat or putting plastic wrap on your windows to keep the cold out. Instead, try something on your windows that can keep your home the exact temperature you want it, like high-quality window shutters. Simple yet elegant, handcrafted shutters also fit seamlessly into the hygge aesthetic, unlike some gaudier, trendy window treatments.
This all holds true in summer, as well. Polywood® plantation shutters are the most effective window treatment at keeping the heat out and lend a breezy, cozy feeling to any room in your home.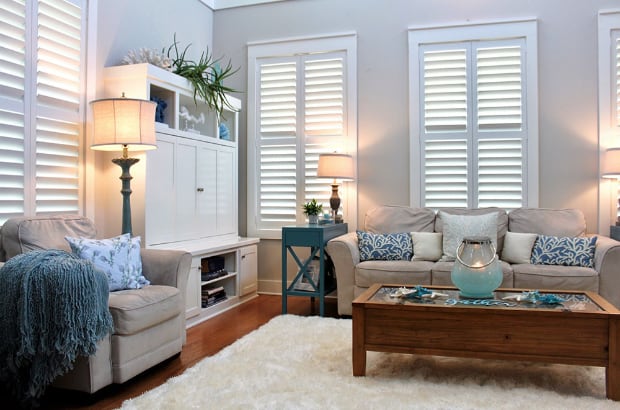 Design With All Your Senses In Mind
What makes a home hygge isn't just how it looks, but how it occupies all of your senses. So you need to design with that in mind.
Fill your home with your favorite nostalgic aroma, whether it's with candles, aromatic plants, using your fireplace more often, or even leaving out coffee beans to fill the air with the scent. The smell is a deceptively powerful sense, and the right aroma can help relieve stress and aid in relaxation.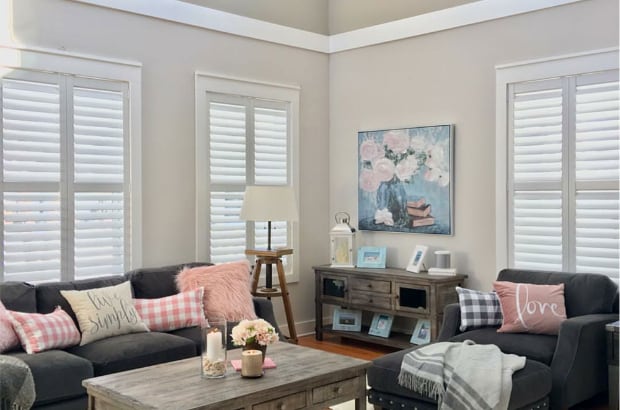 Use ambient sounds to make your home an inviting and cozy place to relax. Some people love the repetition of a clock pendulum, come get zen with the sounds of flowing water from an indoor fountain, some like the pops and cracks of wood in the fireplace, and some just like ambient music. Whatever category you fall in, embrace it to truly embrace hygge. If noise from outside is a concern, think about a soundproofing window treatment (like dampening drapes or solid shutters).
Don't forget about touch, either. You can't get enough softness in a hygge-inspired home, so go crazy with throw blankets, a long-pile carpet (for the feeling under your toes), and furniture that lets you sink in and relax.
Enjoy Hygge With Others
All this talk about relaxation, coziness, and warmth might make you think that hygge is all about solitude, but it's not. It's an inviting environment, meant to be shared – so be sure there are lots of places for people to sit and enjoy a conversation over warm drinks.
If you want more tips on how to embrace hygge and a simple, cozy design – especially with your windows – get in touch with the experts at Sunburst Shutters. With products from shutters to barn doors to help you embrace your inner Dane, we'll help you get that cozy home you want this season.