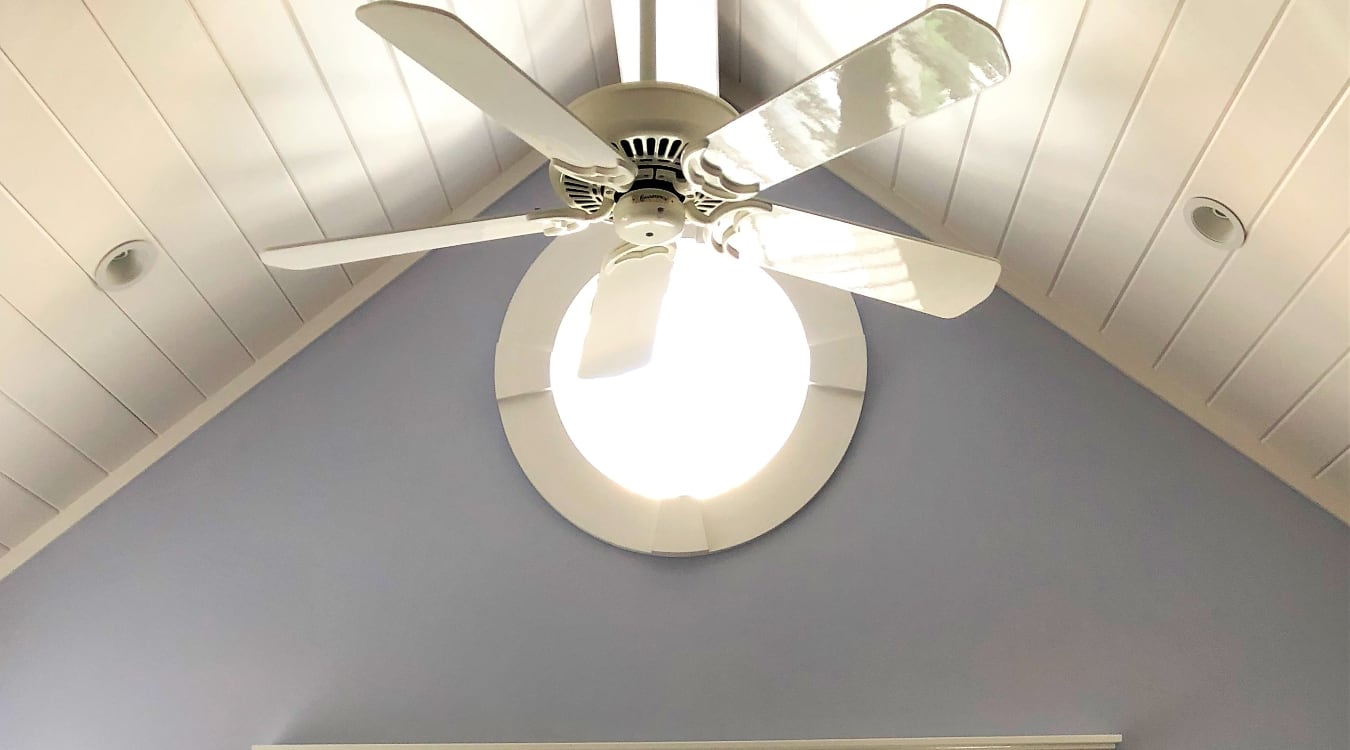 How to Cover Your Attic Windows
You just finished converting that dusty attic to a brand-new bedroom. What was once a storage facility for nostalgic memories is now a usable living space. With the drywall hung and the flooring secured, there's only one glaring issue left before you can start moving in.
How on earth are you going to cover those uniquely-shaped attic windows?
Attic Windows May Not Have Standard Dimensions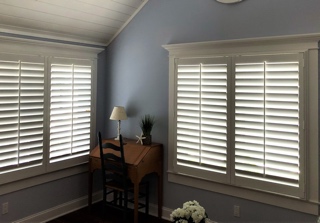 Most attics are situated under pitched roofs. The means your attic bedroom ceiling is comprised of steep angles and windows with sharply slanted sides and tops. Other times there may be an arched or circular window that used to be a vent. Either way, you are stuck with some uniquely shaped windows that need to be covered.
You could try to cover the window with a standard curtain or blind, but in both cases, there will be more treatment material left over. Often, a square curtain or blind just won't fit in an angled upper window. The result is that the covering may bunch awkwardly into the ceiling pitch, or the window may look dwarfed when the treatment is open. Thin, sheer curtains can be used as decorations, but they probably won't help block significant sun glare.
To be truly effective, non-standard windows need custom-made window treatments. Plantation shutters are perfect matches for attic windows, as they can tackle the odd shapes and angles. By having an expert come in and custom-fit your window treatments, you ensure that your entire window will get covered, and you get can block unwanted sun glare while gaining privacy. If anything, covering your attic window with a custom-made treatment will make the room seem a lot less like an attic and much more like home.
Attic Windows Need Energy Efficiency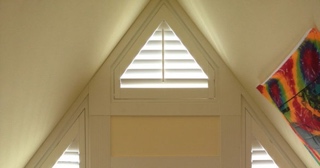 When your attic was first built, energy-efficient windows may not have been a sought-out feature. Any attempt at energy efficiency was by ensuring the attic had an adequate amount of insulation, but that was to keep the rest of the house warm. It wasn't unusual for the actual attic to be drafty and cold in the winter and hot and humid in the summer.
Now that you converted your attic into a bedroom, you have to worry about drafts and humidity. The last thing you need is to have all your hard work in the renovation thwarted by heat loss in the windows. Covering your windows with energy-efficient window treatments can help heat and cool your attic, without drastically affecting your energy bill.
The best window treatment for energy efficiency is faux wood plantation shutters. That's because when shut, your shutters eliminate heat loss and keep the cool air on one side of the window and the hot air on the other. This is especially true if your plantation shutters are made out of quality faux wood, like Polywood®. In fact, our Polywood shutters are 70% more energy-efficient than wood shutters and up to 1600% more efficient than aluminum blinds.
Sunburst Can Outfit Your Attic With The Perfect Window Treatment
Let Sunburst help you find the perfect window treatment for your attic bedroom. We'll come to your house to measure your windows and show you our entire line of custom-made coverings — including our energy-efficient Polywood plantation shutters. Just call (877) 786-2877 or fill out the form below to schedule your in-home consultation.