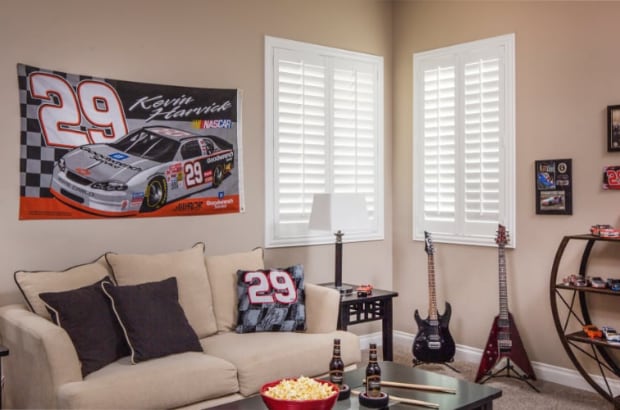 How to Decorate Man Cave Windows
It's the room you watch the big game in, the space with the best recliners and the biggest TV screen. It's the spot that's all about getting comfortable and enjoying yourself: the man cave. While it's certainly not just for men, and you may have a different name for it (like rec room or home theater), it's definitely one of the best rooms in your home to relax, have fun, and entertain.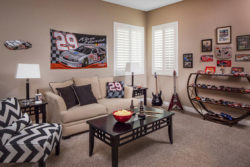 It's easier to do all of those things with the right window treatments. So before your next party or game, take the time to learn what's important for man cave window treatments and décor.
Keep It Cozy
The number one rule for the man cave or rec room is that it needs to be cozy. If you're watching the big game from the comfort of your own home, you shouldn't need to bundle up like you're in the stands. Start with the windows: football and hoops season gets in full swing just as the weather gets cold, so look into window treatments that will keep the warm air in, like Polywood® plantation shutters. Polywood helps insulate your home better than any other window treatment on the market, and can easily fit the theme of your man cave. Pair them with a set of curtains or drapes with your team's logo and let the good times roll.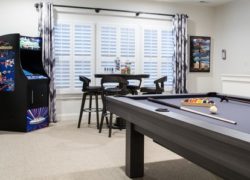 The same goes for summer as well. If you're a NASCAR or MLB-head, shutters are a great choice to keep your space nice and cool so the only people sweating are the ones on your screen.
Control the Light Levels
There's almost nothing worse than getting a group together to watch a movie or the game and having half your screen obscured by glare. To really set the atmosphere in your space, blinds won't cut it – you need a window treatment that you can fully close to block outside light. Shutters are one of the few window treatments that do just that. Draperies can also block out that pesky light. Quality cellular shades can get you close, but you may get light seeping in from the space between the window frame and the shade.
Block Noise Inside, Block Noise Outside
If you're trying to focus on a movie in your home theater or the big game's going into overtime, the last thing you want is to be interrupted by noise from outside. Traffic, construction, and more can be distracting to you and your group, so minimizing that noise should be a priority. Plantation shutters are far and away the most effective noise-blocking window treatments.
And noise control goes both ways. If your group is known to get a little rowdy on gameday, it helps to have an extra layer of noise protection on your windows to keep the neighbors from complaining.
Get More Window Design Tips For Every Room In Your House
For more tips on decorating the windows in your man cave, call your local Sunburst store today at 877-786-2877. And for help with every other room in your house, be sure to check out our Total Room Window Guide.