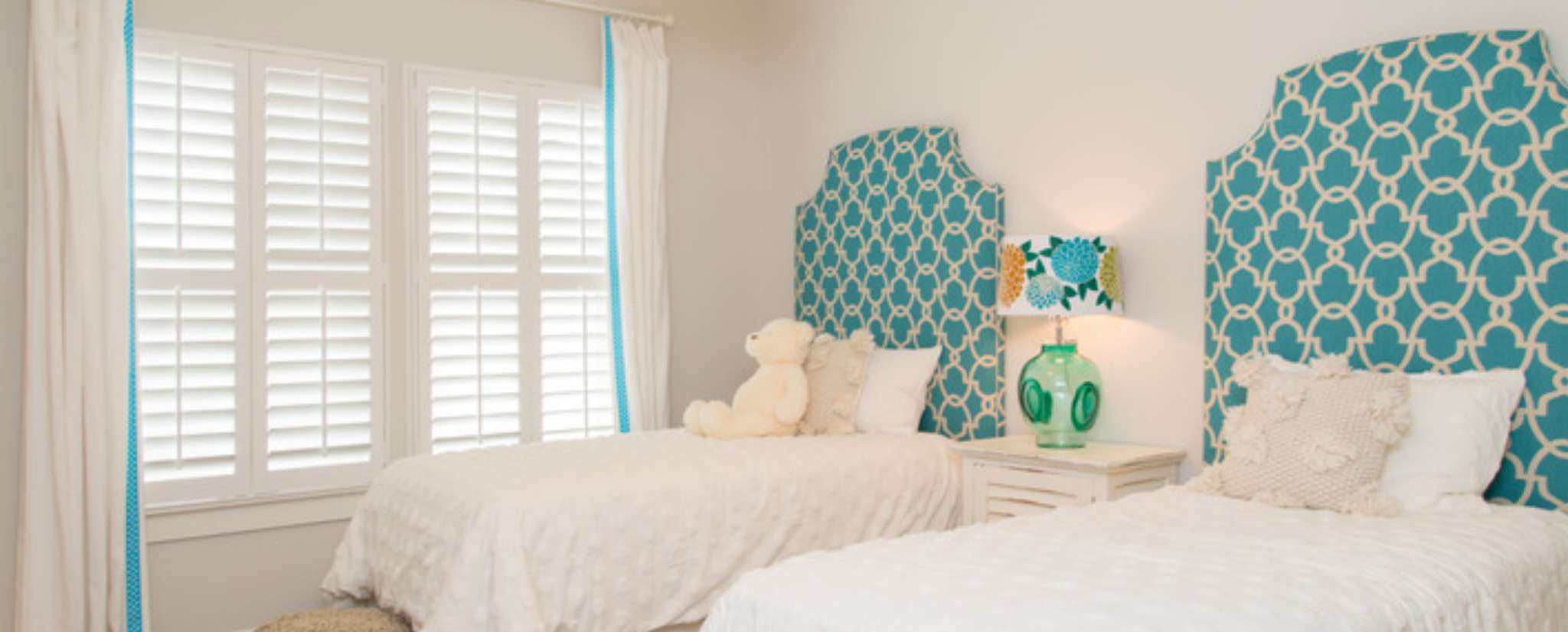 How To Make Your Teens Room Seem More Grown Up
Face it, your little babies are getting older. Soon they will be driving, starting their first job, and getting into college. It seems like every day they're asserting their independence and becoming more grown-up. Or at least, that's what they tell you.
So as they move on from elementary school, how can you give them a room that helps them make the transition? From bold colors to plantation shutters, here are some easy ways that will make your teen's room seem more grown-up.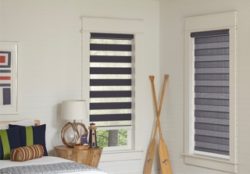 Get Rid Of the Pastels
If you keep your walls white, use color in the pillows and wall art.
When picking wall colors, consider the entire room objectively. If it's covered in light pastels or cartoon wallpaper, then it's time to strip it down and repaint. Bold, solid colors say grown-up and sophisticated. You can go trendy and opt for a darker green or stay classic with a soft grey. Don't worry too much about going over-the-top, as you can always break up the color with some white trim as a chair rail.
Bold colors should extend from the walls and into bedding and accessories. Put away the Teenage Mutant Ninja Turtles® bedsheets and the My Little Ponies® throw rugs. Switch them with subtle geometric designs and bright colors. If the dresser still seems undersized for your taller teens, try and get some modern pieces with matte finishes. If anything, an uncluttered room with clean lines makes any room seem more sophisticated. Even movie or band posters seem more grown-up if they are hung with a frame around them.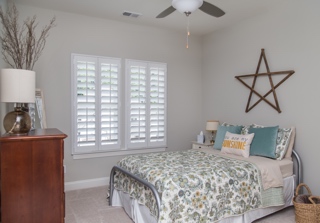 Upgrade the Window Treatments
Plantation shutters can even make an understated room seem more grown-up.
One quick way to help a teen's room to feel more grown-up is to give them some grown-up window treatments. Plantation shutters can add a bit of style to the room but are durable enough to last even after they leave. The classic style of shutters finishes the room as it frames the window while still letting light through. And if they are made of quality faux wood, like Polywood®, then they will be a breeze to keep clean.
If your teen wants to add a personal touch, then pair a shutter with a decorative curtain to give a bit of customizable style. This curtain can be either solid or patterned, opaque or sheer, as long as it matches the walls and bedding. However, for a truly grown-up look, try a mid-weight curtain with an understated pattern. Then make sure it falls all the way to the floor, as a hanging curtain makes the window seem smaller and unkempt.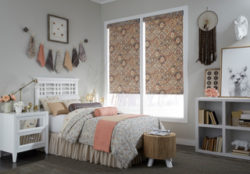 Let Them Take The Lead
Let them put their own stamp on their room, even if it doesn't make sense to you.
Above all else, to make sure a teen's room seems more grown-up is by having your teen take ownership of the grown-up room. While permanent changes may need some negotiation, let them choose bedding, curtains, and accessories.
Just remember, when they take the lead, there may be some items that they have outgrown. The piggy bank they got during their fifth birthday may have been adorable then, but just doesn't fit in their new, more mature room. Most things won't be a problem, and they can be passed down or donated, but anything sentimental can be wrapped up and saved -- perhaps to give to their own children one day.
Sunburst Can Help Make Your Teen's Room Seem More Grown Up
Whether it's with classic plantation shutters or a sophisticated Roman shade, Sunburst can help you make your teen's room seem more grown-up. Just call (877) 786-2877 or fill the form below to schedule an in-home consultation. We'll bring a variety of samples to you and your teen, so they can pick the perfect window treatment for their new room.