How to Open and Close Your Plantation Shutters
No doubt about it, interior shutters are different from any other window treatment. They are durable, beautiful, and have multiple ways to bring light to a room. They also become a permanent fixture to the window so that you can enjoy your interior shutters over a lifetime. With that in mind, you must know how to open your plantation shutters to enjoy the scenery and then close them to get privacy and energy efficiency.
Here's how to properly operate, open and close the plantation shutters in your home.
Opening And Closing Plantation Shutter Panels
An interior shutter starts with a frame that is permanently attached to your window opening. The shutter panel is hinged inside the frame and held in place by magnets. To swing open your shutters, simply pull on the panel, and it will swing completely open. You'll be left with an unfettered window and a clear view of the outside.
To close your shutters, swing each panel back toward the window. For our Polywood® shutters, the shutter panels should meet in the middle to ensure interlocking of the weather-stripping. If you have multiple shutter panels, you'll notice that one panel will have to close before the other can. You can tell which side should close first by looking at their edges. When the shutters connect, you'll usually hear an audible "snap" when the magnets catch each other.
Opening And Closing Shutter Louvers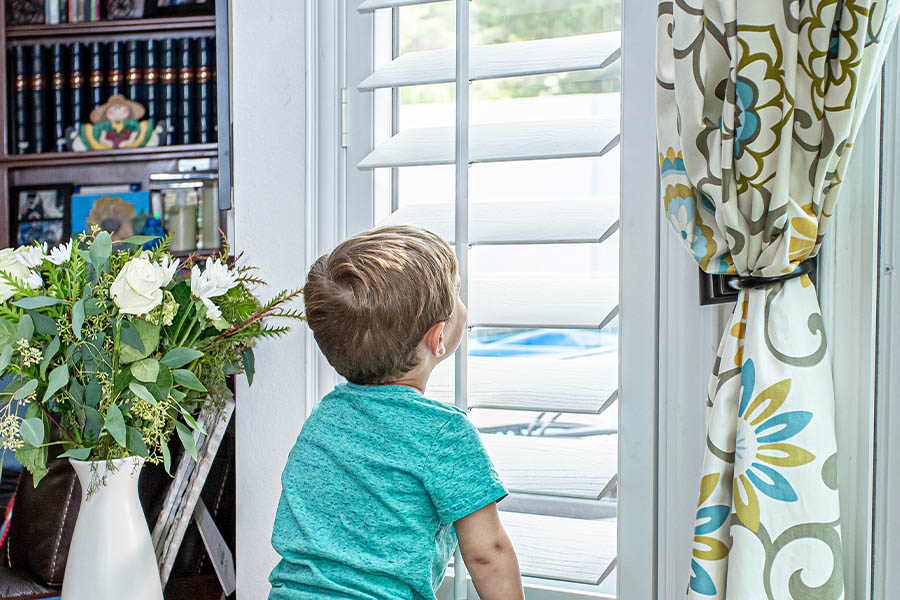 Closing the louvers -- or slats -- on your interior shutters is different from closing the actual shutter panels. Here, your panels are already snapped shut, and you simply tilt the louvers up or down to direct the natural light. Most shutters have a small rod that runs down the center of the shutter and connects to all of the louvers with small staples. A simple pull up or down on the tilt rod opens and shuts your shutter louvers.
If you don't see a center tilt rod, don't panic. Some shutters have a rear-mount tilt rod that uses a mechanism behind the frame to control the louvers. To open and close your louvers, grasp one of the louvers directly and tilt it. All the other louvers will follow suit!
Problems Opening And Closing Your Interior Shutters
While problems with opening and closing shutters can happen, they are luckily rare. For instance, if the panels won't stay at the window even after shutting them properly, you'll want to check the magnet. It's possible the magnet became covered with some grime or dislodged. If the magnet is missing entirely from your Polywood or real wood Ovation® shutter, you can ask your local store for a replacement.
If a shutter louver doesn't tilt, see if the staple that connects the louver to the tilt rod is missing. Luckily, it's an easy repair, and you can call Sunburst for a replacement staple. Some inferior shutters will have trouble opening and closing because of warped or splintered wood. If you see warping, the only solution is to replace the shutter with something like our durable Polywood shutters that are guaranteed never to warp, crack, or splinter.
The Best Interior Shutters Come From Sunburst
Before you can open and close your interior shutters, you need to get them installed. Here at Sunburst Shutters, we custom-make all our shutters, so they fit your window perfectly. That means that every shutter panel and louver are easy to open and last a lifetime -- even on specialty windows like sidelights and arches. Call us at 877-786-2877 or fill out the form below and schedule your in-home consultation.