Make A Statement With Reclaimed Wood Shutters
As personalized style becomes a lasting trend, more and more people are looking to incorporate materials like reclaimed wood into their decor. After all, the unique look of reclaimed wood definitely gives you a one-of-a-kind conversation piece, while adding a bit of historic ambiance to your rooms. Of course, using too much-reclaimed wood can also be overpowering. That's why some people have looked at scaling the material to a single featured piece of furniture or something like window treatments, such as shutters.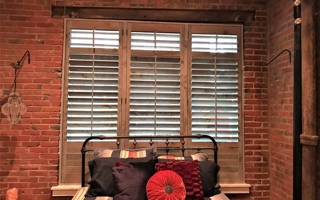 Reclaimed wood works great with designs from modern rustic to sleek and stylish.
WHAT MAKES RECLAIMED WOOD UNIQUE
The charm of reclaimed wood comes from its iconic weathering. Unlike the manufactured wear and tear of shabby chic, reclaimed wood's weathering appears to come from decades of being out in the elements. The distressing brings out an organic beauty and ensures that each plank has its own quirks and appears slightly different from any other slat.
When reclaimed wood is used in plantation shutters, each panel ends up having its own personality. The panels complement each other, though, and the finished product meshes well a variety of styles. Suddenly, your window treatments become a conversation piece, while making your other design choices seem much more natural.
HOW MUCH RECLAIMED WOOD IS TOO MUCH RECLAIMED WOOD?
While the unique pattern of reclaimed wood is definitely an attention-getter, some people think that using too much-reclaimed wood can be a distraction. For instance, an entire reclaimed wood wall might appear too rustic compared to the rest of the house. A picture frame may be small enough not to overpower but doesn't showcase the wood's unique look enough.
The key is using reclaimed wood in a place that should be seen. The weathering and texture are already going to draw interest, so you need to make sure that it's placed strategically. Using many different pieces can become frustrating, as your attention can get fractured. Reclaimed wood plantation shutters work well because the eye is already drawn to natural light. The shutter then adds impressive framing, making the windows even more inviting.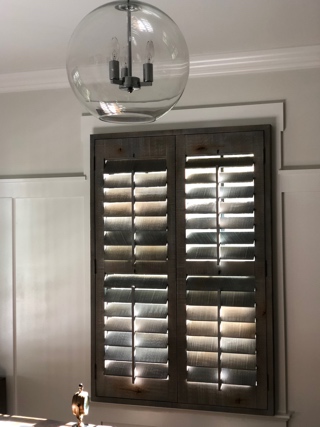 The natural weathering of reclaimed wood gives your room a one-of-a-kind conversation piece.
And while reclaimed wood looks perfect in rooms that have other natural elements, like exposed brick, it also fits in more traditional styles. The wood's unique properties play well with the windows, as its weathered framing around the glass helps brings the serenity of nature indoors. This fits perfectly with those houses with big yards and scenic views. However, natural materials also can bring nature to those who live in a densely populated area, surrounded by concrete sidewalks and steel buildings.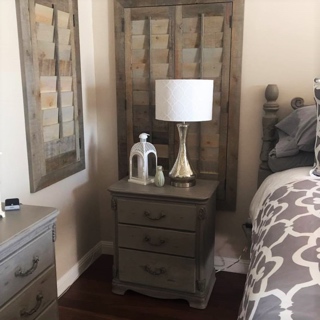 Reclaimed wood makes an eco-friendly statement to any room in the house
SUNBURST IS THE BEST PLACE FOR RECLAIMED WOOD SHUTTERS
Sunburst Shutters was the first company in the marketplace to offer reclaimed wood plantation shutters. We build them with the same quality construction used with our real wood or Polywood® plantation shutters, so you know that they are built to last To have a representative come to your home for an in-person consultation, call 877-786-2877 .