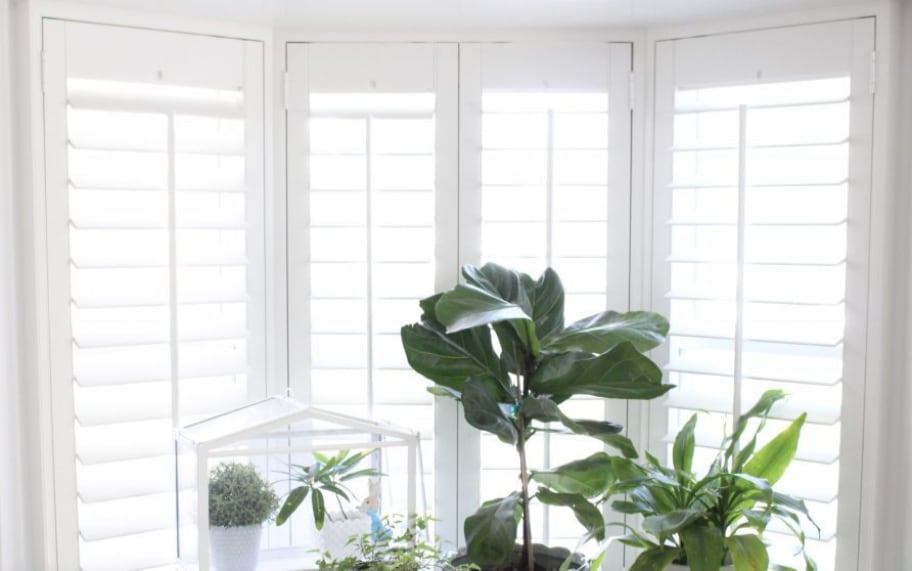 The Best Bay Window Treatments For Your Home: Shutters
Your bay window is a beautiful part of the room. It brings in light. It adds space. It can even provide extra seating. And when you want control over brightness and privacy, bay window treatments are the answer. But not just any window treatments will do. Discover what makes bay window shutters perfect for your home.
What Are Bay Window Shutters?
Bay window shutters are plantation shutters that are custom made to fit your bay windows and create a cohesive look.
Plantation shutters are known for louvers as large as 4.5" in width. This makes them easy to tilt, easy to clean, and gives you more room between louvers to enjoy the view. The wide plantation shutter louvers bring a contemporary feel to any room – especially one with bay windows.
Shutters for bay windows are available in Polywood® and Ovation® wood shutters. Polywood shutters are made from an exclusive synthetic, which makes this product the most energy efficient window treatment in America. And Ovation wood shutters are made from furniture-grade hardwood – and are actually the only five-star wood shutter in the world!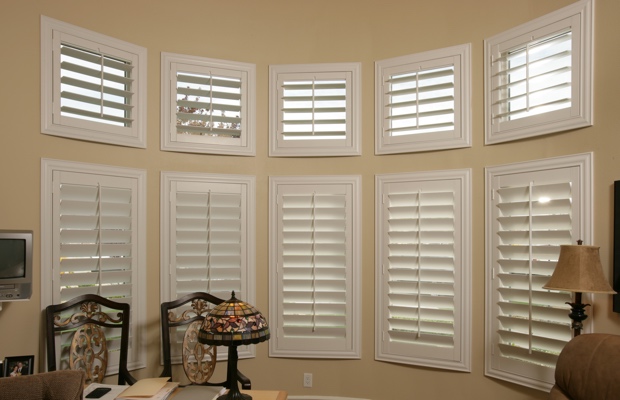 What Makes Bay Window Shutters The Best Window Treatment Option?
Bay window shutters are the best window treatment because they are functional, beautiful, and customizable. Other window treatments can deliver on one – maybe two – of these features. But in our decades of installing window treatments, only plantation shutters have delivered on all three and more:
Get A Cohesive Look: Each window opening has its own shutter frame. We'll install the shutters close to each other so that you get a cohesive look across the bay window. And you can customize the color of the shutters with a variety of paints and stains to match your decor!
Control Brightness: Get ultimate control over how much light comes through the bay window with a divider rail. The tilt bar lets you adjust the louvers across the window. And a divider rail allows you to close the louvers on the bottom half of the window, and leave them open on the upper half. It's a great solution for big windows and rooms where glare is a factor.
Control Temperature: Sitting by a bay window during the cold winter months or the hot summer ones may not be as comfortable as other times of the year. Polywood plantation shutters are effective at blocking 30 degrees of temperature and up to 45% of airflow when closed properly. These energy-efficient bay window shutters allow you to control the temperature, making your bay window seat comfortable year-round.
Open The Window: Bay window shutters are permanently installed on your windows with enough clearance for your window to be opened. And the tilt rod allows you to adjust the shutter louvers for privacy while the window is open.
Contact A Local Shutters Professional Today
Interested in installing bay window shutters in your home? Use our search tool to find a local shutter professional in your area. Then, contact them to schedule your free in-home design consultation. That's when we come out to your home, measure your bay window, and show you samples of shutter products. When your shutters are installed, they will be beautiful to look at – and easy to use. Find your local bay window shutters professional today!