The Best Front Door Window Treatments
If your front door has a window in it, that's one more window where people can see into your home or harmful UV rays can enter. A window treatment can solve these problems, but not all styles work on doors. You don't want something that will swing and catch in the door or doesn't provide good coverage. The best front door window treatments -- like plantation shutters, tumble shades, and roller shades -- keep your window covered and looking great,
Make An Impression With Stunning Interior Shutters On Your Front Door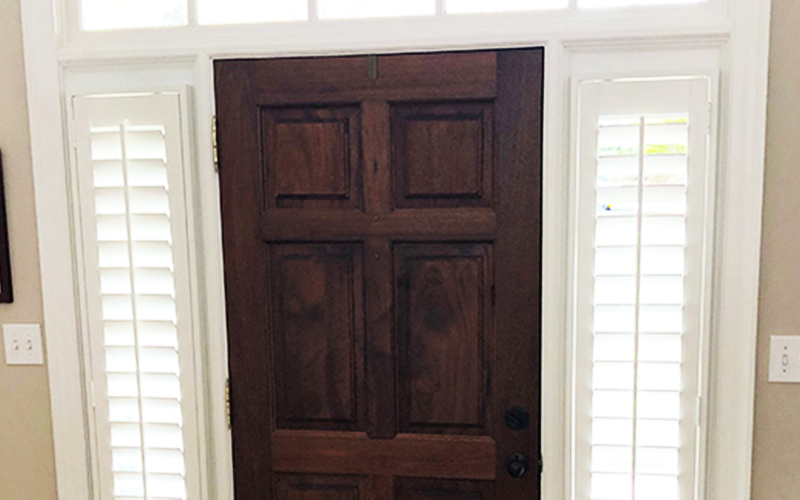 Your door is one of the first and last things visitors see in your home. You can make a good impression with an elegant front door window treatment with plantation shutters. Interior shutters have panels of adjustable louvers set in a frame built around your window and look like an ornamental detail on your door. Use painted or stained Ovation hardwood shutters or white Polywood® faux-wood shutters to complement the color of your door and home's decor.
Interior shutters provide excellent coverage for your front-door window. Because they're custom-fitted, you avoid gaps that people or sunlight can peek through. They even fit perfectly on rounded windows or skinny front door sidelights. That perfect fit keeps out cold drafts, too, especially if you get insulating Polywood shutters. And sturdy interior shutters last longer than other front door window treatments. They don't break easily like cheap blinds and don't have cords that catch in the door.
Prevent Tangled Cords With Door-friendly Tumble Shades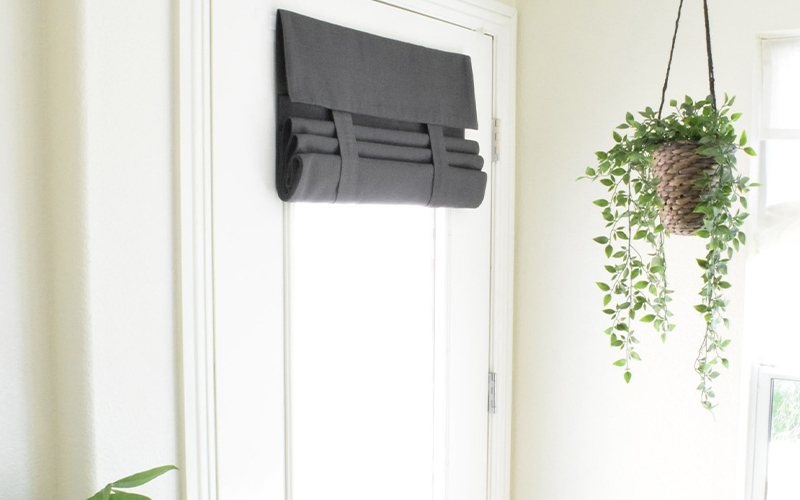 Front door windows have unique needs, so it makes sense to choose tumble shades because they're designed specifically for doors. Tumble shades are made of soft fabric that you can roll or fold up when you want to uncover your front door window. Their soft texture means they don't slap loudly against a moving door, and they don't have cords to get in your way.
Tumble shades obscure the view into your home and minimize the intensity of the sun. They come in sophisticated subtle colors that complement your decor. You can choose a tiered tumble shade if you want to fold it up to different heights for different levels of privacy and light. Or use an up/down style on front door windows that you want to cover or uncover completely.
Cordless Roller Shades Give Your Doorway Color
If you're worried about a front door window treatment getting in the way when using your door, a cordless roller shade is another excellent option. Cordless roller shades have a thin sheet of material that rolls up into a slim tube mounted to the top of your front door. The shade lays flat over your window, so it won't catch in the door. And a cordless shade won't have cords that tangle with the door handle.
You'll find lots of variety in opacity and colors among roller shades. You might like a blackout roller shade if your house faces south, and the hot sun bakes your entryway each afternoon. Or, if you have a nice shady porch in front, you might use a sheer roller shade to dress up your door but still let in some light. Then you can find roller shades in every possible color to coordinate with your home's color palette.
Your Next Front Door Window Treatment Is At Sunburst
At Sunburst Shutters, you'll find the latest window fashions for your front door and other windows. Let our window treatment experts help you explore your options and find a style you love for your home. It all starts with a free in-home consultation. Call ​​877-786-2877 or fill out the form below to schedule yours and find your next front door window treatments.