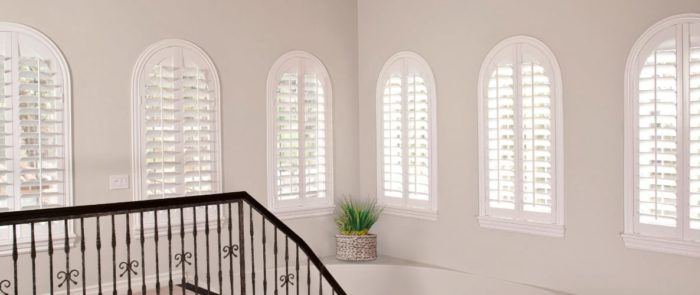 The Best Window Treatments For Each Window Type
Driving through your neighborhood, you can see that residential windows come in many different shapes and sizes. You may have multiple types of windows in your own home. This variety lends both architectural interest and practical function to a home. However, you may not know the best way to dress each of your windows.
Your windows need window treatments that enhance their beauty without being difficult to clean or use. Luckily, there are many excellent options available no matter what shape and size your window. From standard single windows to unique shapes like circles and octagons, here are the best window treatments for window types you might have in your home and some window treatments to avoid.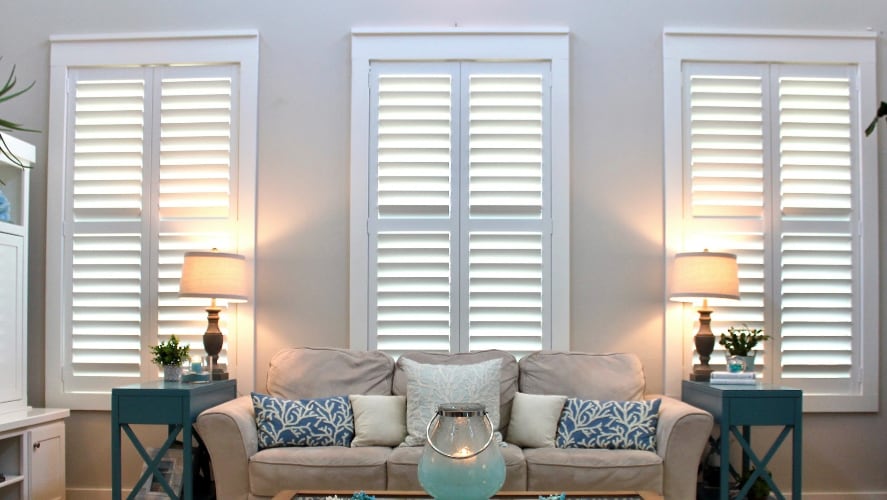 Standard Windows Stand Out With Plantation Shutters
Standard windows are as basic as they come. They are square or rectangular and have one movable sash. They work in any room, and you will find them in every house. They are also easy to cover, as you can use any type of window treatment on standard windows. Quality blinds, shades, and shutters all work depending on your tastes and preferences.
Standard windows don't have much flair, but you can make them stand out with statement-making plantation shutters. Unlike the blinds that many people use on their standard windows, both Polywood® and solid wood shutters are incredibly durable and long-lasting. They stand up well to daily use so that you can enjoy their clean lines on your otherwise dull windows much longer.
Window shades are another excellent option for adding interest to your windows. They come in countless combinations of styles, materials, colors, and textures. Whether you pick woven shades for a natural element, sheer shades for soft light, or zebra shades for something unique, it's easy to find a window shade that complements your decor.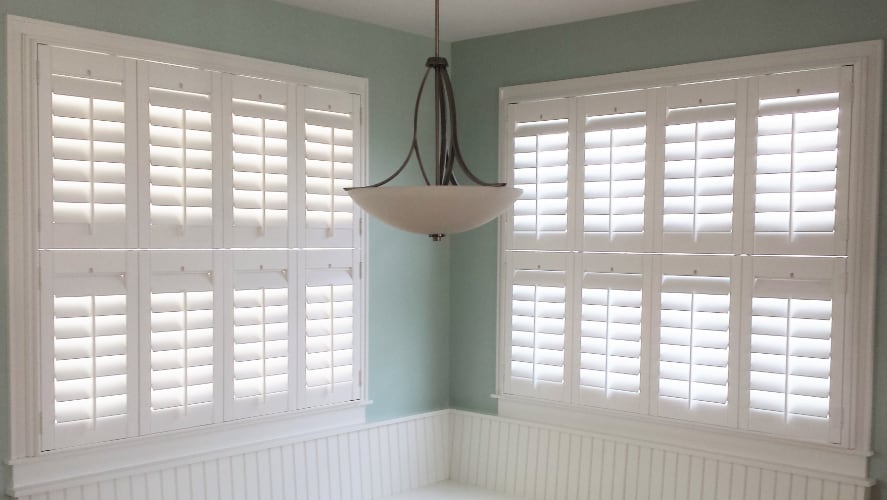 Double-Hung Windows Need Energy-Efficient Window Treatments
Double-hung windows have two movable sashes that allow you to open them from both the bottom and the top. Homeowners love double-hung windows for their versatility and ease of cleaning. However, they require the right window treatments that won't interfere with opening them at the top.
Like double-hung windows, plantation shutters also open two ways. You can swing open the panels to open them completely or just tilt the louvers open. This design allows them to open out of the way of your double-hung window and gives you many different combinations for opening your windows and shutters for more control over airflow and light.
Because double-hung windows have two movable sashes, they are notorious for drafts. When closed, plantation shutters are the most energy-efficient window treatments available. Polywood shutters block up to 30 degrees of outside temperatures, reducing your energy costs.
Energy-efficient cellular shades can also help insulate drafty double-hung windows. These stylish shades are made of fabric cells that fold up accordion-style and block excess heat and cold. Look for top down bottom up cellular shades so that you can still open your top window sash while keeping the bottom of the window covered.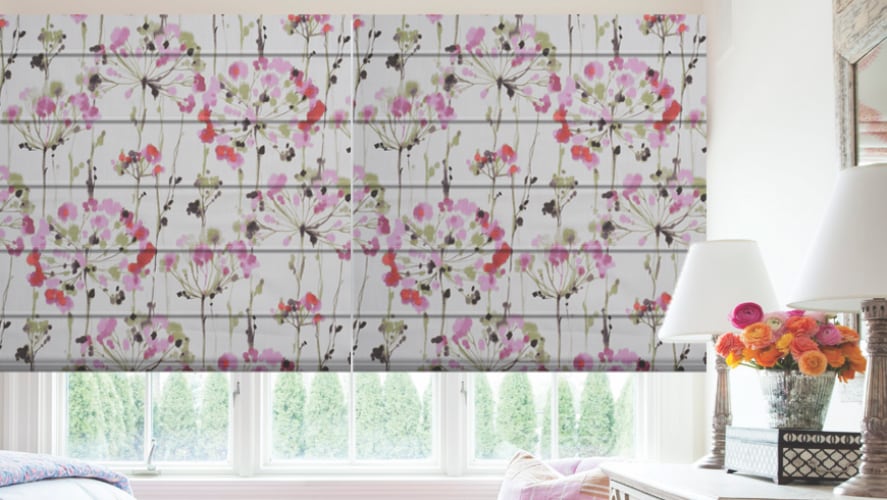 Cover Tricky Casement Windows With Window Shades
You know a casement window when you see one. They're the windows that swing out when you open them with a hand crank or handles. These cranks and handles present a unique challenge when covering casement windows.
Many casement window owners like window shades. Shades lie flush with the window above the crank and are easy to pull up when you want to open the window. They come in a variety of colors and patterns to match your decor. Choose cellular shades for energy efficiency, zebra shades for excellent light control, or roman shades for a luxurious look.
For casement windows that open up and out, you will have to pull up shades all of the way and sacrifice shade and privacy if you don't want the top window blocked. The alternative is custom plantation shutters. You can open plantation shutter louvers to allow light and air from the top of your open window without opening the shutter panel. An expert installer can fashion plantation shutters to accommodate casement window cranks for you.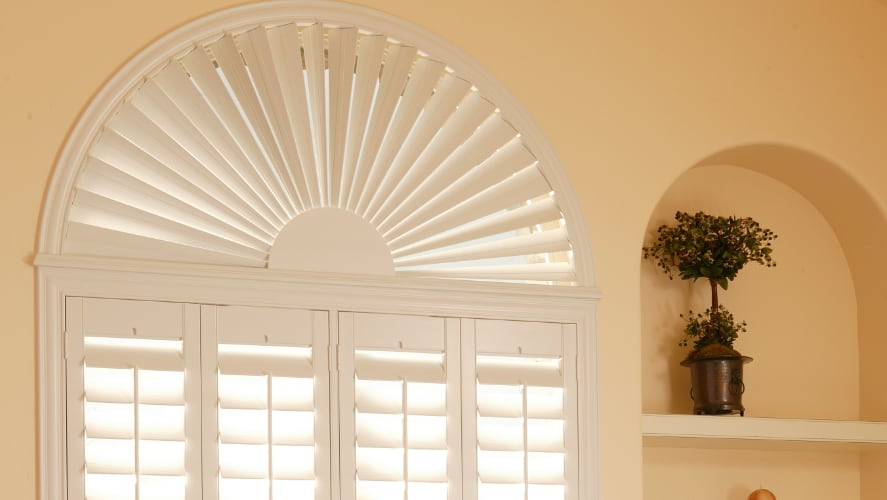 Plantation Shutters Control Light From Your Arched Windows
Arched windows are stunning and deserve something better than heavy, square curtains, blinds, or shades to highlight their grandeur. You also want a window treatment that allows you to control light and sun glare coming through your windows.
Because of your arched windows' distinctive shape, custom plantation shutters are the best treatments for this window type. Plantation shutters can be made to fit the curvature of your arched windows, or you can choose rectangular panels paired with a separate half-circle/sunburst shutter on top. Both designs provide full coverage with easy light control. Even a separate top shutter can let in light or not when you adjust the louvers with the tilt rod.
While blinds and shades often let in sun glare around their edges, Polywood and solid wood plantation shutters are engineered to shut tightly for total coverage no matter what the shape of the window.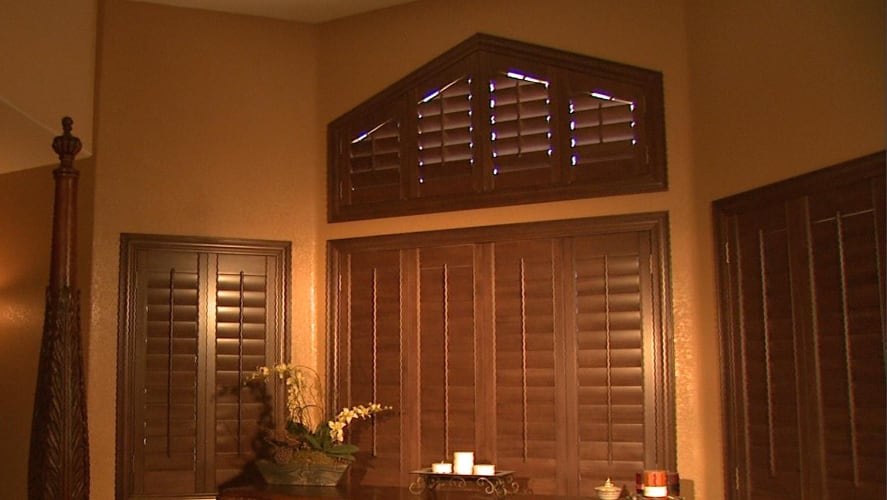 Custom Plantation Shutters Fit Every Raked And Angled Window
Raked or angled windows are becoming more common in contemporary homes, and the demand for complementary window treatments has increased. Many homeowners dislike drapes, blinds or shades on their raked windows because they cover the unique angles of their windows or leave the top bare and sacrifice total light control.
Custom plantation shutters solve both of these problems. Your installer will custom-craft plantation shutters to fit the corners of your raked windows perfectly so that you can close them while still enjoying the incredible shape of your windows. Choose from the crisp whites of Polywood or warm tones of stained wood to further enhance the ambiance of your room.
Mimic Drapery on Bay Windows With Roman Shades
Bay windows comprise a middle window flanked by two smaller windows. Homeowners love these attractive windows. Quality sun shades on each window segment are perfect for following what's known in the interior design world as the "rule of three" for creating an appealing look.
For a special touch on a special type of window, install beautiful roman shades that combine the style of fabric drapes with the functionality and ease of traditional roller shades. They're the closest thing to drapes without all the hassle of drapery.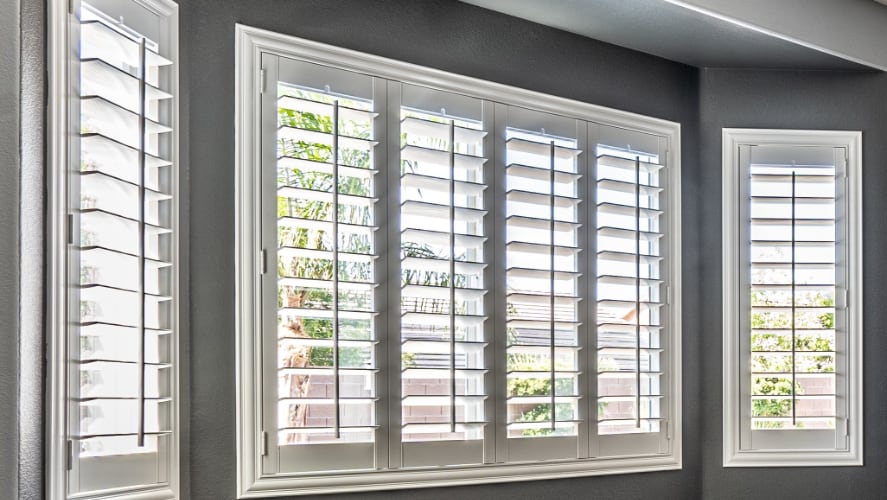 Choose Durable Window Treatments For Bow Windows
Bow windows, not to be confused with bay windows, have multiple window segments set in a curved wall structure. With so many separate windows to cover, you can emphasize them with conversation-starting plantation shutters that are easy to open and provide insulation for such a large area. Plantation shutters' durability means you won't have to worry about one of your shutters breaking and not matching the rest either.
Another option in place of plantation shutters is to opt for versatile roller shades instead. Roller shades come in a wide array of colors, materials, and patterns. They are also durable and come in cordless and motorized options.
Whatever you do, steer clear of flimsy vinyl and aluminum mini blinds that will get caught on and tangled in each other.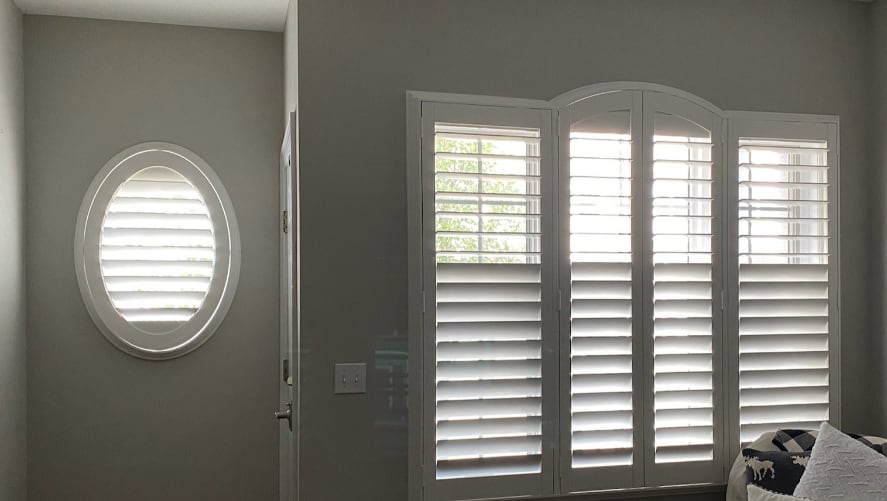 Show Off Circular Windows With Plantation Shutters
Circular windows are an architectural delight and deserve window treatments that allow them to be front and center.
Premium blinds and shades will cover the window's shape, putting a square treatment over a beautiful circle window and losing the impact of that window. Like all other specialty-shaped windows, plantation shutters are the obvious choice here. They can be tailor-made to fit your circle window and still open and close correctly for total control of light and privacy.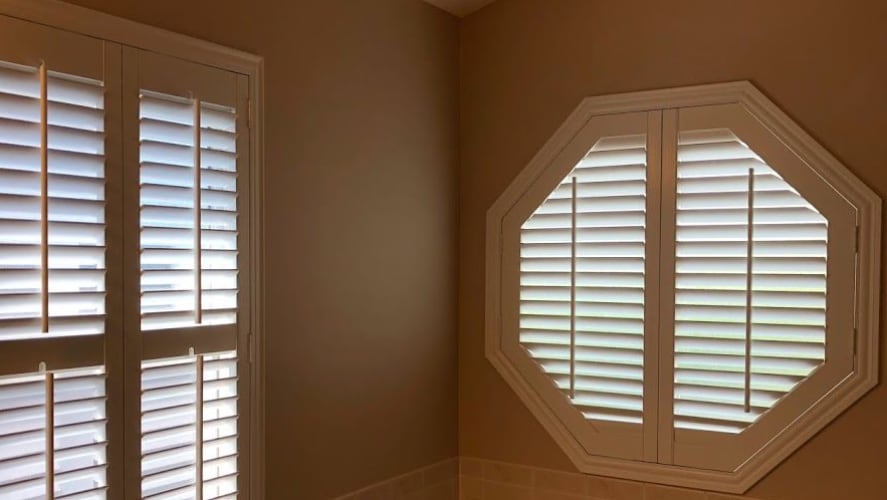 Plantation Shutters Make Out-of-Reach Octagon Windows Easy To Clean
Like circular windows, octagon windows are an impressive detail in any home. Also, like circular windows, they benefit from plantation shutters for window treatments.
You will often see octagon windows in high or inconvenient places that make them difficult to clean. Plantation shutters are easy to clean, no matter where a window is. Their wide louvers leave plenty of space for a damp cloth or duster. Unlike cheap blinds and some shades, both solid wood and Polywood shutters are moisture-resistant and durable enough to withstand cleaning from awkward angles.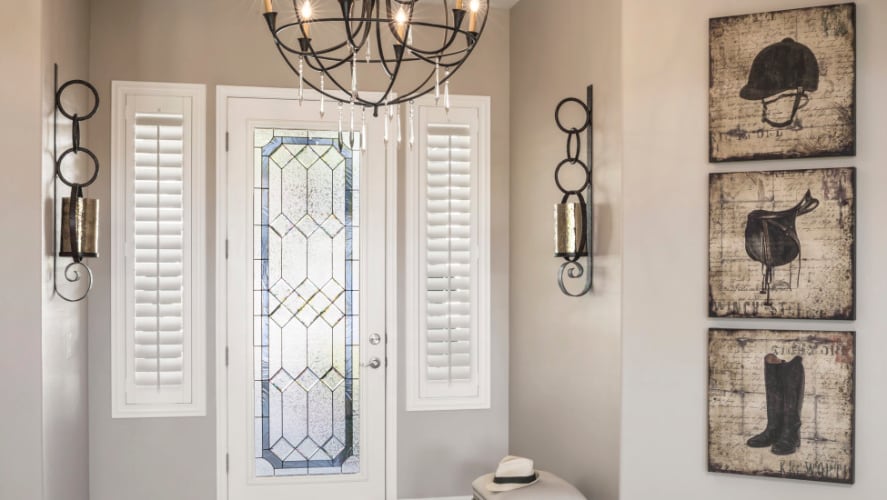 Use Easy-to-Open Window Treatments For Entry Door Sidelight Windows
Entry door sidelight windows need window treatments that are attractive but also functional. When you want to see who's at the door, you peer through these windows. You don't want to pull back the edges of curtains or shades and wear them out over time, but you need something to block the prying eyes of strangers at your door.
Roller shades, shutters, or Polywood faux wood blinds fit the bill. Both have louvers you can quickly open to peek outside. Each offers excellent closure for privacy. And both come in classic neutral colors to match any door.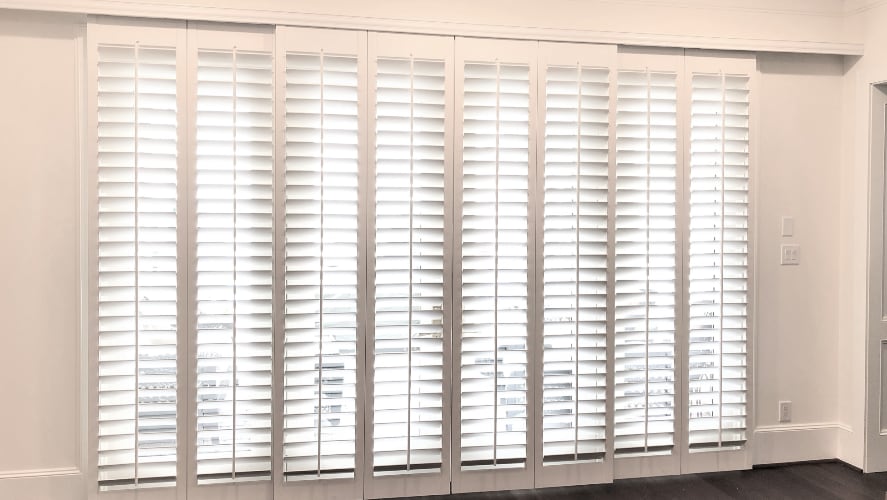 Sliding Glass Door Windows
It seems that the traditional treatments for sliding glass doors are those cheap vertical blinds that catch on everything and break easily. You can do better.
An unexpected but practical choice for sliding glass door windows is plantation shutters. Shutters don't sway and catch on things when you open your door. They are the most durable window treatments on the market and can endure your family's constant comings and goings. And they certainly look better than cheap vertical blinds!
Finally, plantation shutters' superior energy efficiency will minimize energy loss through your sliding door. That means you stay more comfortable inside while saving money!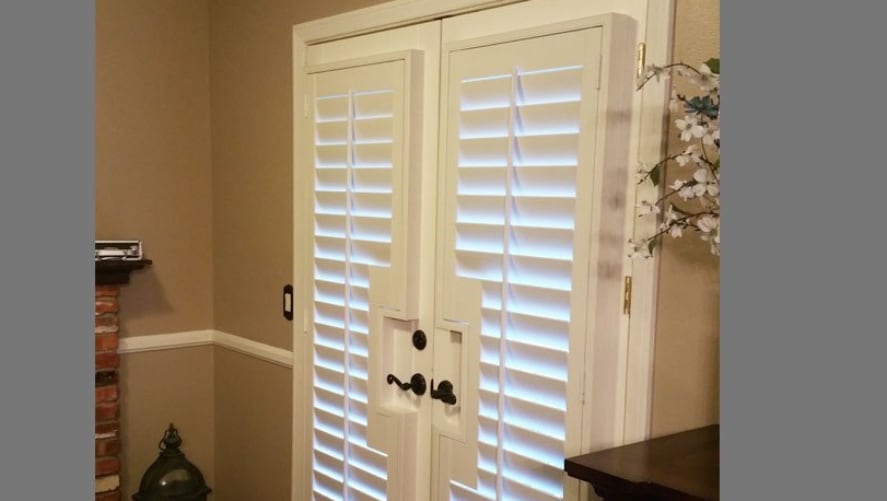 French Door Windows
Like sliding glass doors, French door windows need sturdy but attractive coverings like plantation shutters. Because they are mounted firmly to the door, plantation shutters don't bang against the glass when you use the door. Their cordless design means there are no strings to get caught in the door, either. Finally, the crisp lines of plantation shutters complement the sophistication of French doors.
Another option for French doors is classic wood blinds. Polywood Basswood blinds are made of durable treated wood that comes in many different stains and paint colors to suit anyone's tastes. Hold-down brackets keep blinds from swaying when you open your door and cordless options ensure there aren't strings to get tangled.
Find Window Treatments For Every Window Type With Sunburst
What type of window are you trying to dress? Sunburst Shutters has window treatments for every window type. We'll help you explore your options when you give us a call at 877-786-2877 or fill out the form below to schedule a free in-home or virtual consultation.