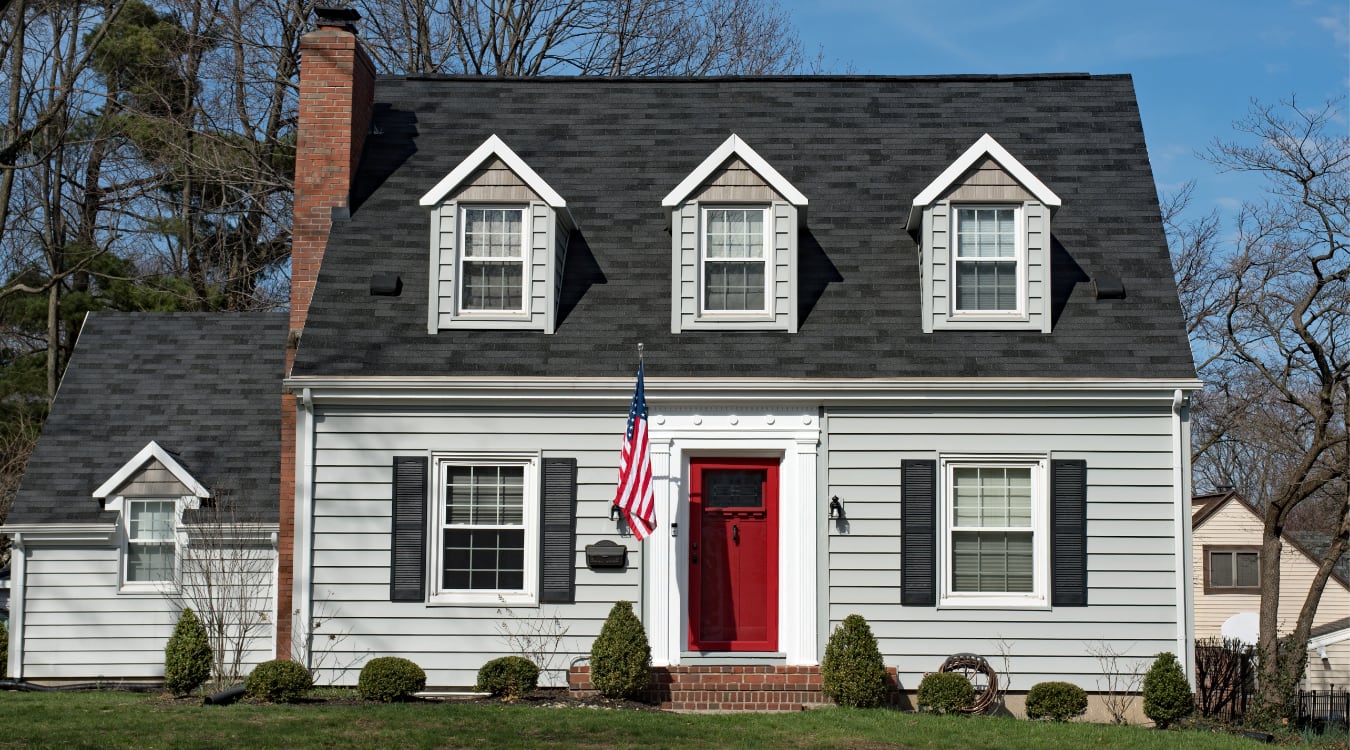 The Right Window Treatment For Each Architectural Style
No matter if you live in an old-school Colonial or a charming Cape Cod, your home has windows. And those windows need window treatments.
The problem, however, is that different architectural styles have different types of windows. Some styles use embellishment windows, like bay windows or dormer windows. Some have more specialty windows to cover, such as circular or arched windows. The challenge, then, is to fit the window treatment both to the type of window and to the architectural style of the house.
Luckily, here's a guide that explains what window treatment matches each architectural style.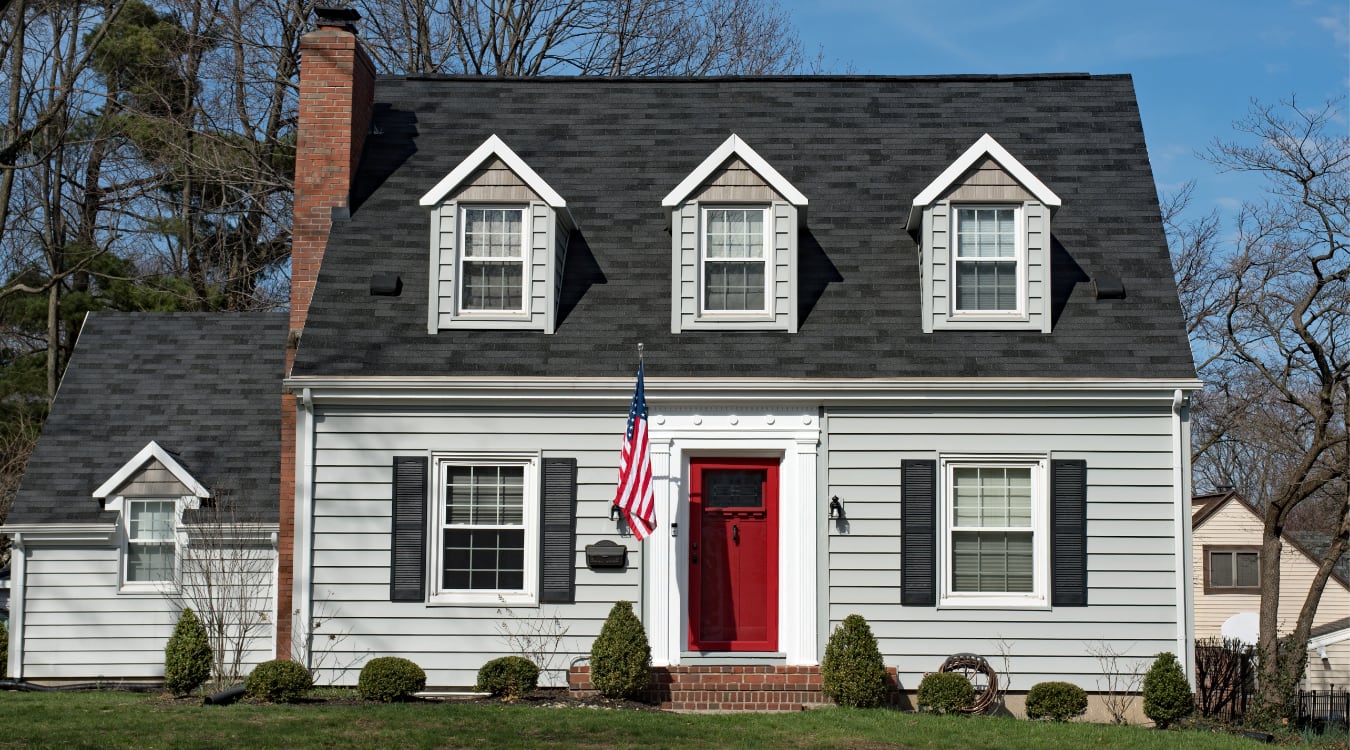 Covering Your Cape Cod's Dormer Windows
The Cape Cod-style became popular starting in the 1930s along the New England coast. It's usually a one-story or one-and-a-half-story home. The exterior is usually light on decoration, but with a pitched gable roof and a large chimney in the center. Inside, Cape Cod houses are known for their light and airy wall colors and beautiful hardwood floors.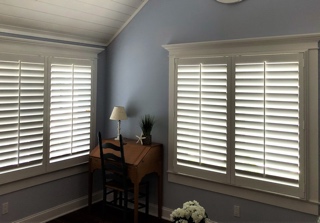 One of the most iconic parts of a Cape Cod house is the dormer windows that line the house's front. These dormer windows may bring light into the attic, but modern Cape Cods usually have bedrooms within that space. If your dormer windows look into an attic, you can probably get by with a solid color roller shade. But if you have a bedroom, then you'll want something like a plantation shutter that can block light and give energy-efficiency. You'll also want a custom-fitted plantation shutter if your pitched roof infringes on the dormer window.
Colonial Styles Give Flexibility To Your Window Treatments
Even though Colonial houses began in the original 13 colonies, the style has expanded westward to become a popular style house throughout the United States. It uses a mostly symmetrical layout -- unless there's a side chimney, screened-in porch, or attached garage. Although the exteriors are fairly uniform and traditional, Colonial interiors are fairly diverse.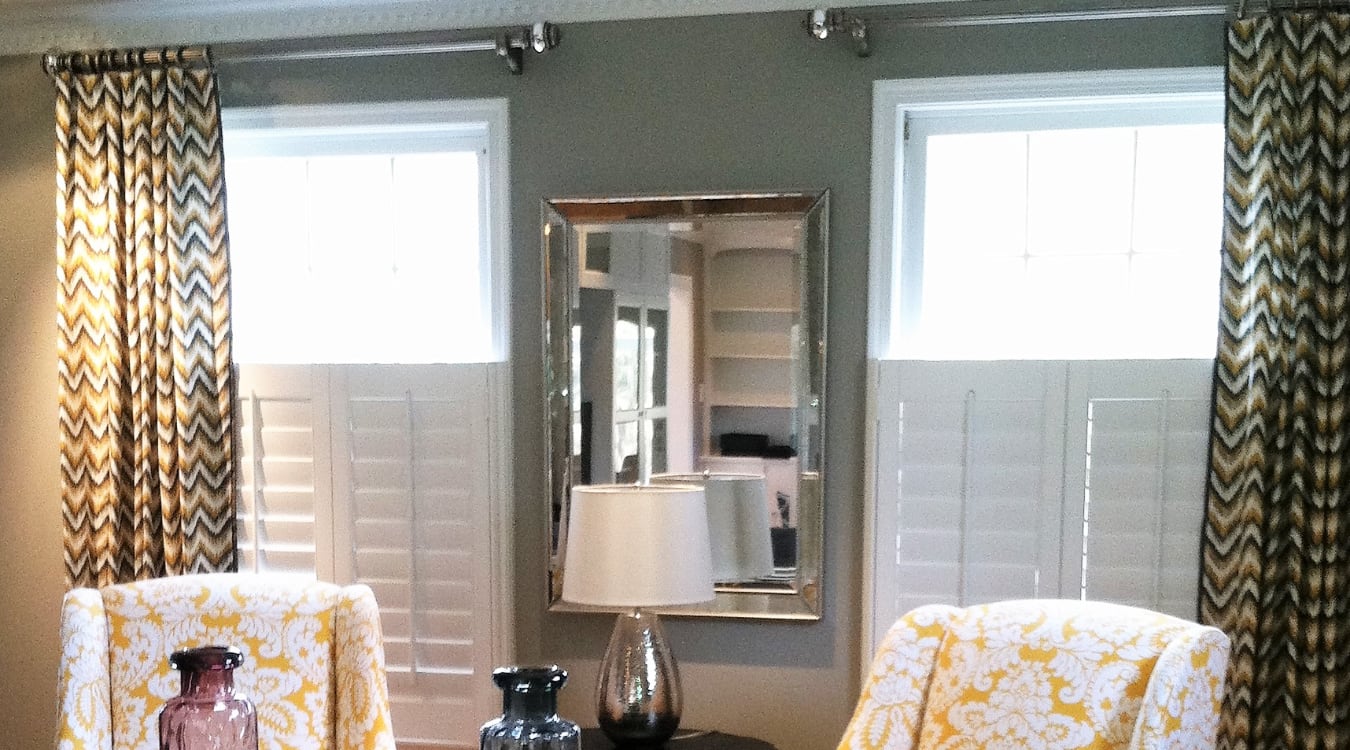 Windows are mostly the standard rectangle. Some may have a bay or bow window, but these are mostly decorative flourishes and not the norm. If you have a traditional Colonial interior, you could use traditional Colonial shutters that are thinner and cover just the bottom half of the window. But since a variety of interiors can easily fit with the Colonial architecture, most window treatments -- from blinds to shutters to shades -- are applicable depending on your decor.
Real Wood Plantation Shutters Work Best For Craftsman Houses
Craftsman homes with their geometric framework began in California in the 1920s. The idea is that your Craftsman house should be part of "urban nature." Hence, natural materials, like woods and stone, make up the facade and then carry over to the interior. Built-in bookcases and various nooks and crannies give each home a unique, organic personality as well.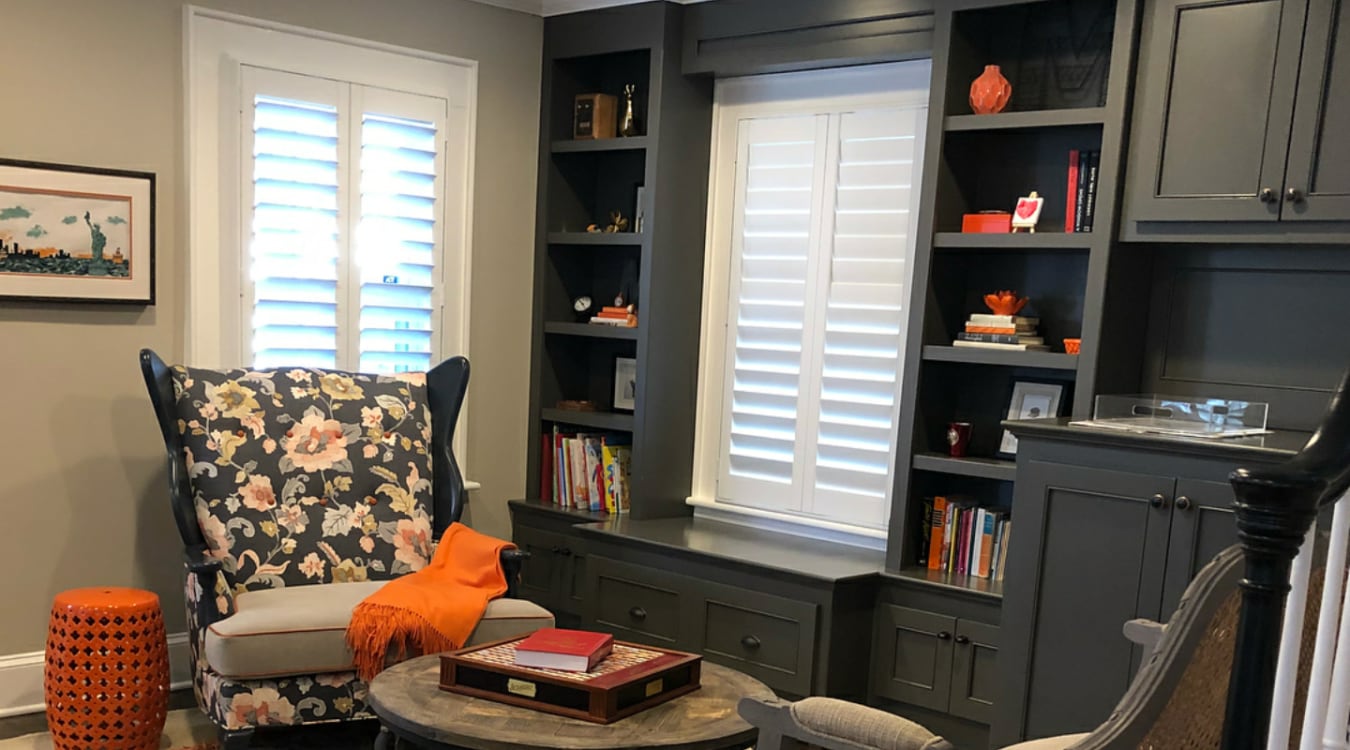 Craftsman windows still adhere to the exterior's geometric sense, but they are not necessarily standard size. It's not unusual to find a small square window that sits at the top of the stairs or sideline windows surrounding the front door. For these windows, you should get a custom-made interior shutter, as that will help light filter into rooms and highlight the built-in features. You can also complement your Craftsman's connection to the natural world by installing hardwood or reclaimed wood plantation shutters.
The Long, Curved Windows Of A Spanish Style House Need A Custom Shutter
You can spot a Spanish style house immediately with its red-tiled roof, ornate balconies, wrought iron fencing, and stucco siding. They are a staple in the Southwest and Florida but have slowly made the climb north. Interiors can range from the terracotta tile and traditional Spanish decorating to more modern decor with a flair for grandeur. Features such as marble flooring, grand staircases, and large two-story rooms would be right at home in a sizable Spanish-style house.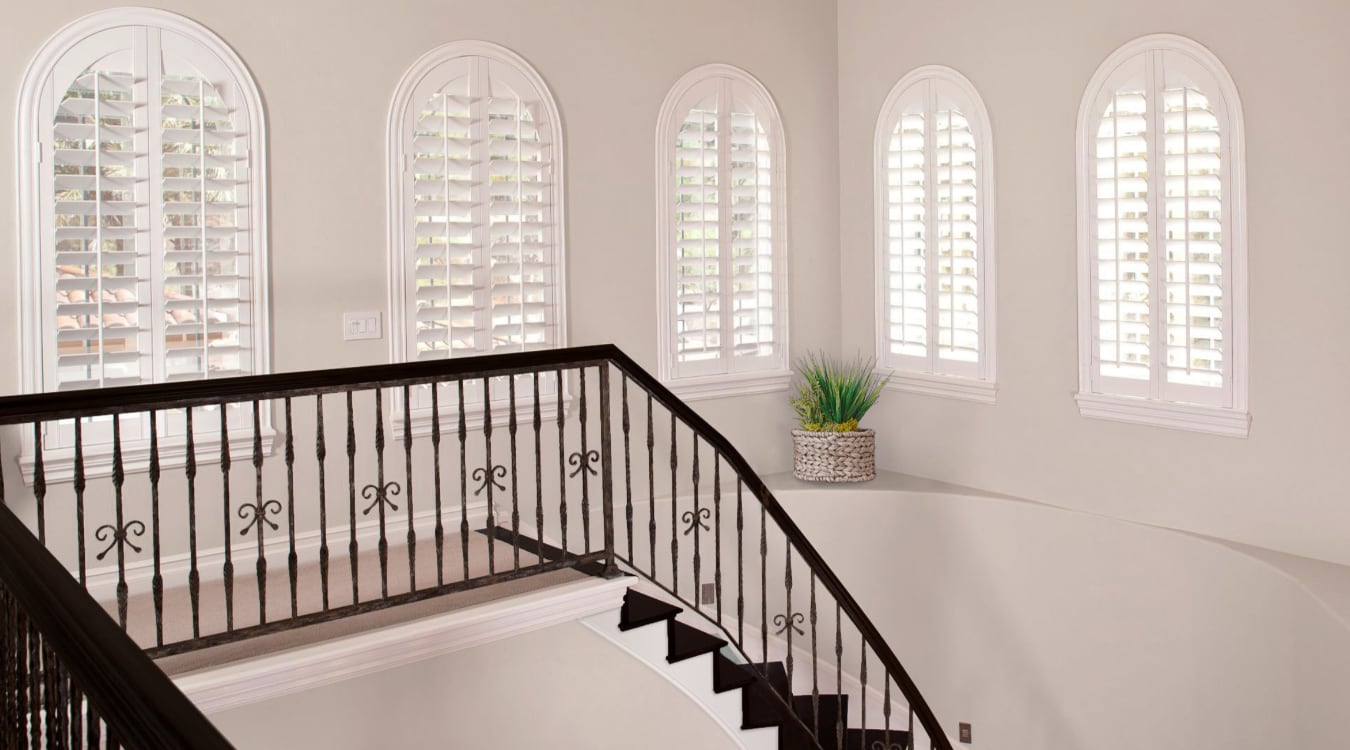 Most Spanish homes have long, curved windows that flood the rooms with natural light. A curved doorway arch often complements the arch of the window, so your window treatments must find a way not to hide this vital feature. White, faux wood plantation shutters work well, as you can angle the louvers to direct the sunlight into the room while still blocking glare. However, suppose your windows span two floors in height. In that case, you may want a motorized shade instead, leaving the curvature of the arch always uncovered.
Tudor Homes Have Hard-To-Cover Casement Windows
Sometimes you can find small, compact Tudor homes dotting a suburban neighborhood. However, their popularity stems from large two- or more story estates that feature gable roofs, natural brick or stone, and large casement windows. The extended rooflines and flat fronts can bring a storybook quality to these homes. Some even have small towers to complete the ethereal feeling. Inside, Tudor homes feature exposed beams, large fireplaces, and intricate woodwork.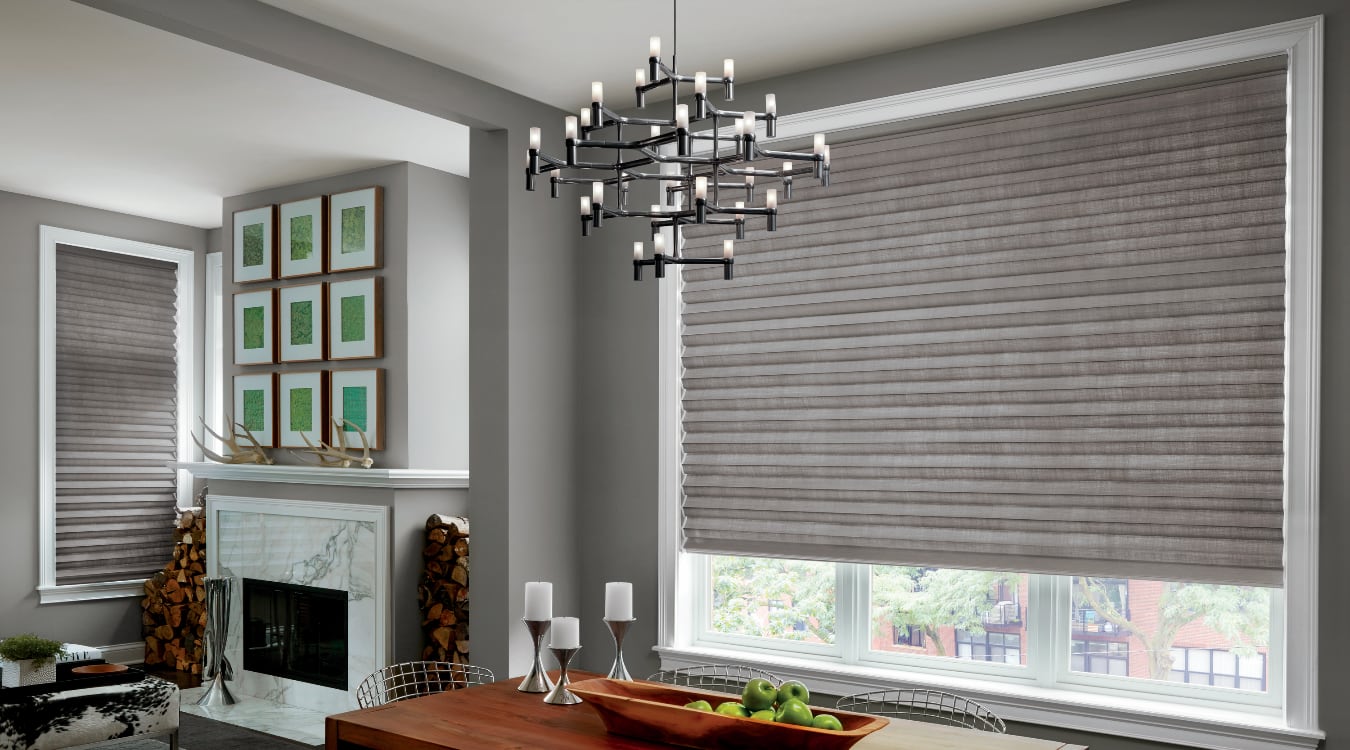 Window treatments should complement homeowners who stayed true to the Tudor style. Shades work well as they sit close to the windowpane. A Roman, sheer, or roller shade can bring in a cottage-like feel. Just remember to roll them up completely if you want your casement windows open, or you will have your shades flapping in the breeze. For something more substantial than a shade, you can go with a real-wood shutter. But if you have hardwood floors and exposed beams, having wood covering your windows may be too much.
The Large, Majestic Windows Of A Victorian Style House Deserve Majestic Window Coverings
Even though the Victorian-style house has its roots in Victorian England, it has become popular in every U.S. region. Sweeping porches sit in the shadow of two to three imposing levels. Victorian homes usually have an asymmetrical shape with steep, multi-tiered roofs and majestic windows. Interiors generally feature large rooms with plenty of space to entertain.
Many Victorian-style homes have at least one specialty window to serve as architectural interest. Bow windows, large picture windows, specialty oval or octagon windows, and arched windows can be seen in different Victorian homes. Covering these unique windows becomes more challenging since you can see your interior window treatments when looking through your porch windows. For this reason, white faux wood plantation shutters can work well, as they look exquisite on both your large, standard windows and those of custom shapes and sizes.
Experiment With Your Window Treatments On A Modern Style Home
Modern-style housing may be the easiest to pick out of a crowd. Unbalanced layouts are key in a modern house, and it's not uncommon to see both flat and pitched roofs within the same structure. Energy-efficiency elements like solar panels and recycled water playoff more stylistic elements like large picture windows that comprise a full wall. Inside decors can range from eclectic to minimalist.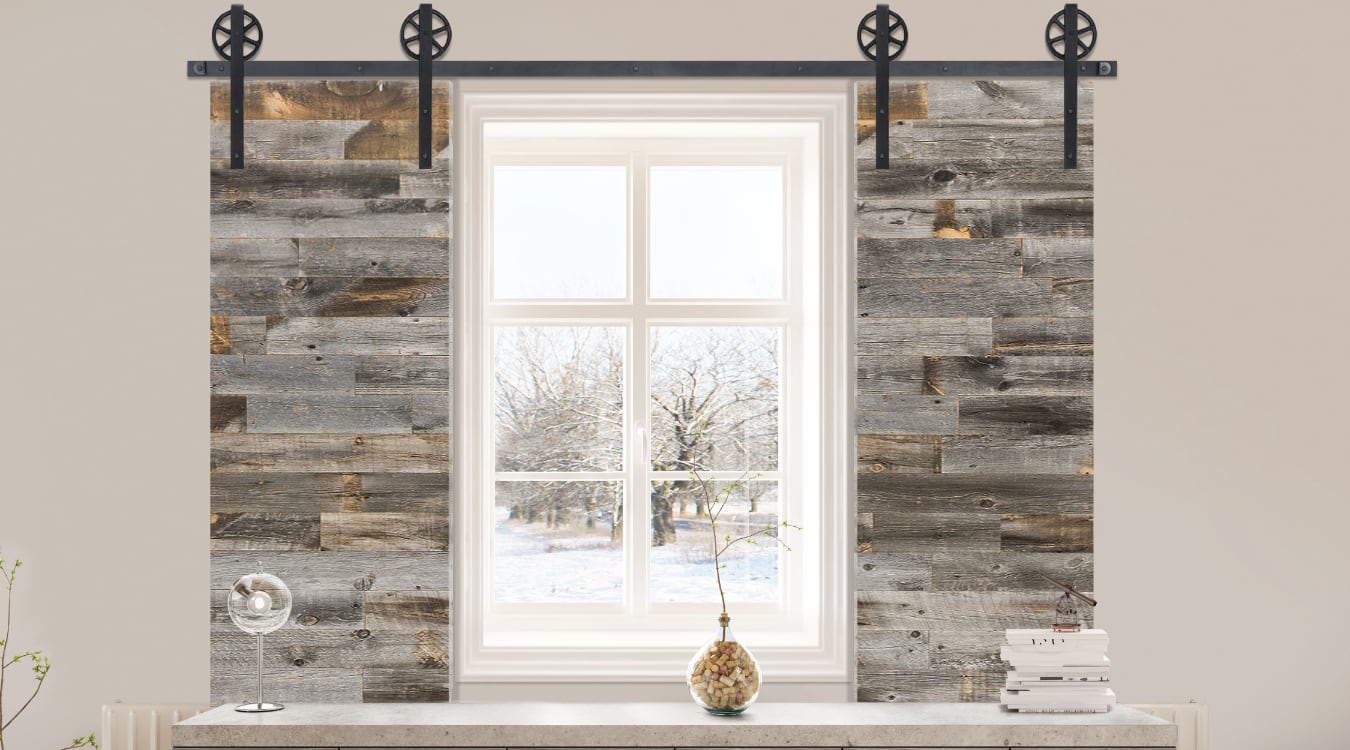 Light plays such a large role in the modern house that windows of every size, although usually rectangular, are common. Luckily, this fluidity means that you can let the room and window dictate the window treatment. Shades, blinds, and shutters all can work depending on the need -- and don't be afraid to mix and match. Or experiment with more non-traditional coverings like barn door shutters, frosted glass, or glass blocks.
Light Plays A Necessary Design Element In A Ranch Style House
If you see a one-story home, many times in an L-shape with a garage, you are most likely looking at a ranch-style home. Popular in the suburbs, ranch houses may have gabled, overhanging roofs with two or three standard windows dotting the outside. Many ranch houses in the South and Southwest also have a courtyard that flows into the front door.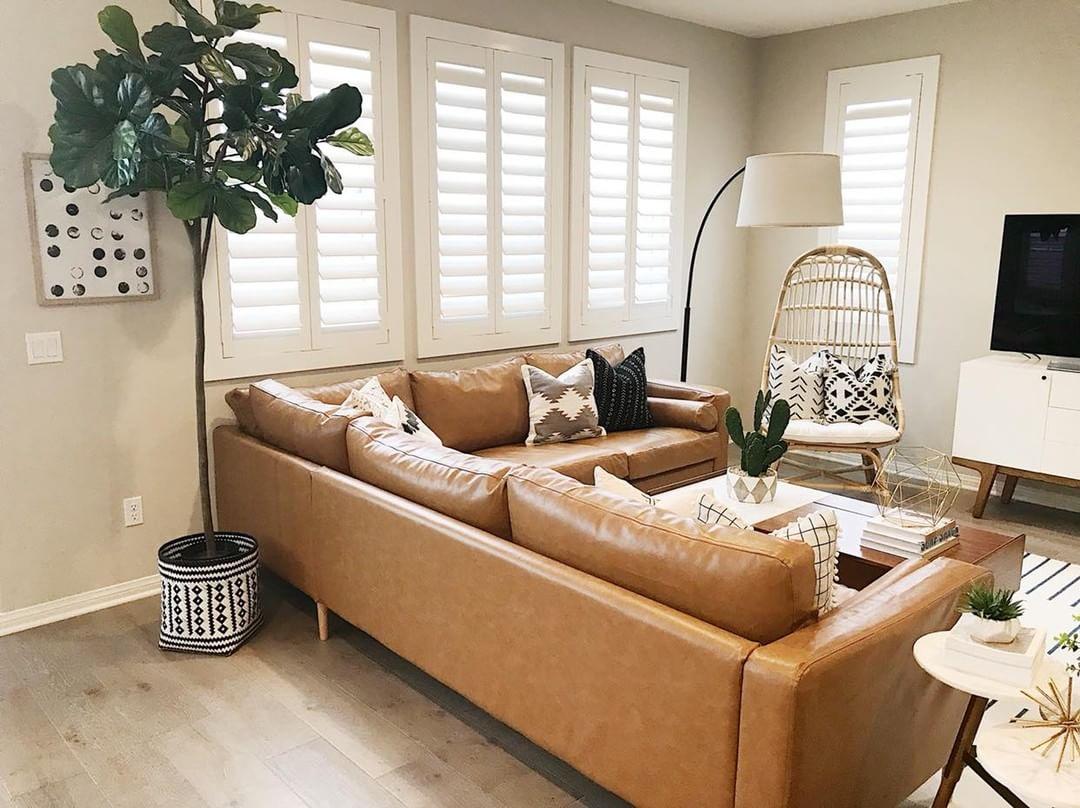 Because of their home's long, one-story footprint, those with a ranch house have to do everything they can to maximize light. Ranch houses were the first to experiment with open floor plans and innovative lighting, like skylights or canned lighting. You may also need to use a window treatment to bring in as much light as possible due to the overhanging roof.
Stay away from dark, opaque shades or fussy blinds, as your rooms might feel closed in and stuffy. Instead, use a sheer or zebra shade to let in ambient light. Or use faux wood plantation shutters to direct light while avoiding sun glare. Plantation shutters are also the best choice if you have a sliding glass or French door leading to the deck or patio.
Any Style of Window Treatment Works In An American Traditional Style Home
The American Traditional style is like the melting pot of architectural styles, borrowing from Craftsman, Colonial, Victorian, and others. American Traditional homes are mostly found in suburbia, where the same layout of the house can be tweaked slightly for a unique facade. You can see this style combine brick, stucco, stone, or vinyl siding onto the same facade, with perhaps a bay window or bow windows for decoration. Otherwise, the windows are standard so that the plans can be easily replicated.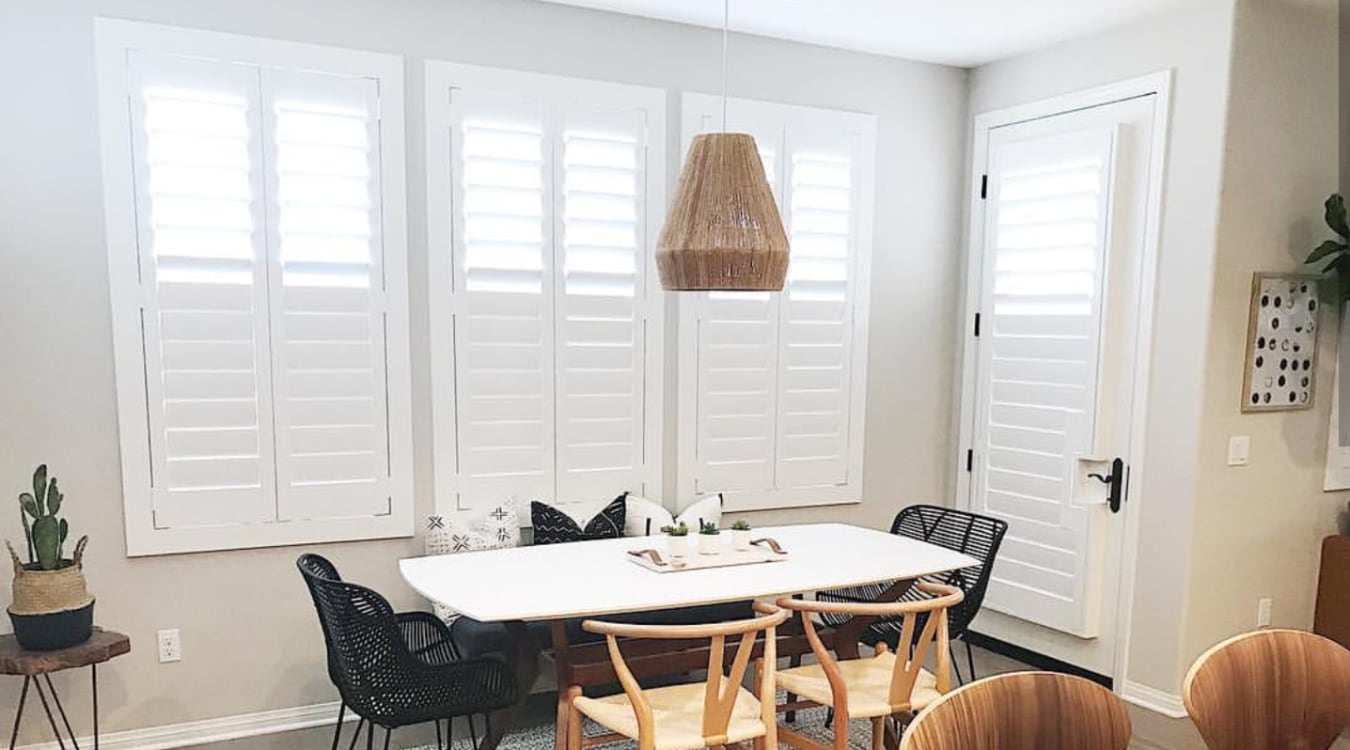 There's no preferred interior style for your American Traditional home. Therefore, you can decorate around your personality. Modern, farmhouse and minimalist all work and styles can change depending on the room. Likewise, any window treatments are appropriate as long as they look nice. However, many people like to keep a consistent treatment for the front of the house -- especially for those homes with an open floor plan.
Sunburst Has Window Treatments For Any Style Of Home
No matter if you have a flexible American traditional or strict Cape Cod home, Sunburst can help you find the perfect window treatment. From shutters to shades to blinds, we have it all. Just call (877) 786-2877 or send in the form below to schedule your in-home or virtual consultation.