Transform Your Rooms With Wood
When some people think of using wood in interior design, they may think of a rustic cabin filled with antlers or the paneling in your grandmother's basement rec room from 1976. However, wood can be an essential element to design. By strategically placing wood throughout a space, you can make a small room look bigger, add needed contrast, and divert the eye exactly where it should go. The key is to embrace wood accents like wainscoting, flooring, furniture, and window treatments without overindulging.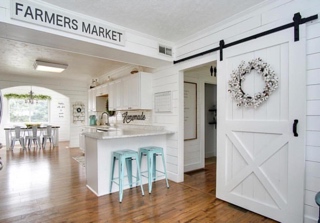 So how can you use wood to create the perfect space?
Wood Can "Create" Space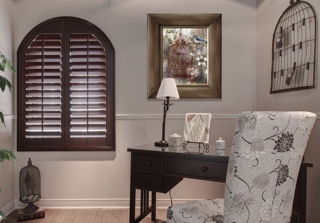 Dark wood shutters service as a focal point and light wood floors open up the space
If you have a small room and want it to look bigger, use wood to divert the eye. Bare wood flooring, especially wide planks with lighter finishes, help trick the eye into seeing depth that is not there.
On the walls, try wainscoting in a white or light grey. The vertical planking makes walls look taller and wider apart. A bamboo shade or cafe shutter lets a window seem bigger. A mirror in a simple wood frame placed on the opposite wall of a window can make a room seem almost twice as large -- although you will want to use a window treatment to direct the light and reduce glare.
Wood Influences The Feel Of A Room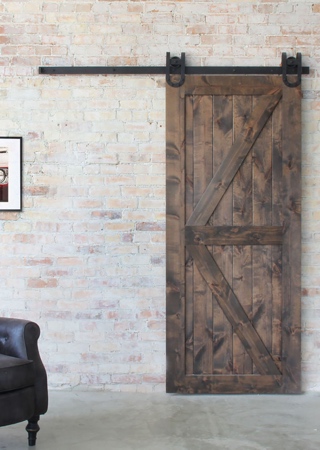 A barn door adds a modern touch to the room
There are few materials as versatile as wood in setting a mood of a room. Substitute the warmth of Douglas Fir with a much darker and heavier Cherry, and you transfer the feel from informal and easygoing to one of refined elegance. Both a Victorian mansion and a Colorado ski lodge can use the exact same amount of wood for decoration, but the hard walnuts and maples in the mansion give off a much more grandiose feeling than the country softwoods of oak and pines.
It's why many designers will start with changing the wood makeup when changing a room design scheme. Want to modernize? Try using reclaimed wood as a window treatment or accent wall. Trying to pull off a specialty theme like Tuscan or Beach House? Do your research and match the trim to the palette. Many design theories, like Feng Shui, have you swapping synthetic fibers and overstuffed furniture for more natural wood pieces, which is supposed to promote a more peaceful environment.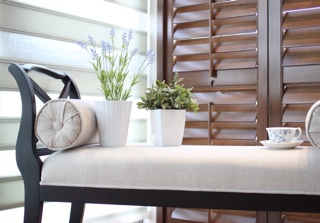 Natural elements of wood can be calming
Wood Adds Contrast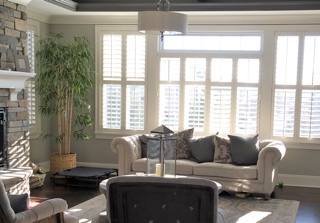 White shutters contrast with a dark wood floor
Contrast is an important element of home design, and it's easy to add contrast with wood elements. Dark wood floors contrasting with white trim and shutters give depth and interest to a room. Or if you have lighter wood floors, try adding some color with bold artwork or darker furniture.
You can also use wood to add contrasting textures. Think of softening hardwood surfaces like flooring with soft rugs, or adding a mirror on top of a wooden fireplace mantle.
Start Your Room's Wood Transformation With New Window Treatments
Sometimes the best way to transform a room's look and feel is by changing out the window treatments. At Sunburst, we can show you all your wood options and help you find the perfect shutter or blind. We offer a great selection, like our five-star rated Ovation® shutters. Call us today at 877-786-2877 or fill out the form below to schedule a free in-home consultation with one of our local window treatment professionals.