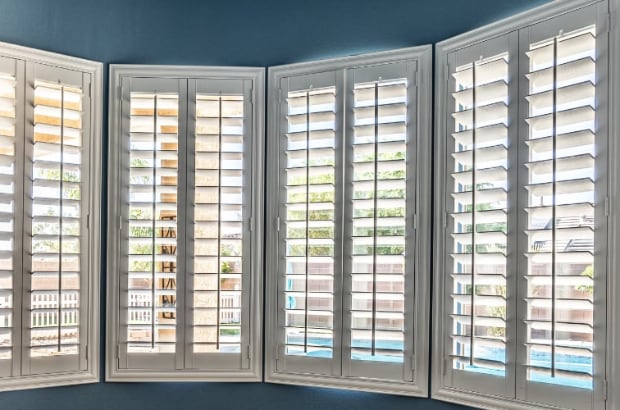 What Are The Best Bow Window Treatments?
Bow windows are some of the most beautiful and singular window styles found in homes today. The semicircular jut out not only bathes the room in natural light but also creates a rather unique exterior. However, finding the best bow window treatments can be a challenge.
Because a bow window is five or so smaller panes in a row, many window treatments, like curtains or blinds, don't fit the windows properly without detracting from the curve. Luckily, plantation shutters or some window shades are excellent bow window treatments, as they sit close to the window in order to preserve the architectural interest of the windows.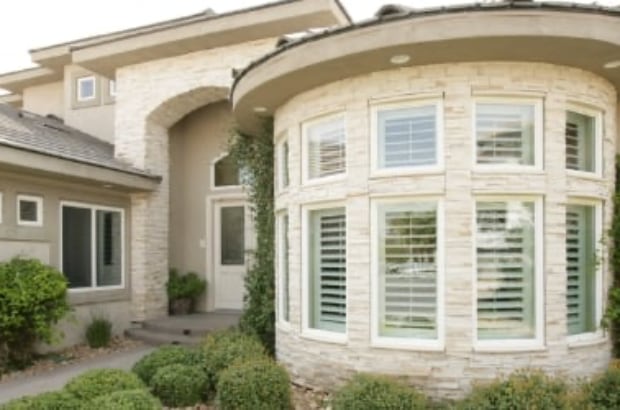 Does Your House Have Bow Windows or Bay Windows?
Is your window a bow or a bay style? Sometimes it's hard to tell, but there are some key differences. Knowing which one you have will help you find the right window treatment.
A bow window is usually four or more small windows that protrude from a wall or corner at a slight curve. They require 80 or more inches of wall space to accommodate the group. A bay window is a large middle window flanked by two small windows and only needs 40 inches or more of wall space.
Because bow windows are generally larger and have more individual windows, they can be more difficult to cover. Luckily, there are still some stylish options for dressing your bow windows.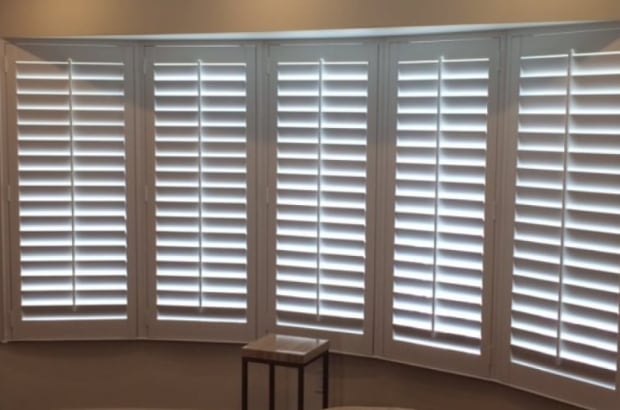 Without a doubt, the best bow window treatments are custom-made faux wood plantation shutters. Their modern design has everything you need to dress your beautiful bow window.
Faux wood shutters, like our Polywood® shutters, are custom-made and will not fade, crack, warp, or chip, making them the longest-lasting window treatments available. They require only a quick dusting or wipe down to clean. And their cordless design is easy to operate.
Since your bow windows are set on a curve, you may get some interesting sunbeam angles and airflow into your room. Fortunately, the large louvers of a plantation shutter will help mitigate these potential problems. Just angle the louvers to block sun glare, giving you privacy and light control at each window. Meanwhile, the Polywood Shutter Insulating System reduces home energy loss -- 70% better energy efficiency than wood plantation shutters and 1600% more efficient than aluminum blinds.
Finally, faux wood shutters look great. The last thing you want for your bow window treatments is to obscure the architectural interest of the window. Instead, a plantation shutter will frame each window and make them stand out even more. And the timeless quality of shutters allows them to blend seamlessly into any decor. So when your style changes, you can just leave your bow window treatments alone.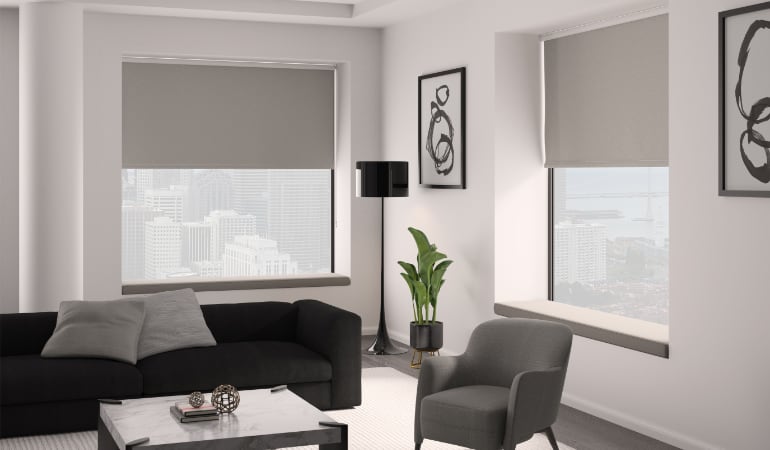 Other Great Bow Windows Treatments
For a softer look, classic window shades also work well on bow windows. Shades come in a multitude of styles, colors, and materials to suit every home. A close-fitting roller shade works well when your curve is less pronounced. Or go with a Roman shade to get some color and texture into a room.
If you like the shutters style, but want something more natural, go with the hardwood option. There are even on-trend reclaimed wood shutters available if you like rustic accents. Just stay away from loose-fitting window treatments like blinds or curtains. They have a tendency to look cumbersome against the curved structure and can blow about when the windows are open.
Get The Best Bow Window Treatments With Sunburst Shutters
Finding the right window treatment for your bow window isn't difficult when you work with Sunburst Shutters. Give us a call at 877-786-2877 to schedule a free in-home consultation to discuss the best options for your bow windows.