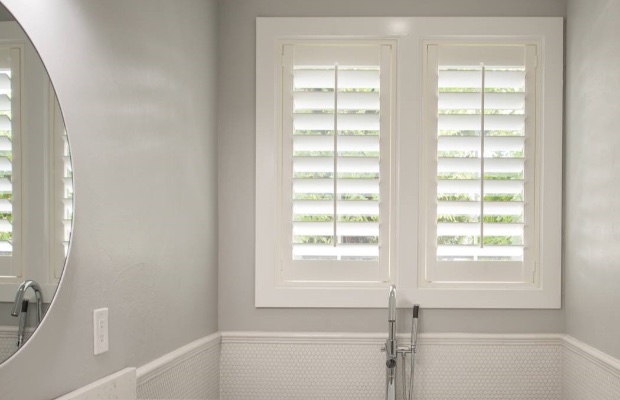 What Bathroom Window Treatments Are Best For You?
Having a window in the bathroom can bring in natural light to a small space, but it also means having a window near a bathtub or shower. Having the right bathroom window treatments can help with privacy, provided you get a window treatment that can hold up to steam and moisture. Luckily, there are several window treatments that work in bathrooms, including faux wood plantation shutters.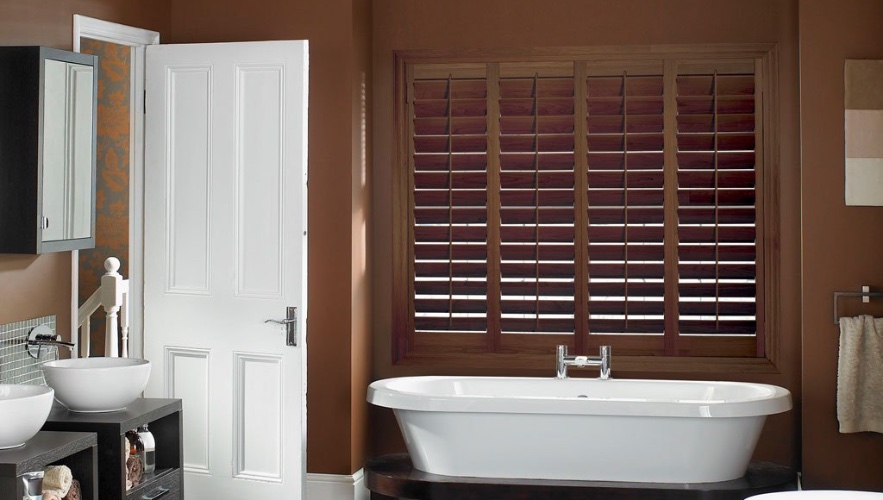 Plantation Shutters Give Style And Privacy To Your Bathroom Windows
Plantation shutters give you the ultimate control between privacy and natural light. Permanently connected to the window opening, plantation shutters feature louvers that can be tilted to bring in more light as needed. Just use the center tilt rod to easily open and close the louvers. You can even position louvers to let in light, yet still keep some privacy.
Of course, hot showers create steam that can wreak havoc on certain window treatments. But when you use faux wood plantation shutters, like our Polywood® shutters, they can endure the bathroom's humidity and temperature problems. In fact, Polywood shutters are made from a composite material that guarantees they never warp or crack. When properly maintained, they can last more than 50 years and still look as beautiful as the day you bought them.
Another benefit of using Polywood plantation shutters as your bathroom window treatment is that when closed, the shutters insulate against the weather outside. The last thing you need is cold weather leaking into your shower, and Polywood shutters insulate up to 70% better than the equivalent wood shutter. This makes getting ready a pleasant experience every morning: never too hot, never too cold when you walk in.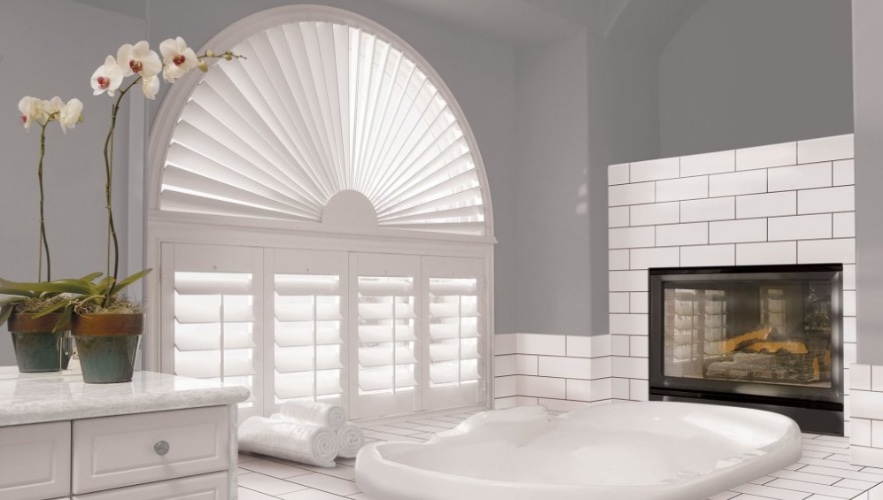 Blinds and Shades Don't Work Well As Your Bathroom Window Treatments
Some homeowners wonder if they should keep replacing their window blinds and shades in the bathroom. But before you do, ask yourself the following questions:
Do you want a bathroom window treatment that provides both light control and privacy? With most blinds and shades, the treatment is either all open are all closed. That means you either have privacy or natural light, but not both at the same time.
Are you looking for a short term window treatment solution? Blinds and shades may look nice in the short term, but they usually don't hold up to the humidity that's inherent within the bathroom.
Do you have frosted glass in your bathroom?

If you have frosted glass in the bathroom, and you don't mind switching out the treatment every so often, then you may want a window shade or blind for your bathroom window treatment.
The Best Bathroom Window Treatment For Custom Shaped Windows
If you are like some homeowners, your bathroom windows are not necessarily standard. For bathroom window treatments for specialty shaped windows, you need something that's custom-designed. Luckily, durable faux wood plantation shutters will provide the same benefits on specialty windows. This means for bathroom windows shaped like a circle, an arch, an octagon, or a triangle, you can get window treatments that accentuate every corner and curve while keeping the architecture interest intact.
Sunburst Shutters Has Your Bathroom Windows Covered
When looking for quality faux wood plantation shutters for your bathroom windows, turn to Sunburst Shutters. Our professionals are ready to help you show you the benefits of Polywood. Schedule a free in-home or virtual design consultation by calling (877) 786-2877 ­or fill out the form below today!