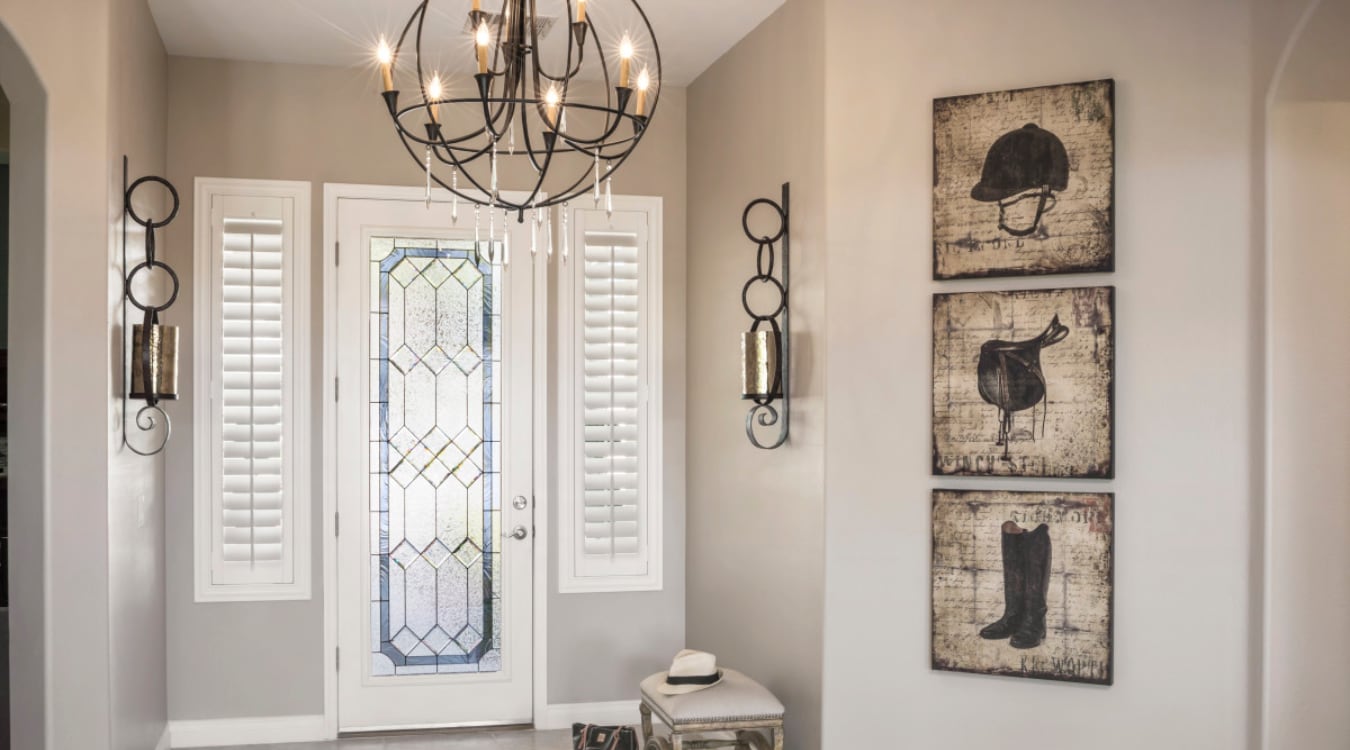 What Window Treatments To Use For Small Windows
It can be hard to find a window treatment that can adequately cover your windows when they don't measure to a standard size. You might be able to hide those rows of small, square windows behind a large drape, but then both the windows and drape look awkward when the treatment is open. Sidelight windows or long, thin living room windows are usually created to artfully add illumination, so sticking anything like a pocket curtain in it hides any outside light. (Photo by Room Resolutions.)
However, you still need a covering for sun glare and heat loss, so what window treatments are best for small or thin windows?
Avoid Treatments That Obscure The Window's Use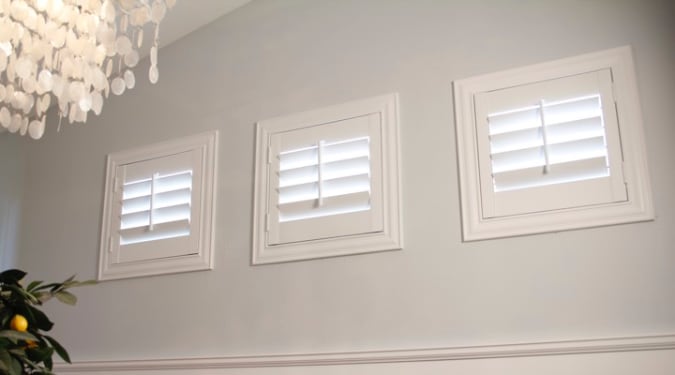 Most of the time, those square porthole-sized windows or long, thin windows aren't just there for decorations. They usually have a specific use. When situated high in the room, a small, square window brings light into the room without compromising the structure. Those sidelight windows around a door add light into an entryway and let you see who's at the door.
At any rate, you don't want to stop what they were intended for by using a window treatment that's ill-fitting or fills up the whole window. Small, pocket curtains can look nice, but you won't be able to see the outside. Corded treatments may be easy to use, but the cords just pool on the floor or sill when the shade or blind is open. Ideally, your treatment should be able to let in the sun when as the widow intended, and block light when the glare is bad. Of course, that's easier said than done.
The Right Window Treatment Will Be Custom-Made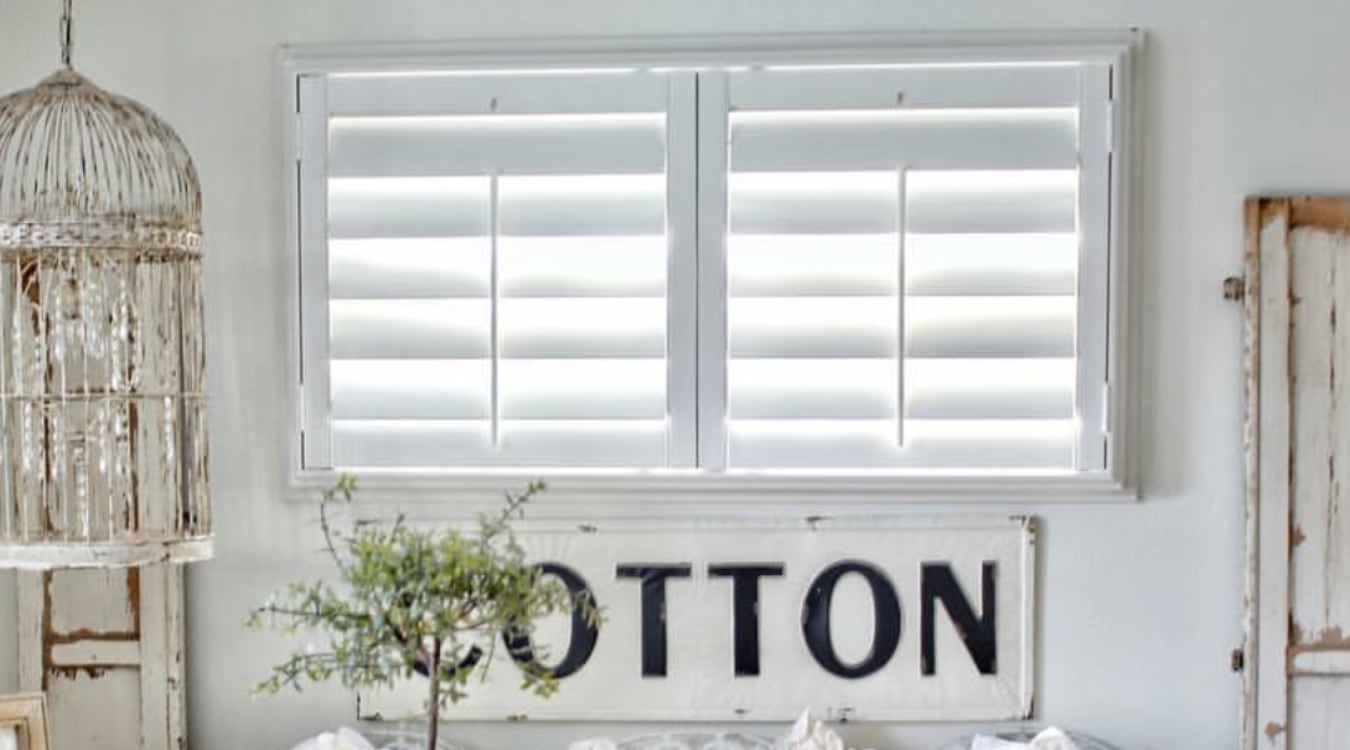 When you have a window that isn't a standard dimension, you want to use a treatment that's customized for those exact measurements. Jerry-rigging a stock treatment can cover the window, but curtain fabric or blind slats might pool at the bottom of the sill. Hang a treatment on the outside of the frame, and the window might become completely obscured and look like it never existed at all. If you ever open the covering, both the window and the treatment will comically look out of proportion.
However, instead of hiding them away, you should have your treatments custom-made to fit the unusual dimensions. When you use treatments like plantation shutters, those awkward windows start to make a stylistic statement. And when your treatments are custom-made, it's easier to keep all the windows consistent throughout the room.
Choosing something to cover all windows equally well can be tricky, but pick the treatment for the smallest windows first, then match your standard windows. Each window will then have custom-made coverings and those small eye-sores have become blended into the overall design scheme. You can see in the video below how shutters can work with small windows like transom windows.
Use Plantation Shutters For Your Small Square Windows Or Long Thin Windows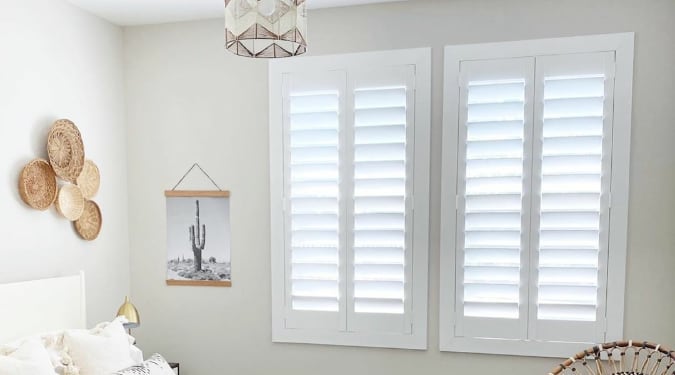 Plantation shutters will fit snugly in the window without any awkward hanging bars or dangling cords that pool up on the floor or in the sill. Shutters are custom-made, so even the small dimensions can have a fully functional window treatment. Shutters can come in a variety of materials, so they can be easily adapted to multiple styles, and if you choose a faux wood, like Polywood®, you can even receive a great amount of energy efficiency.
Plantation shutters accentuate the uniqueness of your windows by letting the sun flow through, preserving the architectural use that they were built for. But when you shut the louvers to avoid the sun's glare, the windows still blend into the rest of the windows. And when you outfit all your other windows — even if they are small, thin, standard or arched — with the same plantation shutter, the entire room will look cohesive.
Sunburst Can Fit All Windows With Plantation Shutters
Sunburst can help you find the right plantation shutters for your small or thin windows as well as every window in your home. Our experts will come to your house and take measurements for all your windows. Then we will custom-craft the treatments to perfectly fit each window. Call (877)786-2877 or fill out the form below to schedule your in-home consultation.