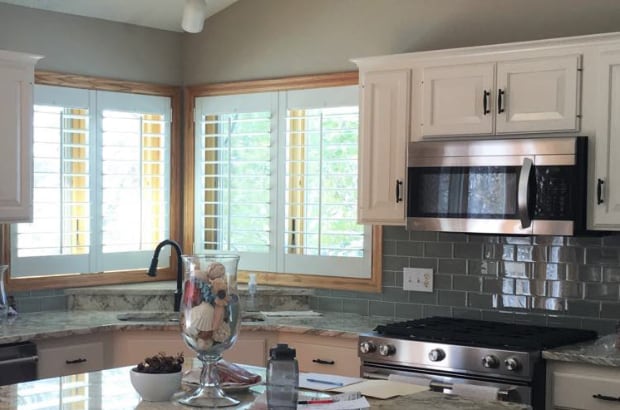 What Window Treatments Work Best in Humid Places
You probably see condensation accrue on some of your windows from time to time. What you might not easily see is that same condensation buildup on your window treatments. In humid places – in rooms like the bathroom, kitchen, or laundry room, or in humid environments like coastal and midwest homes – condensation can make the wrong window treatments warp, mildew, or worse.
It's time to get smart about window treatments in humid environments.
What Window Treatments Can't Handle Humidity?
The most important factor in whether a window treatment can survive a humid environment is the material. First, let's look at the materials you should always avoid in humid spots:
Nix natural wood – Real wood looks fantastic, but even a short time in a moisture-heavy room can cause a wood window treatment to swell, warp, and possibly even mildew and mold over time. So in the kitchen or bathroom, stay away from wood shutters or blinds.
Stay away from heavy fabric window treatments – Heavy draperies or curtains are like sponges in humid rooms. They soak up tons of moisture and take a long time to dry out naturally. That makes them ripe for mildew, discoloration, and wrinkling.
The Best Window Treatments For Humid Areas
There are a handful of window treatments that excel in moisture-laden areas. These are our top recommendations.
Faux Wood Shutters – Faux wood shutters are some of the best waterproof window treatments. And Sunburst's Polywood Plantation Shutters are some of the best faux wood shutters on the market.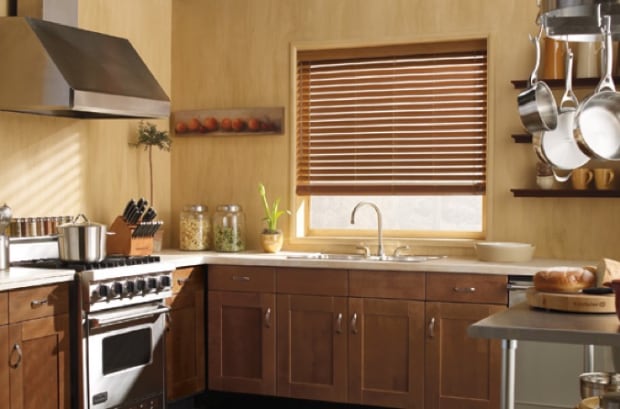 Not only are they unaffected by humidity, unlike real wood shutters, but Polywood shutters are waterproof, so even direct contact with moisture is no problem. That makes Polywood perfect for the kitchen or bathroom, where they might be in the "splash zone."
With Polywood's stain options, you can even get the look of real wood out of your Polywood faux wood shutters, making it perfect for matching your wood decor!
Light Fabric Window Treatments – While heavy draperies and curtains should almost never go in a humid space, lighter fabric drapes or curtains may be able to withstand some light humidity. Sheer curtains or lighter fabrics such as lace won't accumulate as much moisture and will dry much faster than thicker drapes. That means there's less of a chance that they'll lose their shape or mildew. Just be sure that the fabric doesn't come into any direct contact with moisture.
Faux Wood Blinds – Faux wood blinds perform well in humid environments like faux wood shutters. The only issue with blinds are the cords—the more often cords get wet and are exposed to changing temperatures, the more likely they are to deteriorate faster than normal.
Quit Sweating Your Window Treatments
With the right window treatment in your kitchen, bathroom, or laundry room, you'll never have to worry about damage caused by humidity. For more help on finding the right window treatment for your home, schedule your free in-home consultation using the form below. And to see more fantastic window treatments, check out our Window Treatment Idea Gallery.