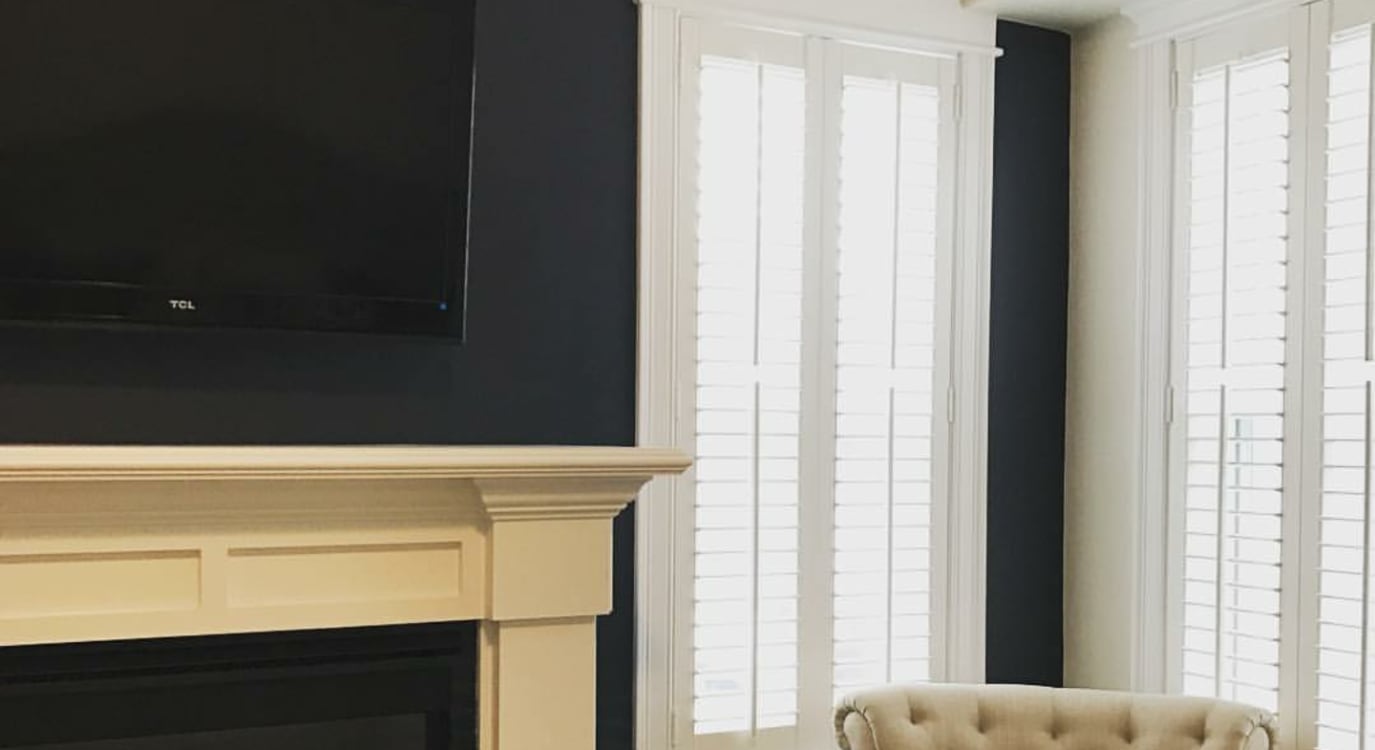 Whats The Best Material for Plantation Shutters?
Some plantation shutters look beautiful for years and even decades, while others can chip, crack, warp, or yellow within a few years. So what's the difference? The material they're made from. We'll walk you through the best material for plantation shutters – and what types of material to avoid.
What Are Faux Wood Plantation Shutters?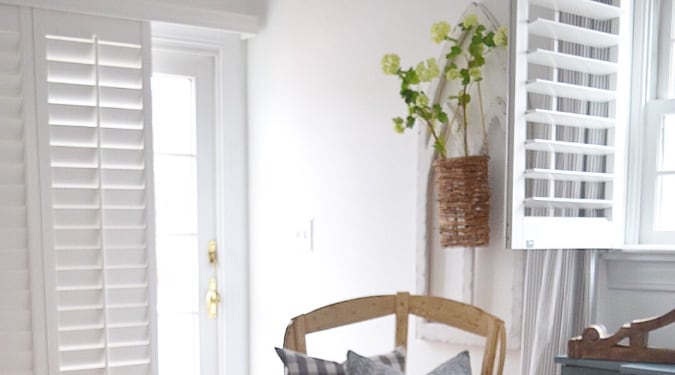 Faux wood plantation shutters resemble wood shutters but are built using any non-wood material.
Premium faux wood shutters, like our Polywood® shutters, are made from a solid wood composite throughout which won't chip, crack, or warp. They're then painted with a UV-inhibitor paint that doesn't fade or yellow, even when exposed to hours of sunlight. This helps them look like new decades down the road.
But not all faux wood shutters are considered premium faux wood shutters. Many faux wood shutters are "cheap" and composed of a mix of wood fiber, glue, and plastic (similar to particleboard) and then encased in vinyl. Other faux wood shutters have a hollow core. Both of these types of faux wood shutters should be avoided as they are more likely to chip, peel, fade, or warp due to their material and construction. Cheap vinyl will start to peel in a short amount of time and can even melt when exposed to much sunlight.
Benefits Of Premium Faux Wood Shutters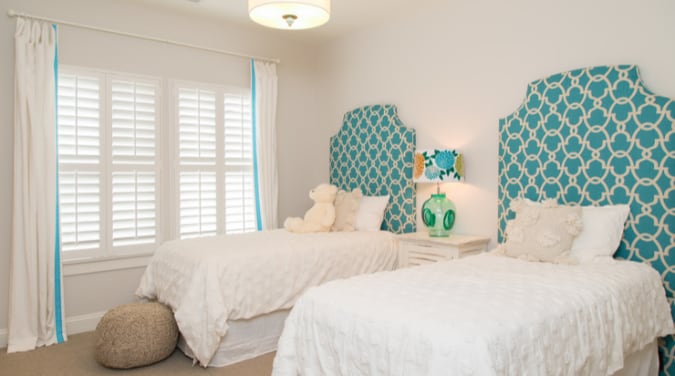 Premium faux wood shutters have many benefits including:
Durability – Our Polywood shutters are sturdy and made to last decades. They come with a lifetime warranty.
Energy Efficiency – Due to their solid core, high-quality plantation shutters are energy efficient. Our Polywood shutters even have built-in weather-stripping to make them 70% more energy efficient than their wood counterparts and 1600% more efficient than aluminum blinds.
Aesthetics – Faux wood shutters come with many options. Their traditional style complements all types home styles and designs.
Price – Faux wood shutters usually cost less than real-wood shutters.
Can be used in humid environments – Premium faux wood shutters are water-resistant and can be used in high moisture environments like bathrooms and kitchens.
Easy to clean – Premium faux wood shutters are easy to clean by just wiping with a damp cloth.
When Real Wood Shutters Might Be Best
While the majority of our shutters customers choose Polywood faux wood shutters, some customers prefer our Ovation® real wood shutters made from hardwood. Consider wood shutters if you want the natural "feel" of real wood or if you want real wood shutters to complement your décor. They work best in non-humid climates without extreme heat, and in rooms without water or steam (bathrooms, kitchens, laundry rooms, etc).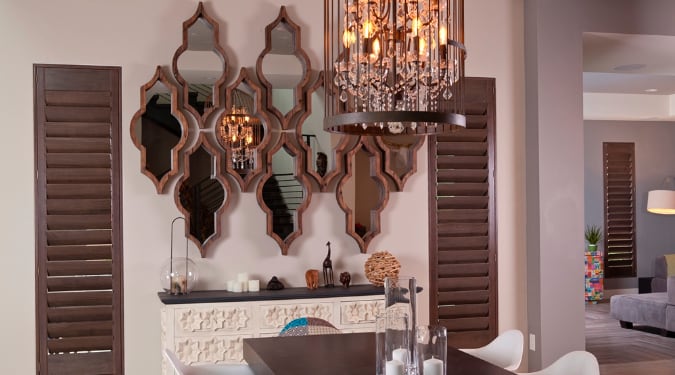 Benefits Of Real Wood Plantation Shutters
Here are some of the benefits of real wood plantation shutters:
Aesthetics: If you're looking for a stained shutter – then you need a real wood shutter. Whether you want your shutters to match your floors, your furniture, or your walls, real wood shutters have a rich wood look that's hard to replicate.
Durability: Ovation shutters are made from durable hardwood and built to last years.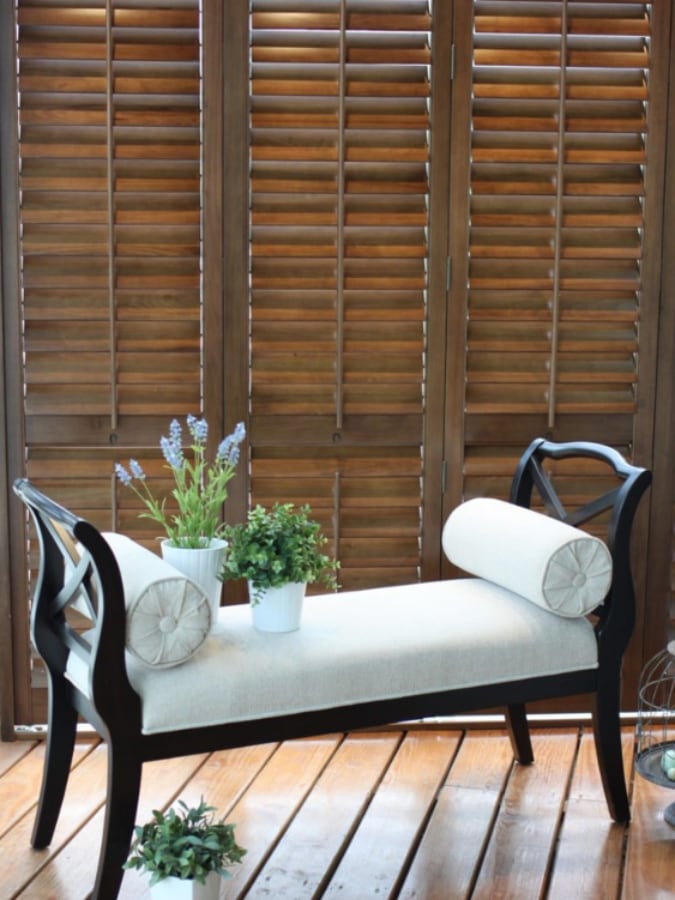 Drawbacks Of Real Wood Plantation Shutters
Real wood shutters might have a few drawbacks including:
Energy Efficiency: While real wood shutters are more energy-efficient than other window treatments like blinds or shades, they're not as energy efficient as Polywood shutters.
Cost: Real wood plantation shutters usually cost more due to the cost of sourcing and crafting the wood into shutters. They also have a shorter warranty than premium faux wood plantation shutters.
Limited Use: Real wood shutters are not recommended for rooms with water, steam or heat like bathrooms, kitchens and laundry rooms.
What's The Best Material For Plantation Shutters?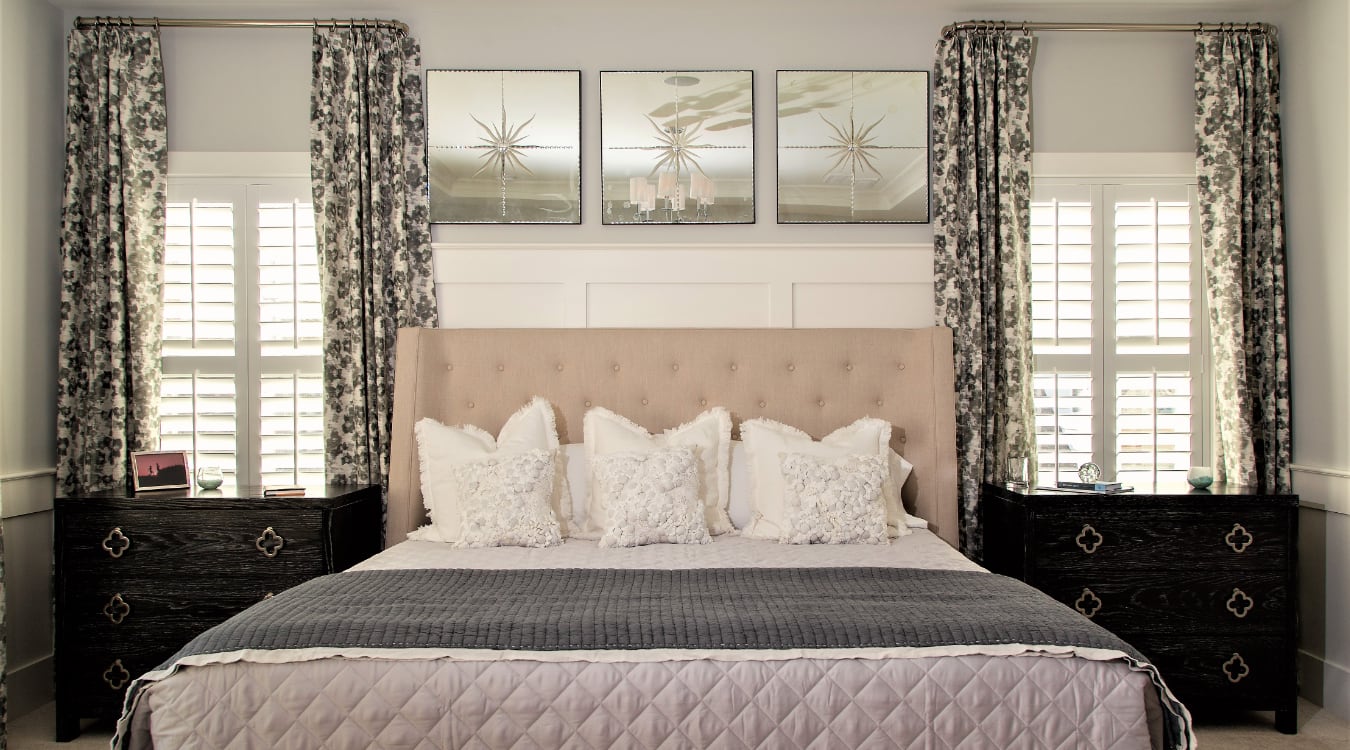 So what's the verdict on the best type of material for plantation shutters?
It depends on what you're looking for in a shutter. If you're looking for classic, white plantation shutters that are energy efficient then go with a premium faux wood shutter like our Polywood shutters. If you're wanting shutters made from real wood to complement our décor then consider our Ovation wood shutters.
Above all, look for shutters that are made from a premium material that is durable, beautiful, and will last for decades.
Need Help Choosing Which Shutter Material Is Right For You?
If you're still on the fence or want to see how some of these shutters would look in your home, schedule a free in-home consultation by filling out the form below or calling 877-786-2877. One of our reps will bring samples of all of our different shutter and window treatment products and walk you through all of your options, taking into account your home, your design style, and your budget.