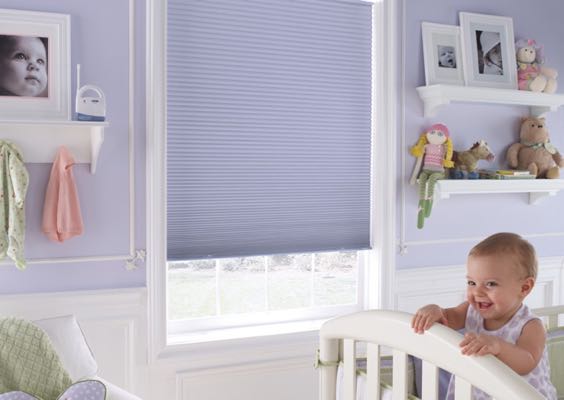 Which Window Treatments To Choose For Kids Rooms
You have a huge selection when choosing your perfect bedroom window treatments, depending on the specific needs of your space. But one type of bedroom may have the most specific needs of any kind: children's bedrooms. Though children's bedrooms share many of the same requirements as other bedrooms, they also have some specific requirements too. So let's take a look at some of the most important features to keep in mind when choosing window treatments for the youngest members of your family.
Safety for Kids' Rooms
Childproofing the home is an activity that all families should be familiar with – and window treatments are no exception. Depending on the age of your child, some window treatments are a definite no-go. For young children, any type of window treatment that has a dangling cord that can cause injury or strangulation is out – which means no corded blinds, shades, or draperies. Even without cords, children can be climbers, so forget any window treatment that can be easily pulled down. Finally, be careful to stay away from any window treatment with a paint or finish that can emit dangerous fumes.
Instead of any of those window treatments, opt for a product with fewer moving parts and without any types of cord or wires. Plantation shutters fit the bill for a child-friendly window treatment, as do cordless cellular shades. Sunburst's Polywood® and Ovation® shutters have finishes that don't emit any fumes. Each of these window treatments avoids any unnecessary risk to your child's safety.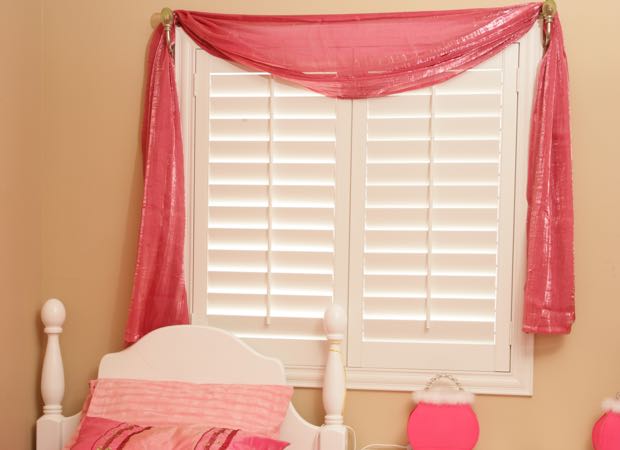 Choose A Window Treatment That Protects Children's Privacy
One of the main priorities of any bedroom is privacy, and that emphasis goes double when thinking about the windows in your children's bedrooms. Blinds, whether traditional or vertical, can usually be seen through at certain angles, making them less than ideal. Many shades and drapes, though providing better coverage than blinds, can show silhouettes visible from outside your window.
When it comes to ensuring your child's room has the privacy it needs, plantation shutters are once again our first recommendation. By closing the adjustable louvers, shutters allow you to completely block off the view into your child's bedroom. Some shades and drapes are also available in blackout options, eliminating most outside visibility with their thicker material.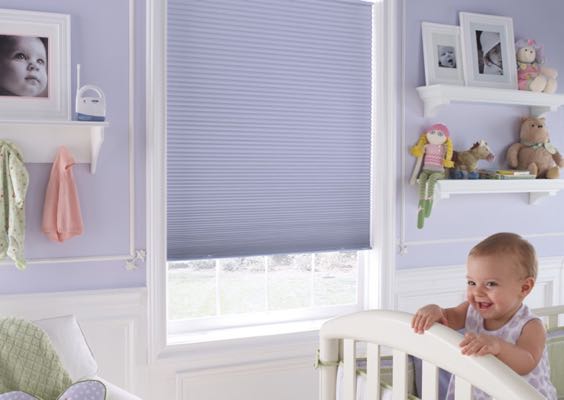 Light And Temperature Control For A Comfortable Kids' Room
Ask any parent and they'll tell you that kids are fickle sleepers. Some nights it can be a breeze to get them to sleep, other nights it can be a nightmare. Parents know that light control is helpful in getting kids to sleep, but what some don't know is that a room's comfort level may also play a big part in which of those two outcomes occur. The right window treatment can give you optimal control of the light and temperature of your children's bedrooms.
Polywood plantation shutters are the last word in energy-efficient window treatments. Properly installed, they can reduce up to 45% of heat transfer through your window, and are nearly 1600% more effective at insulating than aluminum blinds. To get an added boost, add UV-protecting window film, which can repel up to 87% of solar heat. Taking advantage of these window treatments can make it easier to get your children better-rested, which means you get more rest as well.
Find A Solution Today
While you want your window treatments to be stylish, there are some features that may be more important in kids' bedrooms. Fortunately, Sunburst Shutters is able to fulfill all your wants. Call us at or use the form below to schedule your free in-home consultation today with your local store.