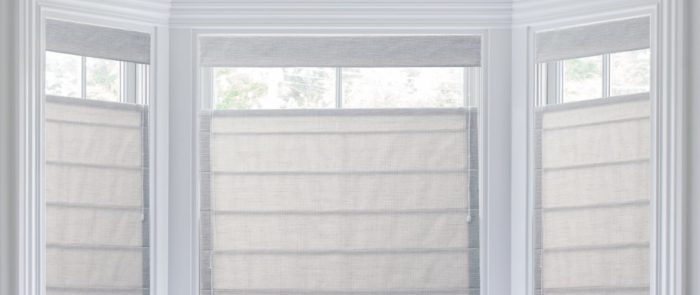 Why Install Top-Down/Bottom-Up Window Shades?
When visiting a family member's or friend's house, you may have seen a window shade that opens from both the top and the bottom. This top-down/bottom-up window shade looks and works like magic and has some beneficial applications.
Open it up the conventional bottom-up way and see the beautiful scenery of your yard and neighborhood. But, the ability to slide open the top of a shade while keeping the bottom half covered brings privacy, comfort, and a whole new way to use light within your rooms.
Top-Down/Bottom-Up Window Shades Give You Light And Privacy At The Same Time
Balancing light and privacy may be the biggest problem concerning traditional window shades. To get natural light, you need to lift the shade. Then you uncover the window and allow people from the street to see right into your rooms. Lower the shade for more privacy and lose the benefits of natural light.
With a top-down/bottom-up window shade, you no longer have this all-or-nothing decision. You can keep all the privacy you need and still let light stream through. Simply pull the top part down to the desired height. Then the part where people can see into the home is covered. All you see is where the sky peeks through the top.
These shades are perfect for windows that face the street. All you need to do is lower the shade, so passers-by can't see into your home office while you're on the phone or into the dining room during dinner. They are also great for media or family rooms, as you can ensure that the setting sun doesn't put a glare onto the TV. And you still can let the morning sun into your bedroom in the morning even when you need to change out of your jammies.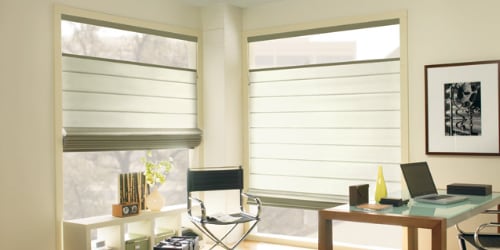 Top-Down/Bottom-Up Window Shades Are Easy To Use
When you first look at a top-down/bottom-up shade, they can seem complicated and mystifying. Fortunately, these window treatments couldn't be easier to operate. Simply use the same mechanism for the top-down portion, as you do with the bottom-up lift.
Most top-down/bottom-up window shades are cordless and use a push bar. If you want a clear window without any shade covering it, raise the bottom to the top. If your shades use cords to lift open, then they'll use a cord to lower open also. You can even get your top-down/bottom-up window shades motorized as well.
Top-Down/Bottom-Up Window Shades Add Another Dimension To Style
You can get these innovative shades in various styles, but cellular and Roman shades are the most popular. If you hang a cellular shade, you'll get stiff honeycomb ridges that fold up like an accordion. When you open the shade from the top down, the shade folds into itself. All you see are two almost invisible cords that suspend the top pull bar of the shade. You can also raise the lower half of the shade simultaneously, leaving just the middle of the window covered.
Because you have more ways to bring in light, you have more options for decorating. For example, bedrooms in a deep blue or green have a way of looking too dark and cramped when the shades are closed for privacy. But go ahead and use the whole color palette, as you can always bring in natural light with your top-down/bottom-up shade.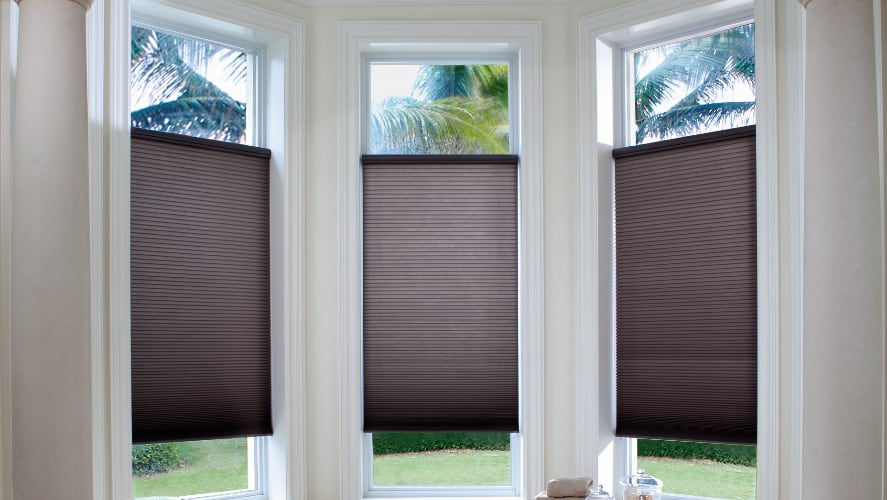 Sunburst Has A Wide Selection Of Great Top-Down/Bottom-Up Window Shades
A top-down/bottom-up window shade is something you should see for yourself. Luckily, Sunburst Shutters has a great selection of these innovative window treatments. Through your in-home consultation, we can find the perfect shade for your home. Just call (877) 786-2877 or fill out the form today!