Why Should You Use Interior Shutters For Your Arched Window Treatments?
The arched window is one of the trickier windows to cover. Window shades or blinds don't adequately work, as the rounded shape remains uncovered. Then, even if your window treatments are closed, outside light and sun glare can still stream in through the top of the window. You could install some ceiling-to-floor drapery to shield the window, but then you lose the beauty of the arch when you draw the curtains closed.

Luckily, plantation shutters are the perfect arched window treatments, as they can be custom-made to fit any shaped window. By using a louvered shutter, you can still get privacy and light control from your arched windows. You might even add some interest to your windows when you choose from the following interior shutter styles.
Get A Sunburst Design With Your Arched Window Treatments
One reason interior shutters are popular arched window treatments is the "sunburst arch" design. Now, you have a rectangular shutter panel on the bottom and a separate curved panel above it with this style. These louvers are placed like a fan and resemble the rays of the sun when the shutters are open. And when closed, you get a striking pattern that can glow like a setting sun.
The sunburst arch option also allows you to leave the arch open for natural light while closing the bottom shutter panel for privacy. Then, tilt the sunburst louvers to direct light and reduce sun glare. Whether you have a wide, extended arch or a deeper curve, each shutter panel is custom-crafted to the exact measurements of the window for a perfect fit. This pattern allows you to preserve the beautiful shape of the window while keeping full functionality.
Open Your Arched Window Treatments Wide With Traditional Louvered Shutters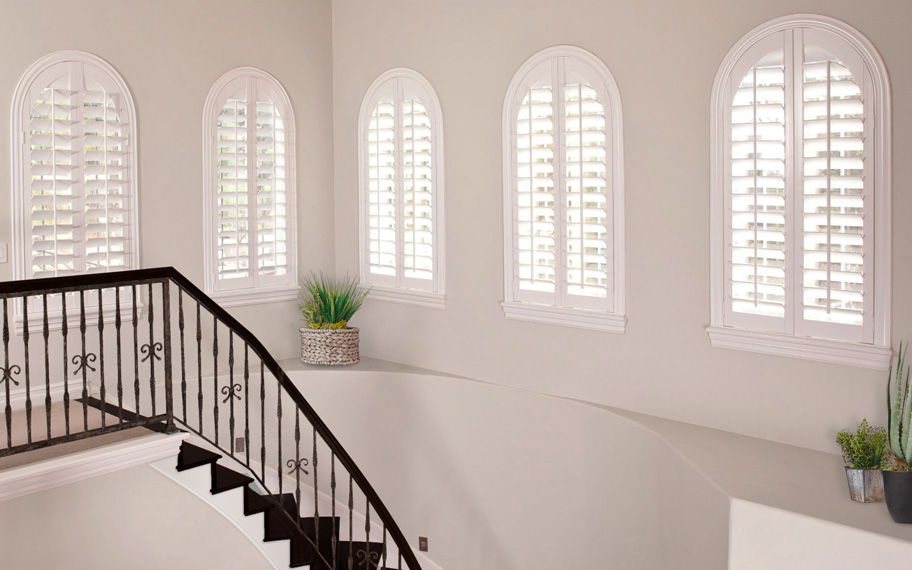 If the sunburst style doesn't fit your needs, you can get custom-crafted traditional shutters that feature horizontal louvers up to the top of the arch. These arched window treatments give your windows clean lines and a contemporary undertone. White faux-wood Polywood® shutters are especially nice, as they come with weatherstripping that will give your arches a great deal of energy efficiency.

To direct light, simply adjust with the tilt rod. All the louvers move in sync -- even to the top of the arch. And if you want an unfettered view, swing the shutter panel open. For smaller arched windows, you have one panel that will swing to the side. For larger windows, you'll have two panels that will split in the middle and swing to each side.
Sunburst Shutters Can Create The Perfect Shutters For Your Arched Windows
Let Sunburst Shutters help you enjoy the beautiful arch windows without giving up your privacy or your style. Our window treatment professionals can show you samples of both our sunburst arch and traditional louvered shutters and help you decide which best suits your needs. For your free in-home consultation, call us at 877-786-2877 or send in the form below.