Window Treatment Ideas For Sunrooms
A sunroom that is airy and comfortable can become the most popular room in the house. Its large windows and generous natural light make it the perfect place to relax with a good book, enjoy a cup of coffee, or entertain guests.
To make your sunroom become the go-to room in your house, you need to control for light throughout the day and make sure it's not too hot or cold. You may even need to redecorate it. A good place to start is with your windows and window treatments. You'll want to find a window treatment that lets the natural light in and gives you a view of outside but also lets you cover your windows for privacy and energy efficiency.
The specific type of window treatment you choose depends on your energy efficiency needs, your style, and your budget. Here are some window treatment ideas for sunrooms to make your sunroom the best room in the house.
Classic Plantation Shutters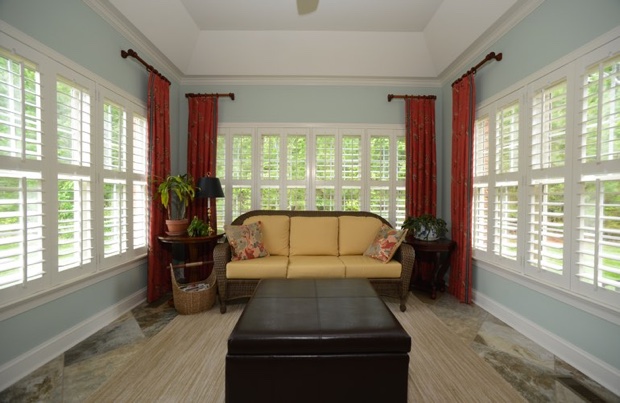 Plantation shutters are a classic window treatment that lets the light stream into your sunroom. They are a custom window treatment that becomes a permanent fixture in your sunroom and can add to the value of your home. Their large louvers give you a beautiful view of the outdoors when opened. They're easy to adjust for light control and privacy – and easy to clean. They can swing out if you want to open up your sunroom windows to let in a cool breeze.
Sunrooms have a lot of windows which means you get a great view of the outdoors. But with all the glass, your sunroom usually isn't energy efficient. Polywood® plantation shutters insulate your sunroom. They reduce heat transfer by 45% and are up to 70% more energy efficient than traditional wooden shutters, so you can enjoy the sun shining through your sunroom in the daytime and close your shutters at night to maintain the room's temperature.
UV-Blocking Window Film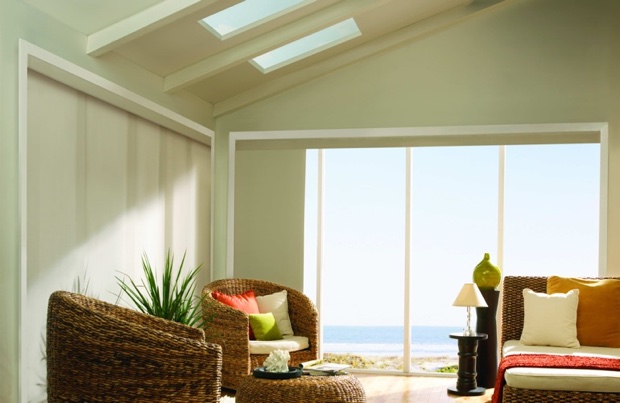 Window film gives you a completely open view through your sunroom windows. It blocks 99% of the sun's harmful UV rays while letting natural light stream into the room. Window film both reflects and absorbs the sun's energy so that you can keep your sunroom at the perfect temperature. And it takes stress off of your HVAC system, which lowers your utility bills.
Window film also protects your carpeting and furniture. The direct sunlight that comes through windows can fade and discolor your carpeting or furniture. But windows that have window film prevent fading so that your furniture and carpet stay true to their colors. You can add privacy tinting to window film so that you can see outside but your neighbors can't see into your sunroom. You can also pair window film with other window treatments like plantation shutters or shades for increased energy efficiency.
Decorative Roman Shades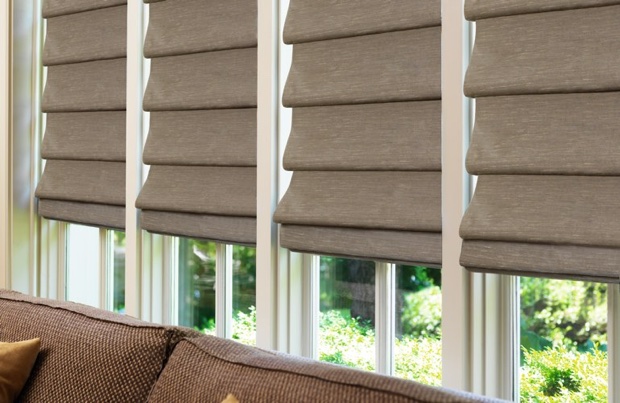 Roman shades are another sunroom window treatment that lets you easily control for light. They come in many fabrics and patterns in a variety of styles including classic, contemporary, and modern.
Pull the shades down when you want privacy and less light. Retract the shades when you want a bright, sunlit room where you can see outdoors. You can add options like privacy liners, cordless lift systems and motorization, and decorative scallops and trims. If you're looking to improve energy efficiency, it's important to choose shades made from the right material. Shades that are made from heavier material will provide more insulation than lighter shades.
Find Window treatments For Your Sunroom Today
If you want more ideas for window treatments for your sunroom or other rooms in your house such as your kitchen, living room, or family room, browse through our idea gallery. Then when you're ready to order the perfect custom window treatment for your sunroom contact your local store to schedule your free in-home consultation. We'll walk you through all of your options to make your sunroom the coziest room in the house.