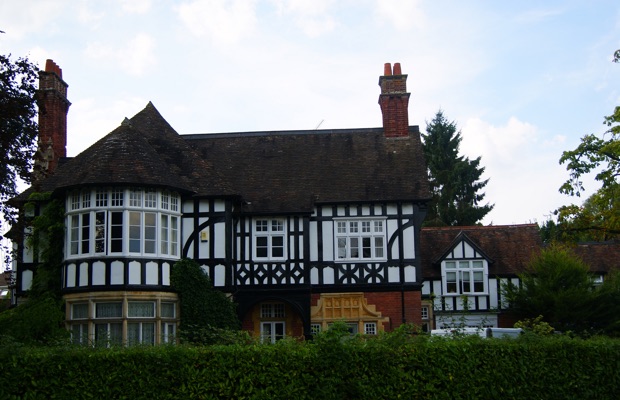 Window Treatments For Tudor Homes
Tudor style homes might be the most easily recognizable of all the different home styles across America. Though originating in England some hundreds of years ago, the style was adopted by American builders in the late 19th century and saw a resurgence in the late 20th century as well. With their unique style and history, picking furnishings and window treatments for Tudor homes can be a challenge.
Let's take a look at what makes Tudor style homes unique, and which window treatments work best with that timeless style.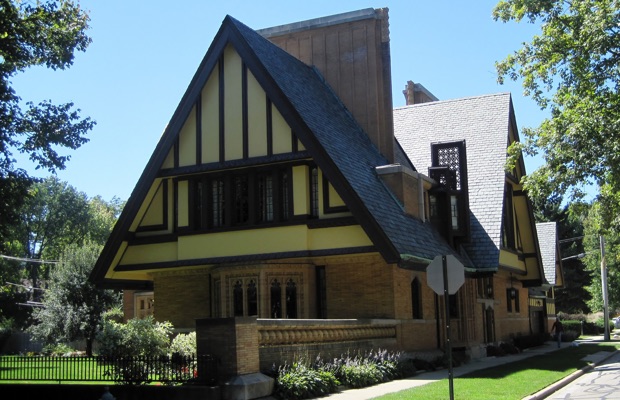 What's Unique About Tudor Style Homes?
Bi-level Siding
One of the most unique features of Tudor homes is the siding. Typically, the siding of the first floor in Tudor homes is made of brick or stone laid in an elaborate and eye-catching pattern. On upper floors, you commonly see wood or stucco siding with lots of decorative trim – echoing Baroque-era architecture.
Steep Roofs with Gables
Tudor homes originated in England, and as such had to be equipped to handle fierce winters with heavy snow. Because of that, Tudor homes will have very steeply sloping roofs, with prominent cross gables. That way, snow can easily and gently fall off the roof without accumulating too heavily or causing damage. Because of these common types of roofs, Tudor homes are most common in American regions that also see snow, like the Midwest and New England.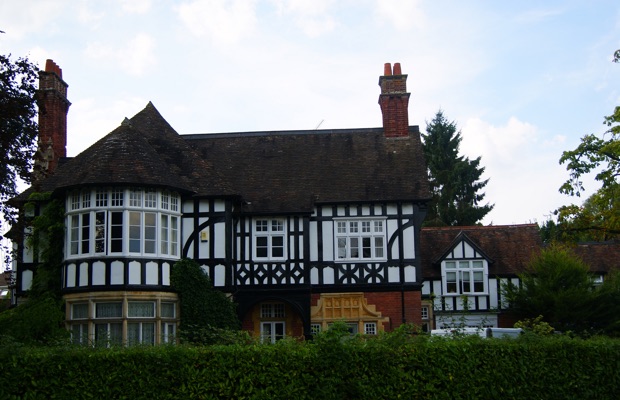 Half-Timbered Construction
Tudor homes were built using what's called a "post and beam" style of construction. This results in several cross beams and support beams being visible both inside and outside the house, making the color of exposed wood a through-line through the home.
Tudor Home Windows
Unlike some other home styles that feature one or two basic types of windows predominantly, Tudor homes make use of several different unique window types. Bay windows are extremely common, as are casement windows, transom windows, gable dormer windows, French doors, and specialty shapes like octagonal windows.
Keep in mind that since many Tudor homes you'll see are several decades old, their windows may not be the most energy-efficient, and can contribute to an all-too drafty house.
Window Treatments for Tudor Homes
With such a unique style and several styles of windows that may need covering, what are the best window treatments for Tudor homes? Here's what we've seen homeowners have the most success within their homes.
Lush Fabric Window Treatments
Thick, elegant fabric window treatments like patterned draperies tend to be the most commonly-chosen window treatment for Tudor homes. Draperies are fantastic for covering multiple window styles and work equally well on bay windows and casements. A solid color or patterned drape in an earth tone (including gold, green, blue, or beige) looks spectacular and complements both the natural siding of a Tudor home, as well as the exposed woodwork that's common in those homes.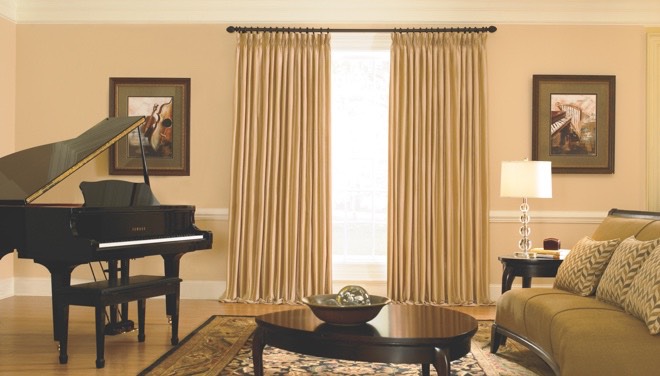 Heavier drapes have long been common in Tudor homes not only because of their great looks but also for their help in insulating the home. Few window treatments can help drafty windows, as well as thick drapes, do.
Plantation Shutters for Tudor Homes
When it comes to versatility in window treatments, plantation shutters should be the first thing homeowners think of. Plantation shutters can be custom-built to fit perfectly in bay windows, octagonal windows, French doors, transom windows, dormers, or any other type of window that a Tudor home may have. What's more, plantation shutters are far and away the most energy-efficient window treatment, with weather-stripping and heat-blocking capabilities that are sure to keep any northern home toasty during the winter.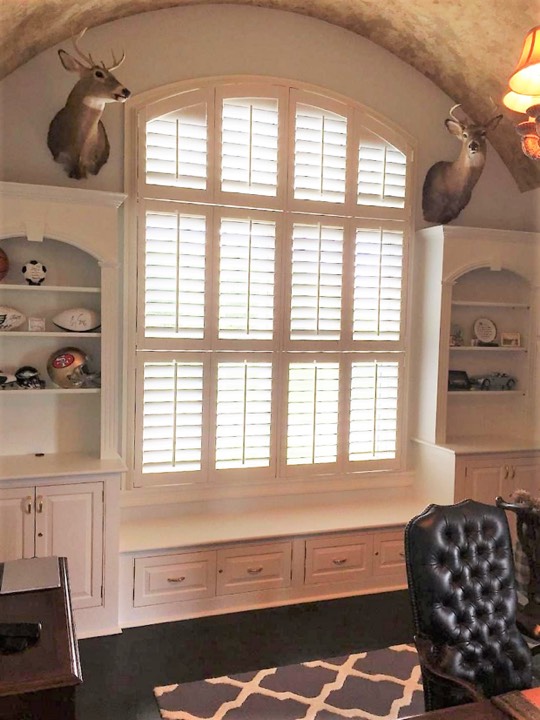 As for style, the faux-wood look of Polywood® plantation shutters complements nearly any style, and you can even match the half-timber style with stained Polywood shutters to get an even richer wood look.
Plantation shutters have completely adjustable louvers and can swing on their hinge to give a more open view when not in use.
Get Window Treatments to Match Your Home Style
If you'd like more recommendations on how to treat the windows in your home, whether it's a Tudor home or any other style, we'd love to help. Call us at 877-786-2877 or fill the form below to schedule a free in-home design consultation.