Shutters For Sliding Glass Doors
Gone are the days when vertical blinds were the only window treatment option for sliding glass doors. Homeowners from Boston to San Diego are opting for a window treatment that offers more style and more functionality. That's where shutters for sliding glass doors come in.
At Sunburst, we design sliding shutters from our best-selling plantation shutters: Polywood. Not only do these shutters last more than 50 years, but they're also excellent at blocking the effects of weather conditions to save you money on your energy bills. And the louvers can be easily tilted open to let in as much light as you want. We offer these shutters for sliding glass doors in two configurations based on the space you have available.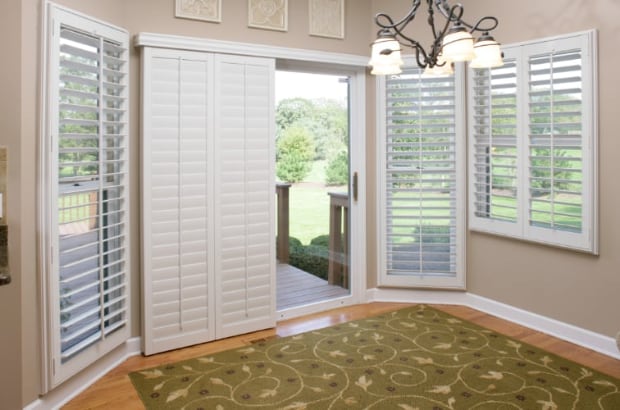 Bypass Configuration
This option works well in rooms where there isn't space to spare on either side of the sliding glass doors. We design one set of panels to pass in front of the other set on a top-mounted track. This gives you easy access to your door.
Bifold Configuration
In the bifold configuration, both sets of shutter panels fold out from the center and move to the side, thanks to a top-mounted track. With the shutters folded back-to-back, you get maximum access to your glass door and ultimate control over how much of the light to let in and view to see. But keep in mind that the bifold shutters for sliding doors only work when there's space for the panels to fold out of the way.
Which Sliding Glass Doors Window Treatment Is Right For You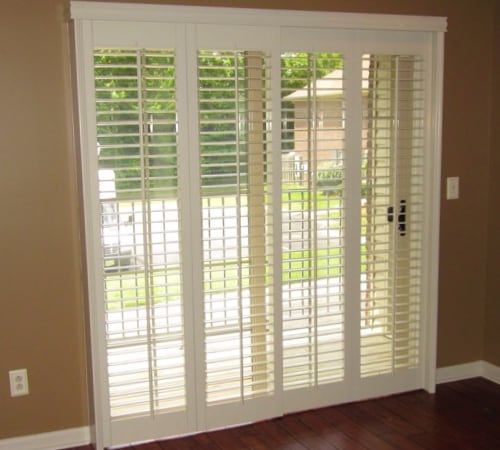 From my experience, not every sliding glass door shutter is identical to the other. That's because not every sliding glass door is the same, and not every homeowner has the same taste in sliding glass door window treatments.
The experts at your local Sunburst Shutters store look at each sliding glass door with an eye for detail. We measure every inch and show you the shutters option that works best for your space. No matter which color or style of shutters you choose, we'll install them so that they fit perfectly and operate smoothly.
For more information about shutters for sliding glass doors and to schedule a free in-home consultation, contact a Sunburst Shutters store in your area today!